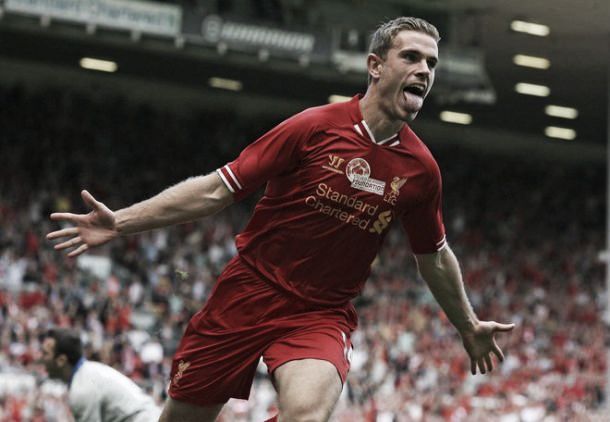 Young players, large price tags and heavy expectations, it's a mix that rarely ends well. That was the worry when a 21 year old star-struck Jordan Henderson walked through the Melwood doors in 2011. He was young and he had done well at his former club Sunderland but he came with a fee not far shy of £20 million, and this was –regardless of their slump - the big time, this was Liverpool.
The all seeing eye of the Anfield faithful was noted for being patient with those who needed it, but times had changed. It was a time when the club had undergone a great upheaval on and off the pitch, and it was no different in the stands with fans who had grown used to fighting the demonic figures of Gillet & Hicks or the calamitous Roy Hodgson. The principle that you could win the hearts of the fans by giving everything on the pitch was tired and unfortunately for Henderson at that time it's really all he could give.
He was however, young. Young players – even with a large price tag – shouldn't need to feature at first as they settled in, right?
Not in this case.
The strange departure of the functional Raul Meireles only increased the demand on Henderson to play as did the insistence of Anfield great Dalglish to cast the old work horse Kuyt to the bench.
And play Henderson did with a total of 48 appearances in all competitions during the 2011/12 season. There were times when he looked at ease; notably the home win over Bolton and the league cup win away to Stoke; however those times were few and far between. His lack of experience as well as his lack of understanding of what was required tactically often gave supporters the impression of a rabbit in the headlights.
In truth it wasn't his fault and his situation wasn't helped by Liverpool's appalling 2012 form, in fact he really could have done with being removed from the side for the seasoned internationals that inhabited the bench.
He wasn't and after the departure of Dalglish and the arrival of Brendan Rodgers- along with midfielder Joe Allen - his future at Liverpool looked bleak. So much so he had to reject an offer to move to Fulham during the closing days of the summer 2012 transfer window.
However what you often find in football is that a strong character will always find a way to succeed no matter how tough times get. All Henderson had to do was to cast an eye over to the likes of Terry McDermott, Ian Rush, Ronnie Whelan and more recently Lucas Leiva to see how even the slowest of beginnings can still bear fruit with hard work and patience.
Through that hard work he managed to earn his way back into Rodgers' plans with some unselfish European performances against Young Boys and Udinese; his goal at the Stadio Friuli being crucial to Liverpool's progression in Europe. The injury to Joe Allen and the poor form of Nuri Sahin were also beneficial to Henderson's first team chances and come Liverpool's victory at home to Norwich City in the early months of 2013 he was now starting to show a greater sense of maturity to his game.
That maturity was especially evident in the game against Manchester City and the demolition of Newcastle where his intelligent pressing and powerful runs beyond the strikers caused the opposition all sorts of problems. His importance also transcended his work solely on the ball with him vital to the functioning of the immobile pairing of Steven Gerrard and Lucas Leiva. With 5 goals and 4 assists from 16 league starts Henderson had now gone from an Anfield outcast 6months earlier to the engine of Liverpool's midfield; his turnaround in fortune was emphatic.
Yet going into the 2013/14 season there were still those who questioned whether or not he had the star quality to be in the Liverpool line up. Those views may be true, he'll never be a star but what Henderson may lack in that area he makes up in the kind of work you associate with Liverpool teams of old; relentless, aggressive and unselfish with the ability to be big game player.
So far this season he's done nothing to change the later assertion, arguably being Liverpool's most consistent player in his performances without missing a single game yet. There's even signs –albeit very early ones - that he's maturing in Gerrard's absence with the kind of will imposing performances that his captain would be proud of. He's also forming an almost telepathic partnership with Liverpool's magic number 7.
This turn around in fortunes hasn't all come from Henderson though and praise must be given to manager Brendan Rodgers for synergising Jordan's energy with greater tactical understanding of how to play the game.
It's that coaching married to Henderson's desire that has allowed him to get to the point where disparaging remarks from a now retired manager can simply be brushed off with casual ease.
It is also not just at Liverpool where his good work is now being noticed, across the board pundits are now beginning to see the influence Jordan has had on this Liverpool side for the past year.
Writing after Liverpool's 5 – 0 demolition of Tottenham Sky Sports commentator Alan Smith acknowledged that "despite the preconceptions, he (Henderson) has an awful lot to offer."
"In the first half he was incredibly effective, whether it was closing down opponents to nick the ball or timing his runs to pierce the home defence. Not so familiar, however, is the sight of him storming forward with great intelligence."
In this world of young players, large price tags and heavy expectations it's nice to finally see a player rise above those burdens and establish himself at a football club.