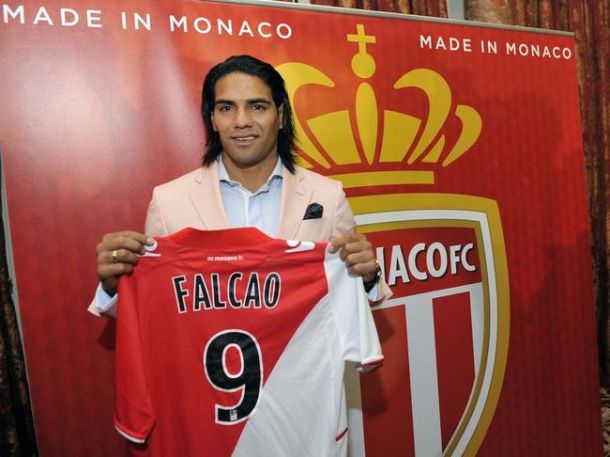 19:22: That's it from Jonathan and Christian! We hope you enjoyed the LIVE Transfers Q&A and we hope your questions were rightfully answered! Follow @GFN_France on Twitter for all the latest from Ligue 1/2. Follow @Jon_LeGossip for news on Ligue 1 and especially Paris Saint-Germain. @TransferNewsCen is your transfers source this month.
19:21: Q: What is Falcao's status with transfer to the Premier League? Summer move on the cards?
Jonathan: They player, the club and his teammates have all said that he is staying at Monaco. I think that they are right and he will stay until the end of the season. At that point, I would not be surprised if Ligue 1 sees the last of him (even if Monaco qualify for the Champions League). I think a move to Real Madrid will appeal more to him than Chelsea, but leaving France for either club right now would reflect poorly on him.
Christian: AS Monaco's signing of Lacina Traoré is a heavy, heavy hint that the Colombian superstar will remain in Ligue 1 for just one season. Although it is far too early to comment on speculation linking the player to a concrete destination for next summer. Real Madrid are understood to be his first choice with Chelsea in the number 2 spot. Honestly, Falcao has yet to impress me as a Monaco player as much as I expected and his likely decision to leave after just one season, even if Monaco achieve their goal of making Champions League football, has an element of throwing the towel in. If he does decide to leave, it will seriously hurt Monaco's pride and credibility as the European leading club they want to become. Let's just wait and see what happens. Either way, the aftermath is likely to be the more interesting part of this continued saga, if the Colombian does decide to leave.
19:15: Q: What do you think about new Toulouse signing - Dominik Furman?Will he play in first team?Toulouse need that kind of player?
Jonathan: I have not heard or seen much of Furman to be honest, so I cannot say anything right now. I understand that he is highly rated though and it sounds like another potential coup for Toulouse after the capture of Braithwaite last summer.
19:13: Q: PSG's Javier Pastore to Liverpool/Roma rumour. True or not?
Christian: Between Jon and I, I think we are probably tired of answering questions about Javier Pastore during this window. The player declared once again this morning that he wants to stay and fight for his place at PSG (although he did make sure to reiterate his cosy relationship with AS Roma sporting director Walter Sabatini to L'Equipe too) and I would be surprised if he left. He had an excellent game last night against Bordeaux and was instrumental in putting PSG into their first domestic cup semi finals for 4 years. David Moyes' presence at the game is likely to be the catalyst for yet more speculation in the coming days...
Jonathan: As Christian says, the speculation over Pastore's future has become tedious. However, the player has said that he wants to stay and PSG will almost certainly not sell this month. There are a number of reasons for this. Laurent Blanc believes in El Flaco and last night's performance has vindicated that faith. The PSG fans, despite booing him from time to time, have also not lost faith. Pastore was the first signing for PSG under QSI & they are loath to admit failure with him. Any club that would want to sign him would have to pay upwards of at least €30m and, last night aside, his recent form puts his value nowhere near that. Moyes reportedly looked him last night, but i cannot se anything coming of it. If PSG were thinking about selling him before the Bordeaux match, they certainly won't be now. Lavezzi for me is the one who might find himself pushed out of the door before the end of the month.
19:10: Q: What's the latest on Yann M'Vila and will Liverpool sign him?
Christian: I think it is quite clear that Yann M'Vila has had enough of Russian football. The player has been spotted attending games around Europe in the last weeks and some sort of move is indeed likely. Liverpool and Napoli are understood to have made approaches absolutely. The only issue is Kazan would prefer to sell the player outright for around €15m whereas Napoli would prefer to loan the player until the end of the season. As for Liverpool, they have yet to make a concrete offer the ex-Rennes man. He also has to keep in the back of his mind the fact that as of April this year he will have served his ban from playing international football. Although, with all due respect for M'Vila, the severe competition he would face for a defensive midfield place in the French squad for Brazil will be too much for him.
Jonathan: I understand that his current club Rubin Kazan are willing to consider offers of around €12-13m to let him leave and will not consider a loan. The recent M'Vila to PSG rumours have turned out to be unfounded according to the French press, but the player does appear to be keen on a move to boost his World Cup chances. I am not sure what a move to Liverpool, if the interest is genuine, would gain him except for greater exposure. I am not not sure he would even command a regular place in LFC's starting XI. M'Vila international ban has been shortened and his chances of getting into Les Bleus' World Cup squad are now greater, but I think that boat has sailed. Blaise Matuidi was the alternative to M'Vila when he first broke through and now his career has taken off exponentially while M'Vila's has stalled. He needs a move, but it seems like Rubin are holding out for a big fee.
19:06: What's happening with Bafetimbi Gomis this window?
Jonathan: Bafetimbi Gomis will see out the rest of the season at Lyon unless somebody tables a relatively silly bid (considering he is soon to be out of contract) for him in desperation. The player is keen to leave ne a costless transfer and I do not blame him after OL's shabby treatment of him last summer. The player seems keen on a move to Marseille or an EPL club. Aulas, being the businessman that he is, will want to see some sort of sale and if any interested team can scrape together a few million Euros for him this month then we may well see him leave.
Christian: The transfer saga of Bafetimbi Gomis rubbles on. The player wishes to leave in summer for nothing and that is why potentially interested clubs are in no rush to get into any meaningful discussions with Bafé. Lyon on the other hand want to sell to recoup some cash and would be happy to sell at between €2m-€3.5m. The problem is that Gomis' agent wants fees of €1.2m paid to him and that is proving extremely unattractive for teams prospective January buyers.
19:02: Q: Any news on Rennes' moves this month
Christian: Rennes are trying with all their might to do some deals this month. Their main priority is a striker and they are so far struggling on that front. Approaches for Thievy Bifouma (Espanyol) and Andy Delort (Tours) have been unsuccessful, with the Ligue 1 side failing to meet the evaluations that the respective players have attached to them by their clubs. As I mentioned earlier they are also in discussions with Cedric Bakambu (Sochaux). Either way, the definitely need to freshen up their attack if Philippe Montanier's first season in charge is going to amount to something.
Jonathan: It has been a difficult start to the season for Philippe Montanier at Rennes. More difficult than I think he would have imagined. Although he may have some funds available, it will be difficult to persuade anyone to join a team in 15th position right now. They are struggling for regular goals and I think Montanier will be keen to bring in an attacker or two. However, there is reported interest in Romain Alessandrini that could scupper his plans and force him to rethink. There is plenty of young talent at the club and I think some loan moves might be the best bet. Expect to see Montanier tap into his knowledge of the Spanish market to look for the best value for money.
18:55: Q: Latest on Clement Grenier, Yoann Gourcuff, and Alexandre Lacazette to Arsenal?
Christian: Clement Grenier has announced that he does not expect to leave the club this window, despite President Jean Michel Aulas announcing he would be happy to sell one of Gourcuff or Grenier this window. The attacking midfielder seems to be exiting a long spell of games where he was often invisible and uninspiring. His costless-kick against Sochaux at the weekend was anything but. A player who seems to go through phases. Arsenal did bid for him last summer and he won't cost clubs more than around €15m
The former Bordeaux man Gourcuff has rejected a contract extension (expires 2015) from Lyon recently and his future is very much up in the air. It is a question of when exactly Aulas thinks he can sell the player for as much money as possible, as, barring a sudden appearance of a consistently-performing, injury-costless Gourcuff, I doubt Lyon will offer him a better deal. Although, some of the combination play that Grenier and Gourcuff were displaying at the weekend, maybe Aulas will end up keeping a firm hold on both and maybe, just maybe, we will see Gourcuff shine once again.
Alexandre Lacazette. Arsenal contacted Lyon about the player's availability last week, presumably as a reaction to the newfound long-term absence of Theo Walcott, as well as the Gunners being short on centre forward cover. Lyon rejected the approach immediately. Again, I cannot see him being a January mover despite his excellent performances in November and December for Les Gones. He is becoming quite a frightening prospect for Ligue 1 defenders and is a player who is incredibly pleasing on
Jonathan: Grenier/Gourcuff/Lacazette. Grenier said at the start of the season that he wanted to see out this campaign with Lyon before deciding on his next move. I do not think we will see him leave this month. The problem for Grenier is that OL president Jean-Michel Aulas will seek any player to the highest bidder. Considering what happened with Garde following the potential sale of Gonalons, I think he will wait until the summer to possibly sell any of those three (as well as Gonalons). However, think the chances of Gourcuff leaving are much greater, particularly as he is coming into some form right now. Lacazette has been Lyon's best player this year, I cannot see him leaving until the summer at least. OL cannot afford to get rid of him and with Gomis almost certain to leave at the end of the season, they will be keen to keep him for next year too. With Gourcuff approaching the end of his current deal and rejecting the offer of a new one with a reduced wage, I think it is obvious that Aulas is keen to move him on and costless up that part of the budget.
18:53: Q: Will Sebastien Corchia leave Sochaux soon?
Christian: An offer of just €3.5m is reportedly enough to sign the French youth international this month. An absolute bargain in my opinion. If there is one bargain buy of this window, it will be Corchia if he leaves. Clubs that have shown an interest in recent weeks are Lille, Torino and Gladbach. Marseille made an offer already this month and that was rejected. Corchia encapsulates the essence of the modern right-back, a player who is robust enough to defend and attack equally consistently. Get him now!
Jonathan: As I understand it, Lille are very interested in signing him right now. Sochaux are not asking for a large fee and I think that €3.5m is an absolute bargain for a player with excellent potential. The Lyon debacle last summer obviously bothered him; his early season form smacked of a player who had his head turned by interest from elsewhere and I don't blame him. I am surprised that more sides have not taken an interest in him already this months, but Sochaux are hardly a big name in Ligue 1 so not everybody will be aware of him. I think PSG could do a lot worse than sign him as their cover at right-back and, in time, he could grow into a starting XI player there or anywhere else.
18:49: Q: Where do you think Auxerre's Paul-Georges Ntep will end up at
Jonathan: It seems as though plenty of EPL sides have been alerted to Ntep's ability, so I eventually see him going there. Hull low-balled Auxerre with a bid recently and I think he will go for at least double what they were offering to pay. There is no doubting his potential ability and I cannot see him staying at Auxerre much longer, perhaps even past this month. IMO he would suit a number of Ligue 1 sides and I am aware of interest in him from Marseille and Lille have also been mentioned as well as PSG. The latter would be an unlikely move as he'd spend most of his time on the bench, but Lille is a particularly interesting option.
18::47: Q: Has Adrian Mutu turned up? I heard he was signing for Petrolul on loan for the remainder of his Ajaccio contract.
Christian: He has signed for Petrolul permanently yesterday. He terminated his contract with Ajaccio and has returned to finish his career in Romania. The ex-Chelsea man, nothing if not controversial at times in his proclamations, announced in his unveiling press conference that he left Ajaccio because 'they just kept losing'. Hardly the type of player I would want anywhere near a Ligue 1 side if I am honest.
Jonathan: He has now signed for Petrolul after a slight delay. Good news for Ajaccio IMO although he was instrumental in helping them stay up last season. Not been the same player this campaign and was gradually frozen out before his contract was terminated in order for him to complete this move. A bit of a character to say the least, but he was worth the risk for Ajaccio last year. They paid the price for putting their faith in him this term though.
18:45: Are there any clubs sniffing around Ben Yedder at Toulouse? He seems to have gone off the boil
Jonathan: The Toulouse man's stock is certainly not as high as it was last year, that is thanks largely to the arrival of Danish international Martin Braithwaite. He still features regularly in the starting XI, but has not scored for 5 matches now. 3 of his 5 league goals this season came in the same match (5-1 vs. Sochaux). It is difficult to see anyone taking a real interest in him considering his current poor form.
Christian: In truth, interest has cooled for the young Toulouse forward in recent months because his performances have not been as impressive. Toulouse had prepared for the departure of the player already last summer when they signed Martin Braithwaite but Pres Olivier Sadran will want to hold onto Ben Yedder at least until the end of the season. Honestly, he is not worth paying €10m or so with his current performances.
18:41: Q: Latest on Man City's interest in £42m-rated Porto defender Eliaquim Mangala.
Jonathan: I think that there are maybe three or four clubs really keen on Mangala at the moment and Manchester City are one of them. Monaco are also very interested and I think that they stand the best chance of signing him based purely on finances. However, as Christian says, I am not sure that Mangala will risk a move anywhere this month with his chances of a World Cup place at stake. IMO we will see him move at the end of the season, possibly as early on as James Rodriguez and Joao Moutinho last summer.
Christian: Manchester City are certainly interested in the player but there is no way a move will happen this January. Mangala fancies his chances at making the plane for Brazil in a couple of months time and a move to Manchester City would seriously hamper that ambition. The 22 year old has a sizeable release clause and FC Porto are renowned for their ability to earn the most profit off of the players that they sign as youngsters. There may be plenty of paper talk, but a move is virtually out of the question this month.
18:35: Q: Anything he may have to say about Etienne Capoue? Why his time at Tottenham didn't work out, odds of a transfer to Napoli, if he think's he'll be a better fit there, etc.
Christian: I don't think that there would be any rumours linking Capoue away from Tottenham this month had André Villas Boas not been sacked. The player was unfortunate to get a serious injury very early on in this Premier League season and that has definitely hampered his ability to become accustomed to the English game. Tim Sherwood's decision to switch to a 4-4-2 means that there is one less place available for central midfielders in the starting XI and even though Paulinho is injured, Capoue still isn't being put in there. He is a player of immense quality and it all depends on how much patience the player has with Tottenham and whether or not he believes he can impress Sherwood to creep into that starting team. De Laurentiis sin Italy (Napoli president) today denied rumours linking the player to his club.
Jonathan: Unfortunately for Capoue, not only has he had to suffer through injury problems in his first few months at Spurs, but AVB who signed him has now left the club. Therefore it is no surprise to hear that Tim Sherwood is not keen on keeping Capoue or Lewis Holtby. I think the time spent on the sidelines has cost him his chance to impress as he is only really getting back to match fitness now. I don't think that his time at Spurs did not work out necessarily, just hat he has not been given enough time to prove himself. He'd be a great pickup for a number of side around Europe this month though.
18:28: Q: What is the situation with Sochaux's Cedric Bakambu and his links to Standard Liege? Vincent Nogueira links to The Union true? Will Sochaux sign anyone including Maurice Edu?
Christian: Sochaux's Chairman Pernet has confirmed he is ready to listen to offers for the young striker Bakambu who has yet to really prove why there was so much hype about his potential in the past two seasons. Some local reports from Liege were linking the player their yesterday and Rennes are another interested party, who have entered into discussions with Sochaux in the past days. We may have a further development on this story at Get French Football News shortly, so I don't want to ruin it! In terms of a move to Standard Liege, I could only see that happening if Michy Batshuayi leaves the club this month which has not happened so far. I think that interest in Bakambu has grown given his recent exploits. However, he is far from consistent and is not prolific enough to guarantee Les Lionceaux a chance of survival. If a suitable offer comes in, I can see the club accepting it and looking to re-invest the money in other areas of the team.
Representatives from Philadelphia were present at Lyon - Sochaux and did discuss a possible move with Nogueira. He was instrumental in terms of crucial goals in keeping FCSM up last season but has been on fringes of the starting XI since Renard was brought in early on this campaign. Reports from the US suggest that Sochaux want to wait until February for a move but Union want it completed before MLS pre-season. Certainly one to look.
Jonathan: I think this question is perhaps muddle a little bit. As I understand it, Maurice Edu has been strongly linked with a move back to America with Philadelphia Union strongly interested in him. In terms of Vincent Nogueira moving there, I can't see it at present. I think Herve Renard will be keen to keep the majority of his squad intact with the possibility of selling Sebastien Corchia in order to generate the most funds for other moves.
There was significant interest in Edu from Sochaux a few seasons ago (2012 I believe), but the move never happened. I can believe that there is interest there, but I also understand that his wages are extremely high coming from the EPL. The chances of Sochaux investing so much money in a player like Edu are not high.
18:25: Q: Are Saint Etienne currently looking to bring anyone in?
Christian: The club are actively looking to sign at least one central midfielder before the window is up. Discussions for Remi Gomis (Levante) and Carlos Sanchez (Elche) have broken down and Les Verts' camp are very pessimistic about their chances of re-signing Josuha Guilavogui on loan from Atletico Madrid after it emerged that the Spanish side feel they need to hold onto everybody as they compete on several fronts in the second half of this 2013/2014 season in Europe and nationally. No success on that front thus far for the current Coupe de la Ligue holders but Christophe Galtier is making that his number one priority, especially with Ismael Diomande out injured at present.
Jonathan: There has not been too much in the way of moves mentioned for Saint-Etienne so far this month and I think that they will be keen to keep their current squad intact rather than spend too heavily. Keeping Zouma at the club is obviously a priority, but it might not be possible. I have seen suggestions that they might re-sign Josuha Guilavogui on loan from Atletico madrid, if that happened I think it would be the best thing for all concerned. IMO Christophe Galtier is still one striker short of having a side really capable of challenging for European qualification. I fancied Filip Djordjevic of Nantes to make the move there before the transfer window opened, but now that looks unlikely.
18:22: Q: Anything in the Kyle Walker to Monaco or PSG rumours?
Christian: Le Parisien have reported these Kyle Walker to PSG rumours on more than one occasion and alongside the fact that the Ligue 1 champions are short of right-back cover for Gregory van der Wiel, a move would be possible. If PSG are to buy a right-back this window, I would find it hard to believe they would attempt to sign Tottenham's Walker, a player who they would probably be forced to spend more than he is actually worth on. I would much prefer to see them sign a young French talent if they truly believe they need to add another right back this month. Someone like Sochaux's Sebastien Corchia, given the time and minutes on the pitch, could really shine there. Much like left back Lucas Digne has at times for Ligue 1's leaders thus far.
Jonathan: This story is a strange one. As far as I know, Walker recently signed a new contract with Spurs so I cannot see them selling him anytime soon. Any potential move to PSG or Monaco would be a huge risk for Walker. There are 6 months to go until the World Cup & Ligue 1 is a difficult league to adapt to. Walker would be an immediate first choice at PSG and I think that there is too much for him to lose if he was to make the move. However, I do not think that the player would accept a move to join a team and play in a squad rotation system. IMO we are more likely to see PSG invest within Ligue 1 if they do spend on a new right-back.
18:16: Q: Are PSG likely to do any business during this month, or wait until the summer?
Jonathan: That depends. At the moment PSG could do with some cover at right-back after Christophe Jallet underwent surgery on a back problem. It will keep him out of action for at least two months and Gregory van der Wiel is the only senior right-back left available. He has had a few minor niggles so far this season, so Blanc will be keen to reinforce his side. However, seeing Marquinhos fill in adequately there last night vs. Bordeaux in the Coupe de la Ligue is encouraging and perhaps suggests that no business is needed in that position. Otherwise, I think PSG will try to concentrate on keeping their current players at the club this month and perhaps start looking at one or two potential signings for the summer such as Pogba and Antoine Griezmann.
Blanc is keen to add to his midfield, but I don't see PSG making a move now if they think they can get Pogba in the summer. Mata and Cabaye are names that are linked with the club, but I think the former is particularly ambitious as he is cup tied. Cabaye would make more sense as a short-term solution to a possible lack of depth. However, I think the central defence perhaps needs looking at before a new midfielder is brought in.
Christian: PSG January window. I am sure Jon is perhaps better placed to answer this one then I am, but if they do sign a player this window it will be a central midfielder, barring an extraordinary U-turn. The rumours that there want to sign a right-back after the injury to Jallet have little substance to them, Marquinhos playing at right-back against Bordeaux last night is further evidence for that. Yohan Cabaye and Juan Mata are names which will continue to be linked with Les Parisiens right until the end of the month but if PSG are to bite, it is likely to be in the final days of the window (something which they are making a habit of for the January window). However, David Beckham's signature this time last year proved that PSG can be unpredictable when it suits them and who really knows what Al-Khelaifi has in store for the rest of the window.
18:14: Q: Where will St. Etienne's Kurt Zouma most likely end up?
Jonathan: Hopefully he stays in Ligue 1 for a few more years, but with very passing transfer window this looks more and more unlikely. Last year there was interest from Russia in Zouma, but Saint-Etienne managed to keep hold of him. This time, with EPL clubs chasing him, I think that it will be far more difficult for ASSE to turn down offers of over €10-15m. Zouma would suit the EPL perfectly, but I think that he is still a very raw talent. Staying in France for at least another year might be a good idea. The fact that he has already been called up to the French senior side should prove to him that he can fulfil his ambition of breaking into the international setup while still in Ligue 1.
Christian: The latest on the Kurt Zouma situation is as follows. St Étienne have rejected to offers in the region of €11m from AS Monaco and Inter Milan for the player. Chelsea are the other very interested party, but St Étienne want €20m in total for the player, something I discovered today. They will not sell this month, but the player realistically has half a foot out of the door. He is one of the most promising centre back talents in France, if not over Europe and if he does leave Ligue 1, then I hope he is able to fulfil that huge potential and develop into one of the continent's most feared opponents.
18:12: Q: Was there any truth whatsoever to the rumour that PSG offered €50m + Marco Verratti for Paul Pogba?
Jonathan: No, I don't think there is any truth in the story that PSG offered €50m & Marco Verratti for Paul Pogba. That makes little sense to me as both are regarded as top talents and the only way PSG would offer Verratti to Juventus would be in order to drive the price of a Pogba transfer down. I think that PSG are certainly interested in Pogba & consider him a priority signing, but I do not think we will see him move this month and it will not involve Verratti.
Christian: As far as I am aware, there was no substance to this €50m + Verratti rumour. What I am aware of is that Paul Pogba is PSG's number one priority for the summer transfer window. One can have little doubt that Pogba will remain at Juventus at least until the end of the season. The big name is likely to attract much paper talk in the coming days but realistically he has decision to make about his future. Either sign the contract extension that Juve will put in front of him or leave in the summer. PSG certainly have the willpower to make that happen.
18:09: Q: What happened on Lyon's end with the Maxime Gonalons transfer that fell through?
Jonathan: After it had looked as if the move would go ahead, Lyon president Jean-Michel Aulas blocked it. It is believed to have been stopped because Lyon coach Remi Garde demanded that Gonalons (OL's captain) be kept. According to various sources, Garde threatened to resign if the transfer went through. Aulas denied those reports about Garde threatening to quit by the way.
Christian: From the end of last summer's transfer window until this month, Maxime Gonalons and Napoli had remained in contact. Napoli approached Lyon before the January window opened and according to the Serie A club President de Laurentiis himself, Lyon set a €13m asking price for Gonalons. Napoli matched that evaluation but Lyon turned the bid down. Lyon President Jean Michel Aulas claims that the offer he rejected for Maxime Gonalons was worth €17m in total (€2m bonus), but the Napoli President denies this. Whether or not Napoli made another concrete offer after their initial €13m bid was rejected is unclear, but perhaps likely. It would seem bizarre for Aulas to have to tell Gonalons and Garde at the eleventh hour that he was to reject the bid; suggesting that he had perhaps received a really good offer. Misinformation from certain Italian medias suggesting that Napoli and Lyon had agreed a fee which continued for several weeks hardly helped the situation either. Either way, Lyon have, at least for now, managed to hold onto their Captain.
18:05: We have questions pouring in so it seems we need to start as fast as possible! Jonathan and Christian will both answer the same question at the same time - getting two answers at once! Let's begin.
18:00: HELLO and Welcome to Transfer News Central's interview with Ligue 1 journalist Jonathan Johnson and editor in chief of Get Football News France Christian Nourry. Feel costless to keep your questions coming to @TransferNewsCen (www.twitter.com/transfernewscen).