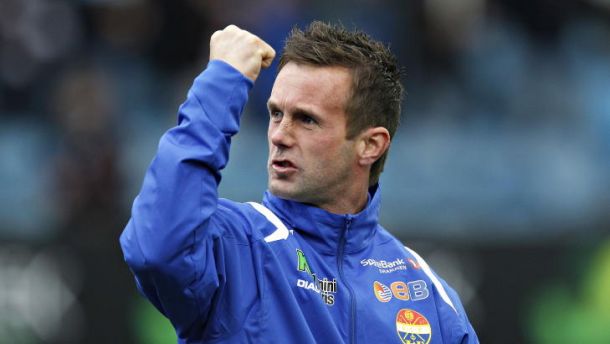 As of today, Celtic are in the process of finalising a compensation package for Stromsgodset manager Ronny Deila to become the next manager of the Parkhead club. After apparent negotiations with the representatives of Roy Keane and being linked to every out of work manager in the UK, the surprise name of Ronny Deila has most Celtic fans scratching their heads - so who is he?
Deila is a Norwegian former player who has been the coach of Stromsgodet since the 2008 season. He has an indifferent career as a player playing for a few clubs in the top tier in Norway before joining Stromsgodet as a player/coach in 2006. He worked under Dag-Eilev Fagermo until Fagermo joined Odd Grenland, a spectacularly named club in 2008 and Deila has been manager ever since.
Celtic are a big club on the world stage, and fans of the Glasgow giants have been scratching their heads at being linked to someone that no-one outside Norway could exert much knowledge on, but they should have reason to be quietly optimistic about him as their manager.
When Deila took over Stromsgodet they were struggling to stay in the top flight with their champagne days of 1970, when they won the league, long behind them. They have a small amount of European experience having appeared in European competition 8 times previously, but have been on the receiving end of a few massacres, including a 12-0 aggregate defeat by Liverpool. It is safe to say when Deila took charge, their fans weren't holding their breath.
Deila and Stromsgodet struggled for a few years, but he has managed to turn the small town club from relegation fodder into cup winners in 2010, league runners up in 2012 and league champions in 2013 throwing every item of clothing except his underwear into the crowd during the celebrations.
However winning the league with Stromsgodet, albeit a great feat in Norwegian football, isn't enough to catch the eye of a club the stature of Celtic, so what did? In one word, Philosophy.
Reports in Norway suggest that Deila's football philosophy is one of high intensity attacking football and he likes to build teams that fit around his ethos. This means energetic and athletic footballers who are encouraged to play football. Celtic's January signing of Stefan Johansen emphasizes this point with his cultured midfield work and seemingly boundless energy, and where did he come from? Stromsgodet!
He is a student of the game, having observed training sessions across Europe with Ajax, Porto, Man City, Liverpool and Dortmund with comparisons being made to Klopp, he is sure to be a hit with the hipster branch of Celtic fans. The Celtic board will also have noticed that he is used to working under a budget (Stromsgodet won the league on 10% of Rosenborg's budget last season) and has a real eye for a player, having transformed Johansen from a winger cum striker to a midfield dynamo.
Former Celtic player Vidar Riseth, who played briefly for Deila says he is "tough but fair" and demands that "all the players work hard on the training pitch and in matches."
Riseth went on to remark that Deila's perchance for attack will make him "a hero to the Celtic fans" should he become their new manager.
In terms of tactics, Riseth compared Deila's playing style to that of Bayern Munich "with the whole team joining in the attack" and firmly believes that "right now, he is the best coach in Scandinavia."
Celtic fans may be clamouring for a name to match their clubs prestige, but with the English Premiership just over the garden wall, managers like Clarke, Coyle and Keane would be off when the wallets started calling. Riseth thinks that if he does become Celtic manager then "if he can get the team to play the way he wants them, the club's potential will go sky high. He is the man to build the clubs future."
If accounts from Norway ring true, then Celtic may have unearthed a gem in Deila. It's worth remembering that no-one had heard of Wenger, Mourinho, Villas Boas and Klopp.