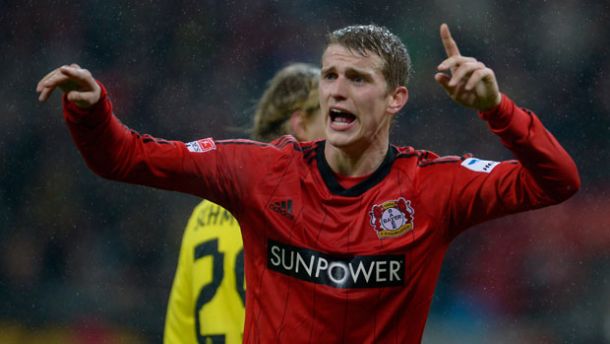 According to the Daily Express Arsenal are ready to put pressure on Bayer Leverkusen to secure the signing of the highly rated Lars Bender.
The German plays in central midfield for Bayer Leverkusen and has been there since 2009, making 127 appearances scoring 13 goals in the process. It is reported by the Daily Express, that despite a £15 million bid being turned down last season. Arsene Wenger is very much back in the race to sign the German midfielder, with a bid of around the £20 million mark expected. Sami Hyypia had made it clear he is not looking to sell the midfielder and new boss Roger Schmidt is likely to take a similar stance. However, reports in the Daily Express and The Metro claim that the club will be willing to sell if the bid is good enough.
While Arsenal have already turned down one of their former players. Cesc Fabregas made a shock return to the Premier League, but with rival side Chelsea. It appeared that they were not in the market for a central midfielder. Especially with them already boasting the talents of Aaron Ramsey, Mesut Ozil, Jack Wilshere and Mikel Arteta, it seems that Arsenal do not need another player in this position. However, while all of these midfielders are very talented, none of them are a typical holding midfielder, something which they have been craving for several seasons now.
According to a majority of English media outlets, Wenger is more interested in securing another centre back to replace captain Thomas Vermaelen, who has been linked with Manchester United. He is also believed to be in the market for another striker, Mario Balotelli's name has been batted about. With Nicklas Bendtner being courted by Eintracht Frankfurt, the Danish striker's move could costless up further funds and help Wenger to seal a deal for the AC Milan striker. However, Arsenal know they are in need of a holding central midfielder, especially with the closest thing they have to one at this moment in time is Mathieu Flamini, but the ageing midfielder has been struggling with injuries recently. Lars Bender is a very talented box-to-box player, who is easily within the price range of the London based side, with his wages not being an issue either. On the other hand, with Bender being the main man at Leverkusen, it will take a good bid to persuade 'die Werkself' to sell their man.
Last season Lars Bender, made 29 appearances in the league last season scoring 3 goals. He created 20 chances for his teammates with only one being converted to a goal. He does have a very good pass completion rate of 77%, over an average pass length of 18 metres. He won 44% of all his attempted tackles at the BayArena last term. He will bring a solid base to the Arsenal defence who, at times, shipped multiple goals in a game. He will prevent a space opening up in front of the centre backs, which happened a few too many times last year.