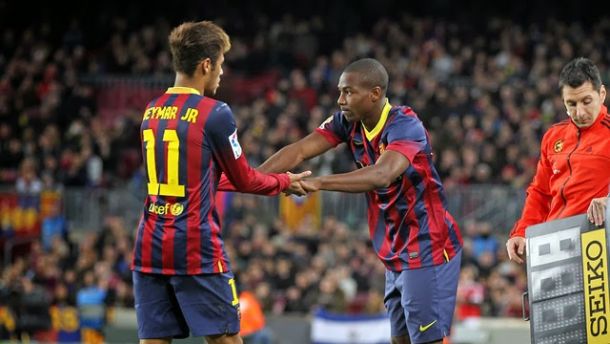 Adama Traore. Barça fans know this name fairly well. Other football fans probably aren't so sure.
Barcelona are a club known for their brilliant youth academy. Players start developing their talent at "La Masia" and then work their way up through the "Juvenil" and "B" teams. Eventually, hoping to make it to the very highest level of the game.
Traore is attempting to do exactly that. The young Spaniard, born in Barcelona joined Barça's youth set-up back in 2004, at just eight years old. After years of nurturing his talent, he was promoted to Barcelona B in 2013. He hit the ground running.
Traore's talent was easy to recognise; he's lightening quick, but a strong, powerful runner. His control and technical play is good, and on a number of occassions his end product was magical. Last season - his first season at Barcelona B - Traore participated in 26 matches, scoring 5 goals. His most natural position is on the wings, in an advanced role, where he has license to run at defences.
On November the 23rd, 2013 - at just 17 years old - came a moment young Traore will always remember. His first team debut, at the Camp Nou. During the later stages of Barça's match against Granada, Traore replaced Neymar for his memorable moment. He had five munutes to shine, and boy, he tried. Picking the ball up, and weaving between two defenders with a step-over, jinxing past the next and getting a shot on target. He was very close to a dream debut goal.
Three days later, Traore made his Champions League debut, replacing Cesc Fabregas in the 82nd minute, against Ajax. But unfortunuately, this was the last Barça fans saw of him in the first team for the rest of the season. Tata Martino seemed reluctant to use "B" players in his match squads and opted for the more senior players.
Needless to say though, Traore is a real talent. One of the very best young players coming through the ranks at Barcelona at the moment. It seems that this season may have come one season too soon for Traore, with the arrival of Luis Suarez and the return of Gerard Deulofeu. A loan move seems the best option for him, with around 20 clubs said to be interested in taking him for next season.
Clubs like Man Utd, Everton, Southampton, Ajax and Sevilla have all been linked with loan moves for the Spanish U19 international.
Everton would be seem like a perfect fit for Traore. Everton's new attacking, possession-based football (similar to Barça) would suit his style. He would be gaining experience and game time in a tough league, and should develop physically as well as mentally in the Premier League. Barcelona were also very pleased with the way Roberto Martinez handled Deulofeu's development last season, and don't be surprised if we see more Barça youngsters heading to Merseyside in the very near future.