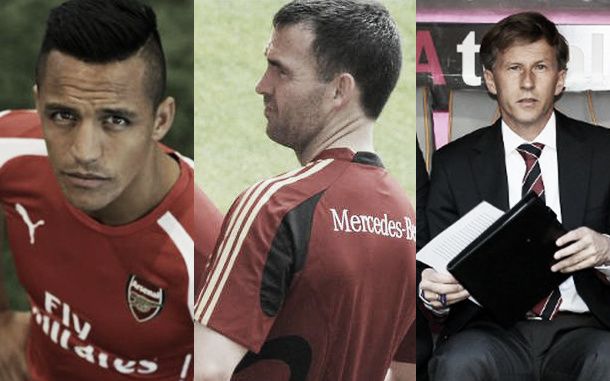 Arsenal may have only announced the signing of one player so far this summer (soon to be two with the pending announcement of Debuchy) but it's not just the playing staff where Arsenal have strengthened. German national team fitness coach Shad Forsythe, who is touted as one of the best fitness coaches in the world, is set to take his place at Arsenal following the World Cup. Also joining the back room staff is Dutch coach Andries Jonker who replaces Liam Brady as academy director.
These three signings could prove to be the most important of the summer, regardless of what other signings may walk through the doors of the Emirates.
Alexis Sanchez
Alexis Sanchez is clearly a tremendous signing for Arsenal and shows a clear signal of intent to their rivals. There were plenty of rumors over the World Cup as to what wide player/striker may come to the club. Carlos Vela was linked with a return and his club mate Antoinne Griezmann was also strongly linked with a move to Arsenal. It's Sanchez though who can be put in the world class bracket a kin to the signing of Mesut Ozil. Sanchez has a terrific World Cup with Chile and scored 39 goals in 88 appearances for Barcelona. He adds pace, creativity and flare to Arsenal's attack and will prove extremely important when Ozil looks for a runner to play a through ball to. Other players like Aaron Ramsey and Santi Cazorla will also thrive on the runs Sanchez will make behind the defence.
Some think Alexis (as he likes to use on his shirt) may even feature up front for Arsenal through the middle. It remains to be seen where Wenger will utilize his latest star signing but it will certainly be an intriguing look.
Shad Forsythe
Shad Forsythe is set to join the Gunners after ten years with the German national team and comes to Arsenal with a very high reputation. He is known as one of the best fitness coaches in the World and looked after the fitness of the German team before, during and after major tournaments.
Arsenal saw a string of injuries dampen their title challenge last season with key players such Mesut Ozil, Theo Walcott, Aaron Ramsey, Jack Wilshere and Alex Oxlade-Chamberlain all missing significant parts of the season. This seems to have pushed Arsene Wenger into action and he is determined to address the on going injury issues with Forsythe's help.
Through Forsythe's work with the German team, he has worked with Per Mertesacker and Lukas Podolski for eight years and with Mesut Ozil for five so will know each of these players well. This will help tell when the players are at their peak fitness levels and also their worse.
Andries Jonker
Andries Jonker joined the club on July 1 after completing his role as assistant manager with Wolfsburg. Jonker has worked with some of the top names in football – assistant to Louis Van Gaal at Barcelona and Bayern Munich and he spent seven years working with the Dutch FA at youth level. It is this role that Jonker will fill at Arsenal as Liam Brady steps aside as academy director.
In his time at Bayern Munich he is credited with brining through Thomas Muller and Holger Badstuber and helped Bastian Schweinsteiger become a central midfielder instead of the position on the wing he had been playing at the time.
With Arsenal revamping their training facilities and the appointment of Jonker, they will be hoping he can aid in more top players coming through the ranks. Dan Crowley seems to be the player talked about most to successed at Arsenal and it will be interesting to see how Jonker works with him.
Whoever else Arsenal do end up signing, these three will still be up there as the most important of the lot.