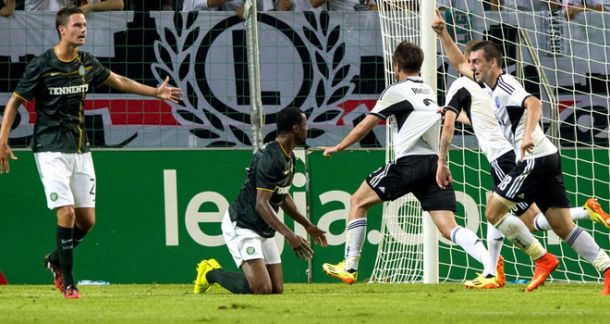 Polish club Legia Warsaw have issued an open letter to Celtic requesting a meeting either in Glasgow or Warsaw, to discuss who should go on to meet Maribor in the next round of qualifying.
Legia were expelled from the competition on Friday morning by UEFA, after it was found they fielded an inelgible player in Bartosz Bereszynski, who only played the final three minutes of the second leg.
The match was recorded as a forfeit, and an automatic 3-0 victory for Celtic, meaning that Ronny Deila's men advanced to the play-off round, where they were drawn to play Slovenian minnows Maribor.
"Meet in Warsaw or in Glasgow and let's settle this matter honourably"
But Legia, outraged by UEFA's decision, have tried to compromise with Celtic and find a fairer way of deciding who should meet Maribor.
Dariusz Mioduski, Legia co-owner, wrote: "Celtic FC is a legend in European football - the club with an incredible tradition, which since 1888 co-creates the story of the most beautiful game in the world.
"Celtic FC wrote one of the most beautiful pages in the history of European football, when in 1967 they unexpectedly defeated in the final of the Champions Cup mighty Inter Milan, headed by Helenio Herrera."At the basis of this legend are not only amazing sporting achievements, but also the determination and commitment to values such as honesty and honour.
"Imagine that Jock Stein and Billy McNeill were deprived of the greatest triumph in their athletic career by completing the application form wrong.
"Do not destroy the beautiful clubhouse heritage that you have left in the care of previous generations, 'Bhoys'. I challenge you, would you in the spirit of the game and fair play, and on the basis of Art. 34 paragraph 5 of the UEFA disciplinary regulations of Legia Warsaw took a common position on the UEFA disciplinary bodies. Meet in Warsaw or in Glasgow and let's settle this matter honourably".
Celtic have made no comment on the matter, as of yet, but is believed that they will not accept Mioduski's offer.