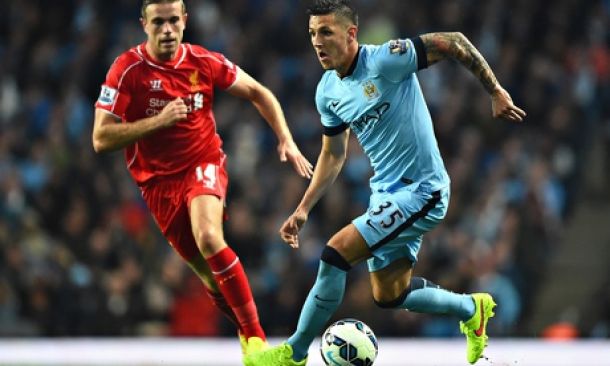 Since Roberto Manchini's departure and Manuel Pellegrini's appointment, Manchester City have done away with the rigid set up stereotypical of Italien football and replaced it with a costless flowing attacking formation. This new set up is designed to maximise the potential of a City squad that is rich in players of high football intelligence, quality, and versitility. We examine the rewards of such a system by taking a closer look at Manchester City's second goal of Monday nights heavyweight encounter against Liverpool.
Jamie Carragher and Gary Neville on MNF have already brilliantly analysed the mistakes made by Liverpool (in particular Moreno and Lovern) in the lead up to the goal but we're going to look at it from Manchester City's point of view and maybe understand why it was so difficult for Liverpool to defend against.
52:55: The build up truely begins when Coutinho swings in a ball too close to the goal and Joe Hart comes to claim it. Some of the City players recognise a potential counter attack and break quickly. In particular notice how Clichy is on the right side of defense when the catch is made and so breaks down that side.
Sturridge runs in front of Hart, blocking him from releasing any of his teammates on the counter attack and he instead opts to roll it short to Demichelis in the centre back position.
53:10 The first showing of City's fluid formation: Demichelis passes the ball to Džeko who has filled in at left back after Clichy broke centrally. Jovetic provides an option up the wing while Clichy returns to his position following the failed counter attack. 
53:13 Dzeko passes to Clichy who is immediately put under pressure from Henderson. Clichy plays it back to Demichelis and suddenly Sturridge and Sterling join Henderson to close the trap on Demichelis, Clichy, and Dzeko.
53:17 Demichelis beats the trap by finding Jovetic who plays a nice one-two with Fernando to recieve the ball in the centre with attacking momentum.
53:23 After beating the press, City have numbers forward on the right. Jovetic finds Silva who has support from Nasri, and Zabaleta attacking the wing. Silva plays it to Nasri who waits before playing a through ball to Zabaleta. Zabaleta's cross is well intercepted by Joe Allen who made up a lot of ground to track back, but he clears it straight to Kompany.
54:40 Kompany quickly switches the ball out to Demichelis who then gives it to Clichy. Note how Silva and Nasri are still on the right hand side and are making no effort to get across to the play. It seems City still intend to attack down that right side. Dzeko again fills in for a wandering player. This time he takes Silva's left midfield spot. Clichy plays the ball in to him but he plays it straight back. He doesn't want the ball. He has taking up the unselfish role of pulling the Liverpool defense to this near side before City again focus their attack down the right where Silva and Nasri are waiting. 
53:51: Clichy passes the ball back to Fernando who gives it to Toure. Toure looks to give the ball to Silva but Silva points out to Zabaleta and the space on the right side. Kompany bypasses Silva who comes deep and passes straight to Nasri.
54:00 At this stage, Manchester City are in their typical set up. Silva has drifted across from his starting left midfield spot to create an overload. Silva, Nasri, and Toure create a passing triangle with Toure the deepest of the three. Zabaleta provides the width on the right touchline. Dzeko and Jovetic take up the two striking positions to occupy the opposing centre backs. Then we see some of Pellegrini's work with the squad..
54:06 Firstly, Jovetic drops deep, pulling Lovren out of position and leaving space for Zabaleta to run into. After a flurry of passes, Silva brings the ball deep, drawing a challenge before laying it off to Toure. Immediately, Zabaleta bursts into the space left by Jovetic and Toure drives towards the touchline looking to release him. Unfortunately, the pass isn't on. The interesting thing is that the players make no attempt to return to their original positions.
54:14: Looking at the shape after the failed attempt to penetrate the Liverpool defense, the set up is exactly the same as before. A strike partnership, a triangle overload, and a man on the touchline. Pellegrini's system is heavily based on versatility and fluidly interchanging positions. Now we have Jovetic, Nasri, and Silva in the triangle with Silva the deepest of the three. Yaya has taken Zabaleta's role on the touchline, and Zabaleta has filled in for Jovetic. Silva then passes the ball in to Jovetic who cleverly flicks the ball into Nasri/Zabaleta and Nasri cuts it back for Jovetic to finish for 2-0.
There you have it. Manchester City's second goal was more then just a brilliant flick from Jovetic. There was an initial chance down the right, they stretched the Liverpool defense by switching to the left and back, they attempted to make room for Zabaleta, rotated, and then space opened up for the flick and  the cut back.
This passage also highlights how difficult it can be to defend against Manchester City; the amount of concentration needed to keep track of all the runners and all the different interchanges is immense. In general, Manchester City's probing and work rate are rewarded when a lapse does occur, and we all know what happened next.