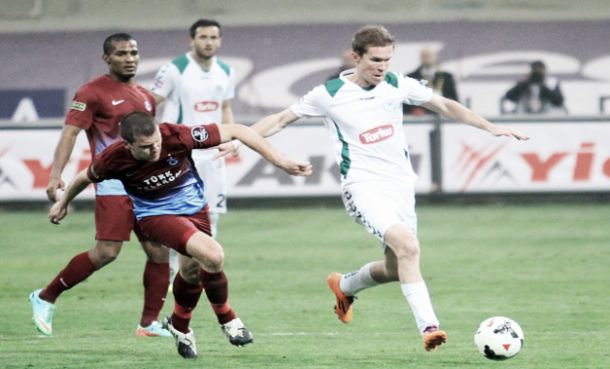 2005 was a huge year for Arsenal; not only would it be the final year the North London side would play their home games at their historic Highbury Stadium, prior to their move to The Emirates, the year they would lose club legend Patrick Vieira to Juventus, but it would also ultimately be the last time the club would win any domestic honours for a lengthly nine year spell.
Cue the summer of 2005, Arsenal had just entered the 2005/06 season off the back of a successful trophy winning season which saw the Gunners lift the FA Cup and the Community Shield, and finished runners-up in the league to a Chelsea side who lost just one league game all season.
With the departures of a less than impressive wide-midfield duo in Jermaine Pennant and David Bentley, who both struggled to break into the first team plans of Arsene Wenger and left the club for Birmingham City and Blackburn Rovers respectively, Arsenal were in need of reinforcements in the newly sparce position out-wide.
At the same time a certain Alexander Hleb, a relitively unknown attacking midfielder with a tendency to venture out wide, was making waves in Germany with Bundesliga side Stuttgart, topping the assist charts in a average Stuttgart team struggling since the departure of Felix Magath to Bayern Munich.
Little did the Belarusian know that it would be his final season with the German club and would soon capture the interest of Arsenal scouts and the eye of Gunners boss, Arsene Wenger, who had been an admirer for some time.
In June 2005 Arsene Wenger made Alexander Hleb his summer transfer target, placing down a statement of intent with a reported £15million for the Belarusian, which would see him tied down to the club on a four-year deal.
The signing was met with optimism by the fans, who longed for an attacking winger wth the talents that would replicate club legends Frederick Ljungberg and Robert Pires, two players who were known for their goalscoring talents in the famous red and white of Arsenal.
It was a big change for Hleb, joining a division which was widely known for its physicalities and living in a different country and culture to what he had experienced for the past five years in Germany. Despite the pressures upon him and the change in divisions, it was something which he would take well to, despite being a very slight build of player.
Despite the physicalities of the English Premier League, Hleb had a divine talent for staying on his feet, even when challenges were flying in from left right and centre, Hleb had a talent of weaving his way out of challenges whilst maintaining the ball at his feet.
Rather bizzarly it emerged that years of extensive balet practise was what blessed Alexander Hleb with such fantastic agility and quick feet which he used to his advantage.
Hleb's dribbling and passing abilities saw him instantly fit the mould of a typical Arsenal attacking midfielder, and was often credited for providing the decisive pass which would unlock a goalscoring opportunity for one of his fellow team-mates, despite rarely catching the plaudits of pundits the job he was doing for his team satisfied Wenger, and he soon became a regular starter within the team.
The Belarusian showed glimpses of brilliance throughout his time at Arsenal, arguably his best performance came at Old Trafford where he worked tirelessly to unlock the United defence and pick out key passes which unfortunately for the Gunners, weren't taken.
Just when the fans were starting the favour the Belarus international, Barcelona came knocking, having became the first Belarusian to appear in a Champions League Final the year before, albeit in defeat to the Spaniards. The allure for Hleb was too much and he agreed a deal to sign for the La Liga giants for a fee believed to be around £12million.
Unfortunately for Hleb the move to Barcelona wasn't all it had promised to be, he had gone from a first-team regular at Arsenal, appearing in Champions League finals and regular crunch games with top-four clubs in the Premier League to being given a handful of chances in Spain before a number of successive failed loan moves.
The general belief was that Hleb had made the wrong decision in leaving Arsenal, as he was swiftly loaned out to a string of clubs including former side Stuttgart in 2009/10, Birmingham City in 2010/11, before returning to the Bundesliga with Wolfsburg.
Hopes that the midfielder could reignite his career back in Germany soon faded as he struggled to make an impact with Wolfsburg despite being back under the stewardship of former manager Felix Magath, who had coached him throughout his prime at Stuttgart.
It would be his last chance in one of Europe's top divisions, Hleb's contract at Barcelona was cancelled by mutual consent and he was looking for another club.
Hleb found solace in Russia, when Russian Premier League club Krylia Sovetov Samara signed him until the end of the season.
Again rather unsurprisingly it was a move which didn't pay much dividents for both parties and in 2012 Hleb signed a contract with the club where it all started for him, back in his native Belarus, Alexander signed a contract with BATE Borisov and went on to win the 2012 Belarusian Premier League.
To find Alexander Hleb nowadays you would have to venture to Turkey, where in the industrial city of Konya, homes his latest club, Torku Konyaspor who play in the 'Turkish Super Lig' alongside Galatasaray and Fenerbache.
Whilst admitting leaving The Emirates was the worst career choice he could have made, the fact that Alexander Hleb has continued to fight on pays homage to his determination to one day reach the summit of European football once more.