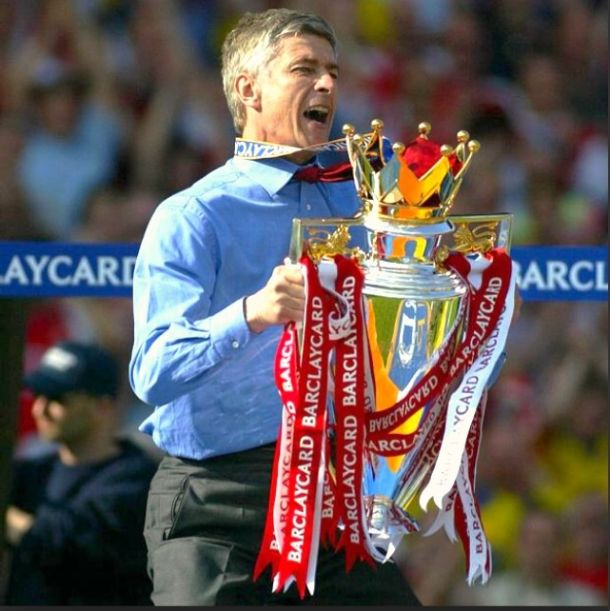 It's Arsene Wenger's 18th anniversary as Arsenal manager and he has managed some truly world class players. Here is my list of his best ever 11 players.
Goalkeeper: David Seaman
Arsenal's goalkeeper between 1990-2002. He was outstanding in all seasons for the Gunners making some key, match winning saves. Also featured for England in 2 world cups. In 2002 he pulled of what many consider one of the greatest saves of all time. A cross cum shot from a Sheffield player fell to the United striker, who headed towards goal. Seaman dived backwards and clawed the ball from the goal line. He won 2 premier league titles with the club, along with a European Cup and 3 FA cups. Becoming a very decorated footballer, and earning himself games for the Gunners.
Left-back: Ashley Cole
As much as it hurts to say it, while Ashley Cole was at Arsenal, he was a fantastic footballer, bombing up and down the left in a wing-back like fashion. He too was an England international who has played at 2 world cups. He won a Premier League title with the club, and was a starter in the famed 'Invincible's' squad of 03/4. He used his pace and awareness very well in. The final third, often finding himself making assists in the penalty area. In the last season at Highbury he played in the Champions League final and earned himself a runners up medal.
Centre-back: Tony Adams
Tony was Mr Arsenal in the 90's, but under Arsene Wenger he played arguably his finest football. A previously established Arsenal player, he thrived under Arsene, captaining Arsenal to the League and Fa cup double, and another one of each in 2001 and 2002 respectively adored by the fans, and often found himself in scoring positions from the back. With 500+ appearances he is an absolute legend at Arsenal, even getting his own statue at the Emirates.
Centre-back: Sol Campbell
Another rock at the heart of the Arsenal team. A veteran in the team, and a key figure in the Invincible's squad, another rock at a different period in Arsene Wenger's time at Arsenal. Scorer in the champions league final and a fantastic leader and mentor of the younger players in the team. In 2010 he came back to the Gunners for one more season, and featured towards the end of the season.
Centre-back: Martin Keown
Martin Keown was an old fashioned english defender, aggressive, ruthless and persistent. Nicknamed 'The Rash' he was an incredibly gifted man marker, he was also very passionate about the club, and had many violent coming togethers with some opposition strikers. A brace scorer in a memorable champions league comeback, he was moved to right back and scored 2 goals i the last 5 minutes to win the game. A real legend at the club.
Centre-midfield: Patrick Vieira
Possibly the greatest ever Centre midfielder to put on an Arsenal shirt, Arsene's first ever signing, enigmatic frenchman turned World class midfield Powerhouse. He was an essential part of the team from 1996-2005, his last ever kick for Arsenal won them the FA cup. A giant with a touch of genius, a shot like a bomb, and 9 years of football for the gunners, he won all but one of Arsene Wenger's trophies with the club, and captain the last 3 seasons he was at the club. Truly iconic.
Centre-midfielder: Gilberto Silva
Arsenal unsung hero. He wasn't the most skilful, or the best passer. He didn't have the best shot, nor the best tackling. But he was humble, and fantastic, the invisible wall in front of the Arsenal defence, he was the most composed of the Arsenal team, he rarely made a bad decision on the pitch. A Brazilian who played without the flair that came with so many of his generation, but his intelligence and knowledge of the game was second to none. He safe guarded the team for many years, becoming and Arsenal legend and making his way into my team.
Left-wing: Robert Pires
Arsenal's number 7, an incredible talent, he had a terrific finish and was often on the scoresheet and very much involved in the invincible's season, and has won PFA player of the year under Wenger. He was well known for cutting in and curling the ball into the fat corner, and scored some beauties in his time, he left Arsenal after nearly 7 years at the club, and didn't fail to score in any of them.
Right-wing: Freddie Ljundberg
The man who was always in the right position, he scored goals out of nowhere, and even though he wasn't particularly quick, he was always there in time. A constant in the squad, he was instrumental in matches that won us titles such as 1-0 - Manchester United and 2-0 Vs Chelsea. His red hair and work rate won the hearts of the Arsenal fans and in the invincibles season he had 4 goals in as many games in domestic matches, which was by no means his best achievement under Arsene Wenger.
Centre-forward: Dennis Bergkamp
A player with so many superlatives its almost unbelievable. There isnt really a handful of points i could say to justify his being in the greatest eleven but the fact that he is arguably the best ever Arsenal player. A man with so much talent it was almost too good to look.
Striker: Thierry Henry
Was is there to say about Arsenals top scorer of all time. His finishing was up there with the all time greats of the game, and with several golden boots, numerous player of the year awards and more trophies at Arsenal than you could count on one hand. Thierry was Bought by Wenger, and made by Wenger. Moved from the wing to up front, he found himself fast becoming the best striker in England, and then, debatably, Europe. A fan favourite, he was so passionate about the club that he has kept his close bond with the team since his departure in 2006/7 after 224 goals for Arsenal. He returned in 2012 to make the number 226 and say a final goodbye to the fans. A memorable couple of games for Thierry, who will be forever remembered at arsenal. The king of Highbury is the final player in my team.
So there we have my greatest XI under Arsene Wenger, and what a crazy 18 years its been, so many ups and downs but in the end football should be thankful that a man called Arsene Wenger took a flight from Japan to England to take a job as Arsenal manager.