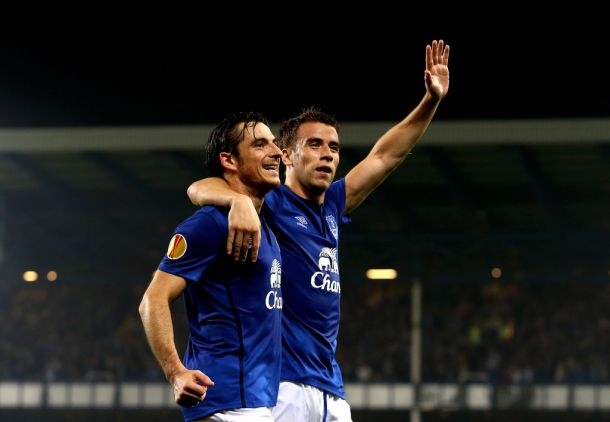 Since being appointed as manager of the club, Roberto Martinez domestic objective has always been the same as David Moyes': secure UEFA Champions League football at Goodison Park. This was a feat achieved by David Moyes back in the 2005/06 season, but unfortunately for the Toffees, they crashed out in the third round of qualifying by Manuel Pellegrini's Villarreal side, who eventually went on to be semi-finalists. That season, UEFA allowed 5 English clubs to enter the competition: Chelsea, Manchester United, Arsenal, Everton and Liverpool, who won the 2005 final with that against-all-odds comeback from 3-0 down at half-time to AC Milan in Istanbul - a day no football fan will forget.
In 2013, it was decided that UEFA would introduce a new rule, following the previous abandoning of the 'winner of the Champions League will be awarded a place in next season's competition' rule, back in 2007. UEFA's new rule meant that commencing this season, the winner of the Europa League and Champions League will both automatically be entered into the group stages of next years UCL. When broken down and analysed parallel with the tough competition in the Premier League, this could be the idealistic pathway for Roberto Martinez and his men to qualify for the competition. Last season, Everton took Arsenal all the way, and were positioned in fourth until the last five games where they dropped points majorly.
This season Everton qualified for the Europa League in 5th position and were paired with Wolfsburg, Lille and Krasnodor, the group of death in the competition. Wolfsburg and Lille are both hugely respected across Europe and it's debatable they have the qualities to be in the Champions League this season (along with Everton), but they fell short respectively in the Bundesliga and Ligue 1. Krasnodor provide a long easterly flight to Russia for a game in which no British manager ever wishes for in Europe. With the disruption and congestion of early fixturing, along with combating the injuries from the return of a new season, Roberto Martinez will have to correspondingly play on Sundays or Mondays after a UEL match, something that is not favourable for any club.
Therefore, with the new position that the champions of this seasons' Europa League receive, Everton should opt to prioritise this compeition ahead of the Premier League. With the return of Manchester United in resurgent fashion under Louis van Gaal, Liverpool's revival under Rodgers, and Chelsea, Manchester City and Arsenal characteristically consistent, you could argue that Everton are more likely to qualify through winning the Europa League.
From matchday one's performance - Wolfsburg at Goodison Park, you could really argue that Martinez is doing just that, after a resounding 4-1. Everton were at their best. A hard fought point in Russia will also have been considered a good result, considering the conditions and the fact they trailed for the majority of the game; they showed fighting spirit and character considering the options Martinez had available in the squad.
Overall, Everton have shown positive signs that they can achieve Champions League qualification, and the positives have been there so far this season and particularly over Roberto Martinez's tenure so far. The summer £27m capture of Romelu Lukaku will be a real boost to UCL effort and the position they sit with points-wise in the Europa League group of death looks promising for qualification. They need to get back to the defensive solidarity of last season, where they were one of the best defensive teams in the Premier League, however; this season it doesn't look that way, having conceeded the most goals mainly due to squad rotation and injury, accompanied by Tim Howard's lapse in form. If the Toffees can remain in touch with the top four this season, they can main competitive on both fronts and have a much better chance of playing in next season's competition, which is unquestionably within their capabilities.
---