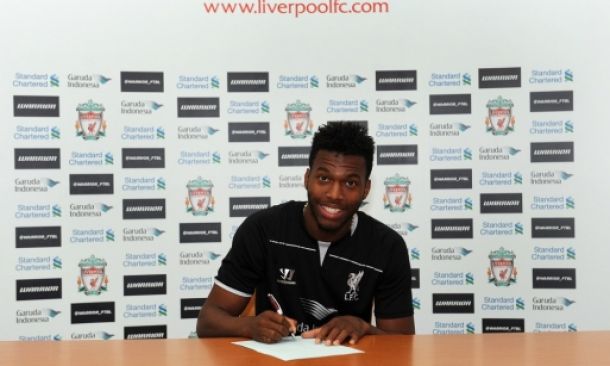 Finally some much-needed good news for Liverpool Football Club and it's supporters, after it was revealed on Friday that prolific striker Daniel Sturridge has signed a new and improved contract, committing his future to the club.
The striker's new deal means he is contracted to be a Liverpool player until 2019, and the 25-year-old penning to paper will be music to the ears of the fans. Sturridge was a huge part of the club's success in 2013-14, contributing 21 goals and becoming only second to teammate Luis Suárez in the Premier League top goalscorers charts and has proved himself a sensational signing since joining for £12 million from Chelsea.
Sturridge has netted a phenomenal 36 goals in just 52 appearances for the club, and has also established himself as one of his country's top strikers - scoring in the recent World Cup in Brazil over the summer.
After signing his new contract, the striker told Liverpoolfc.com: "It feels great. It's a big, big day in my life to commit to this club and to give the club my best years, which are ahead of me.
"I am thankful for the opportunity and that is the reason I committed my future. Everyone has been great with me, from the fans to the staff to the players, so it was an easy decision. I'm happy with how everything is going."
The No.15 is currently attempting to re-gain match fitness after missing six games through an injury acquired on international duty, but insisted what he's doing at the club "is only the start."
"There are a lot of things I'm happy with how they've gone so far, but there is a lot to come. I've not shown yet what I can do - what I'm doing is just the start for me.
"I may have had some good games and scored some goals, but literally this is the beginning in terms of what I can show. I don't feel I've shown really what I can do as a footballer. I am looking forward to the hard work, the training, the games and everything - and looking forward to the future."
Speaking about last season's triumphant second-place finish, Sturridge said: "We were so close to success last season and it was a bitter pill to take not winning the league, but that's just a taster of what the fans will get - but hopefully this time we'll have the trophies to show for it.
"Everyone is very obsessive in terms of wanting success and being winners. That's what we are - that's the Liverpool Way."