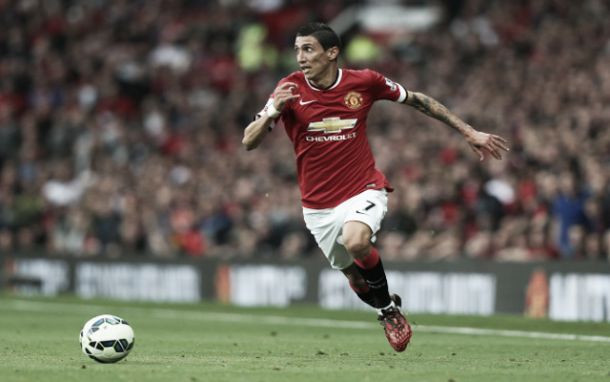 Everton travel to Old Trafford Sunday lunchtime, hoping for a repeat performance of their trip last year when they managed to come away with all 3 points thanks to a late Bryan Oviedo strike. Both sides have started the season with a mixed bag of results, with Mancheser United picking up two wins compared to Everton's one.
United will be hoping to notch their second consecutive win after scraping past West Ham last weekend, with goals from Robin Van Persie and Wayne Rooney. The latter was sent off for a robust challenge on Stewart Downing and he will have to look his side's clash from the stands. Ander Herrera will also be missing for the lunchtime showdown after breaking a rib in last week's victory against Sam Allardyce's side and the Spaniard looks set to be out for a 'few weeks'. United have an ever-expanding injury list with Phil Jones, Michael Carrick and Ex-Toffee Marouane Fellaini also on the sidelines.
"Attack is the best form of defence", and for Manchester United it most definitely is. They will be hoping their star-studded attackers will hit the back of the net more times than De Gea has the ball in the back of his. So far this season we have seen the positive and negative side of having an attack like United's; an easy 4-1 win against a clueless QPR side overshadowed by one of the most surprising results this season, when they were defeated by Leicester 5-3, the Foxes coming back from 3-1 down to secure all 3 points in the final few minutes of the game.
It is worth noting, perhaps, that Alex Ferguson and David Moyes both lost their first Premier League home games as United boss against Everton. Current boss Van Gaal will be hoping he can make it third time lucky and pick up all 3 points in what is sure to be a fiery showdown.
The game against Everton this weekend will provide a headache for the Dutchman as his team come up against the second highest scorers in the league, as well as the leakiest defence. Everton have scored 12 goals and conceded 14 goals in their first six games, a contrast to last year's first 6 fixtures when the blues only conceded 6 goals. Everton manager Martinez will be looking to address this issue as soon as he can to avoid his Everton side falling further away from the pace-setters. If Martinez is to take Everton to the next level and qualify for the Champions league then his defence needs to be high on the list of his priorities.
The Toffees have some injury concerns though, with Ross Barkley still out after suffering a knee injury prior to the beginning of the new campaign. Arouna Kone seems to have gone missing altogether and Kevin Mirallas suffered a nasty hamstring injury during the Merseyside Derby last weekend and looks like he will miss out on action for a few months at most. That being said, a positive for the Toffees will be the return of Seamus Coleman who looks set to return to the starting line-up after a few weeks out with a couple of injuries.
Everton will be hoping to go one better than last week's performance against Liverpool; Jagielka's thunderbolt in the dying embers of the game meant both sides shared the points and probably rightly so. The Toffees seemed to show more desire last weekend than they have done all season; Martinez's expectant fluent style seemed to show signs of a return and Evertonians will be hoping it returns in its full entirety this weekend, as 3 points is a must for the ambitious blue outfit.
There is an air of frustration around Everton and rightly so. Everton were predicted another strong season this campaign after their showing last season and that 'strong showing' could still come to fruition in the remaining 32 games, but right now the performances have simply not been good enough and at some stages it has felt like Martinez hasn't really known what to do himself. With a little bit of pressure on the Spaniard's shoulders, Everton's performances could go either way. Some managers thrive under the pressure whilst others can crack. Expect Martinez and his Everton side to eventually silence the critics, because when do they ever not?
Swaps and changes to the side this season has meant that the consistency of last season's playing squad has been altered, and there could possibly lay the answer to why Everton's performances have not been at the same level of last seasons. With the return of European football and 7 matches in just 22 days, Martinez has not been able to select the same squad in each game.
Defence will be key on Sunday, as the attacking prowess of United can strike quite literally at any time. This Everton side will also have to be careful if they do go ahead as they have lost the most amount of points this season from winning positions, 7 points.
Martinez will hope his attack continues to perform like it has in the first few games though; Samuel Eto'o, Steven Naismith and Romelu Lukaku is an attacking force that is envied by many and so it should be. If you are someone who likes to look for good omens, here's one. Only 4 players have ever scored a hat-trick against Manchester United and two of them now ply their trade with Everton and both could play on Sunday. Step forward Romelu Lukaku and Samuel Eto'o.
Prediction: Manchester United 3-3 Everton. A game with plenty of goals and a point for both sides.