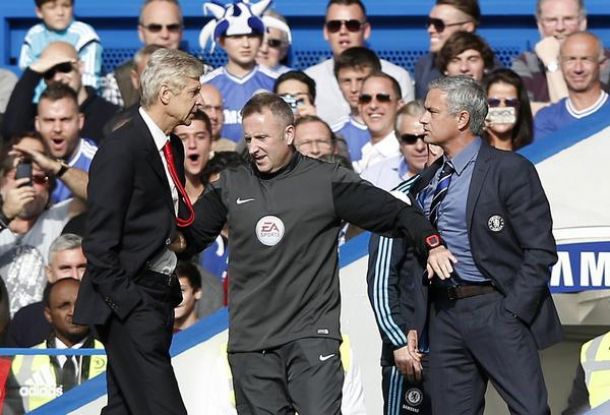 Chelsea ran out 2-0 winners against Arsenal at Stamford Bridge, maintaining their five point lead at the top of the Barclays Premier League. It was a physical game, highlighted by the impressive performances of Oscar and Eden Hazard. The scoring was opened by the Belgian winger after having won a penalty, jinking past three Arsenal players before being brought down by Laurent Koscielny. A calmly placed penalty gave Chelsea the lead. The three points were sealed just 15 minutes from time when Diego Costa latched on to the end of a Cesc Fabregas ball over the top, the goalscorer lifting the ball over Szczesny. Early on, Mourinho was forced to make a switch as Thibaut Courtois suffered a head injury, prompting Petr Cech to replace him in goal.

Mourinho assured Chelsea fans about Courtois' injury: "It's nothing special. Nothing to be too worried about", he said. He also added that he had full confidence in Cech to replace the young Belgian keeper. Courtois was taken to hospital as a precaution after being substituted, with reports that it is only a concussion injury.

Gary Cahill was the center of attention after his crunching challenge on Alexis Sanchez, which then led to Arsene Wenger and Jose Mourinho confronting each other on the touchline; the Gunners' boss shoving Mourinho in the process. Mourinho stated his innocence in the situation, saying, "I have done so many wrongs in football but not this time." Arsene Wenger also commented on his actions, "I wanted to go to A (away dugout) to B (Sanchez) and someone confronted me without any sign of welcome."

Eden Hazard, who took the game by storm throughout, was the receiver of praise from his boss. who told the press, "In these matches you need one of your top players to take some magic cards out of his pocket. Hazard did it when it was 0-0." The tricky winger opened the scoring with the penalty he won himself and didn't let the side down, constantly causing problems for the Arsenal back four.

Regarding Cesc Fabregas, who returned to face his old club today, Mourinho admired his performance: "I don't remember a game this season where he wasn't fantastic. We have people with very consistence performances", he said.He went on to point out Fabregas' "commitment with us [Chelsea] and professionalism", calling it fantastic.

Chelsea now head into the international break top of the league, 5 points clear of Manchester City in 2nd place. Mourinho will be very happy with the continued goalscoring form of Diego Costa while Hazard was once again involved in everything the Blues created today.