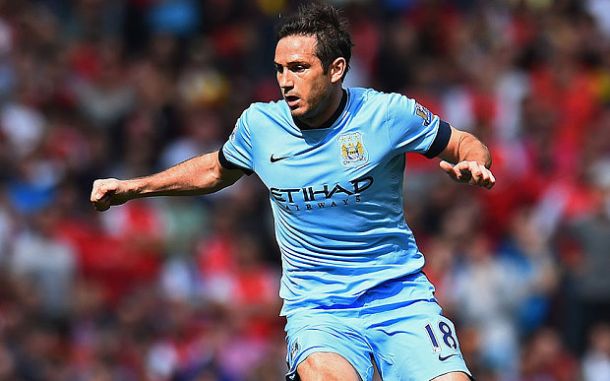 Midfielder Frank Lampard has not ruled out the possibility of extending his stay at Manchester City beyond January 2015.
Lampard has impressed so far on his loan from sister club New York City. The former Chelsea man has scored four goals in six games so far including an equaliser against Jose Mourinho's side in their 1-1 draw at the Etihad.
Lampard has said that he has not given the issue much consideration, but when asked if he was tempted he didn't rule the option out.
Lampard said: "The temptation is to not get ahead of myself in my career. I am here until January 1, basically, so I will focus on that and see what happens then.
"There has been a lot said about when the season starts, but the only thing that can decide my future is how well I am playing. They will be kicking me out in January if I don't play very well."
Lampard's excellent form has fuelled the speculation that the loan deal will even be extended by a month until February 2015. Lampard had signed for New York after being released from Chelsea and was brought in to help maintain his fitness before the beginning of the MLS season.
Lampard added: "I have scored a few goals and I hope they can see my desire. I haven't come here just to train and make up numbers in the squad.
"People might have thought that was the case but it's not. I want to perform - I have always done it throughout my career, and if people see that I am giving my all the fans will get behind me."