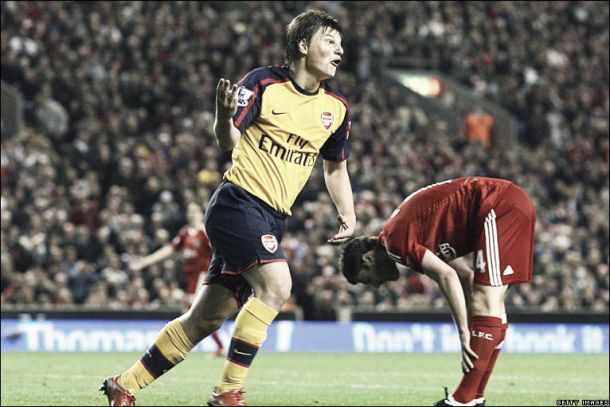 Arsenal and Liverpool are set to meet at Anfield this weekend, and with that a certain Andrey Arsahvin may spring to mind. For him, scoring four at Anfield in one game will be up there as one of his career highs and it may be all he is remembered for his in his topsy turvy spell at the Gunners. However, there is more than meets the eye in terms of the little Russian who came to Arsenal with an ever growing reputation.
Andrey Arshavin joined Arsenal in January 2009, and at the time was the club's record transfer, costing the Gunners around £15m. It seemed an absolute steal to get a player of his quality for that little money. His performances at Euro 2008 for Russia earned him a place in the Team of the Tournament but despite not proving himself in a big league, Arsene Wenger took the decision to lure him from Zenit to the Emirates. It was a signing that sparked celebrations throughout Arsenal supporters, but it was a love affair that quickly spiralled out of control.
It wasn't just his performances for Russia that had caught the eye though; his displays for Zenit Saint Petersburg in Russia's top division had seen him score 15 times and earn an incredible 27 assists in the 2007 season, before netting nine times and notching up a tally of 11 assists in the season before he came to England. As expected he took one or two months to adapt as winter transfers usually do, but his quality was clear for all to see when he scored a remarkable solo goal against Blackburn to open his account.
Arshavin has always had brilliant close touch control and balance which is what made him such a tricky player to deal with in the prime of his career. He seemed to be the perfect Arsenal player under Wenger. He was composed, relaxed and above all he created opportunities for his team mates as well as himself. His 41 assists in 143 Arsenal games proved that.
It was his four goals at Anfield in his first few months at the club that really caught the eye though. His first, if Arsenal fans can bare to look the build-up to the goal (both Nasri and Fabregas were involved) was hammered home in off the bar whilst his second was fired home brilliantly from the edge of the area. They were goals that both prompted his classic "Shhh" celebration. The strike that sealed his hat-trick was gifted to him on a plate by Fabio Aurelio but his fourth was a classic Arsenal counter attack. Walcott broke and then found the Russian, who slammed it home. It was a remarkable game for Arshavin, on a day where he made his name as an Arsenal player so soon after joining.
Coincidently he came second in the club's Player of the Season poll despite only playing half the season.
However, Andrey Arshavin was more than those four goals against Liverpool and despite being at the club during one of their most unsuccessful phases he produced some truly memorable moments. He was to score another brilliant goal at Anfield in the 2009/10 season, whilst in the same campaign he scored a thumping effort against Manchester United at Old Trafford. There was of course that mesmeric counter attacking goal against Barcelona in the Champions League too. Look his goals back and you'll notice that many of them were very instictive, not to mention the extreme quality of most of his strikes.
For some reason though he began to become very lacklustre, his work rate became noticably poor and his desire and love for the game looked to be lost. A loan spell at the back end of 2011/12 to his beloved Zenit St.Petersburg hoped to rejuvinate his Arsenal career but he ended up being sold back to them shortly after. Many Gunners fans became tired of the Russian's performances but it's difficult to forget some of the simply brilliant moments of entertainment he brought to the Premier League.
His final season did see him grab five assists in just 11 games, form that a small contingent of Arsenal fans thought was deserving of a second chance. It clearly wasn't to be as Wenger had also grown tired of his efforts. Overall he scored 31 times in 143 Arsenal games, 22 of which came throughout the 2009-10 and 2010-11 seasons.