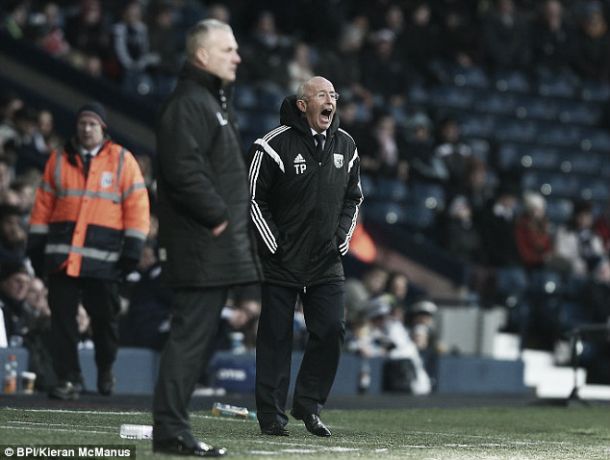 West Bromwich Albion manager Tony Pullis has rallied his side after a hard-fought victory at home to Hull City.
The result, courtesy of a solitary Saido Berahino goal - his 14th of the season - sees the Baggies move to two points above the relegation zone.
After the game, Pulis was quick to stress the necessity of unity and patience amongst the players and fans alike as the Midlands side look to beat the drop.
"There's lot of work to be done, I think the crowd were very patient," said Pulis.
"We will need them to be behind us. The important thing is that people have to recognise how tough this is going to be.
"People think I am just saying it to take the pressure off but just have a look at the Championship and how many teams are in there having spent years in the Premier League.
"The reason they have gone into the Championship is because they've got complacent, people around the place got complacent - without a question of a doubt and everybody took their foot off the pedal and almost accepted they were going to remain in the top flight, if you look at them.
"As soon as you do that you'll get relegated. I'm just saying that is what happens. People take their foot off (the gas) and expect.
"And 'complacency' is the worst word in the dictionary.
"This club and everybody around the club has got to understand that this is a real dogfight til the end of the season. For us to stay out of it, everybody has got to pull together. That's not just myself, the Chairman, the staff and the players. The supporters play an enormous part.
"As I said, they were brilliant today. They were very, very patient and kept behind the players and we will need that from now until the end of the season.
"That's my message to everybody. I don't do it a lot. When I went to Crystal Palace the supporters were absolutely fantastic. The Chairman got me four players in at Christmas: Scott Dann, Joe Ledley, Wayne Hennessey and Tom Ince and the standard of the team went through the roof. That's what I am talking about.
"You can get players in of the same calibre than we've got but we have to try and get better players and that's my biggest worry: trying to find those players in such a short space of time having joined the club when the window has opened."