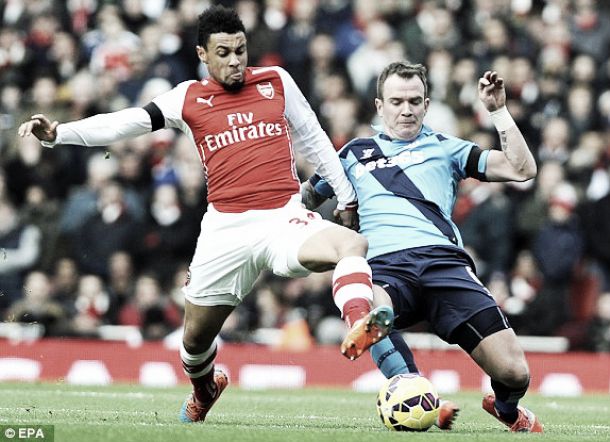 With the current form of Arsenal's defensive midfielder Francis Coquelin, many supporters have suggested that he is ready for regular first-team football, and the upcoming fixture against Manchester City is a perfect test for the in-form Frenchman to prove himself.
You could argue that he is ready for the tough opposition in the form of Pellegrini's men tomorrow, as he has proven himself against the likes of physical sides such as Stoke and Hull, and seems ready to take his game to the next level.
He started his Arsenal career with plaudits, earning praise for his composure and tactical awareness. He showed particularly good talent to be able to drive the team forward from deep positions, contrary to Mikel Arteta, who is criticized for passing sideways and backwards, as well as Mathieu Flamini, who makes the more simple of passes, not to mention picking up handfuls of bookings.
The thing that sets him apart from the other defensive minded midfielders in the team is that he is always looking to play the ball forward into the more creative players, which speeds up Arsenal's attacks and adds a real edge to the way that The Gunners play.
He has shown many of the defensive qualities that Wenger's side have been longing for over the past couple of years, especially given the fact that he is not afraid to put a foot in with tackles and knows what is required to nullify an opposition counter attack. It is easy to assume that this is down to his purple patch of form, but it will be interesting to see how he continues to play over the coming weeks. When the move was first announced that he would be returning back to the squad, and playing for the first-team, it was met by an ungrateful reception from the majority of Arsenal fans, suggesting that he was not good enough to command a first-team place. Is that too harsh?
It is well documented that Coquelin has never really had a chance in the first-team set-up previously up until now, but this has been key to his development and his numerous loan spells seem to have helped him gain experience as well as making sure that he has come back to London Colney with a point to prove. He does not want to become another promising player who has his career wasted at a big club, which is fair enough in itself.
The only question left to ask is; is he good enough? Time will tell.