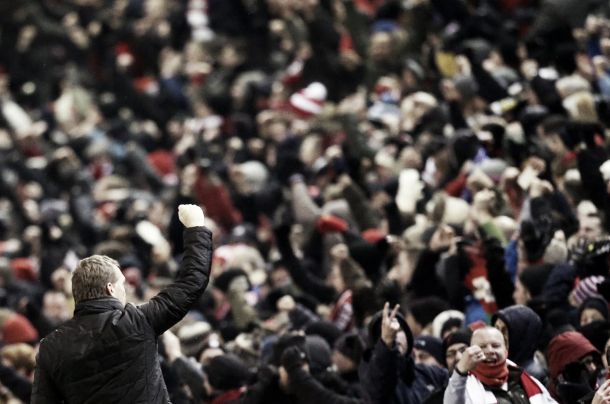 Liverpool manager Brendan Rodgers has insisted his side have every chance to reach the Capital One Cup final after the Reds drew 1-1 in the first leg of their two-legged Semi Final affair at Anfield on Tuesday night.
Emre Can's clumsy challenge gifted Eden Hazard the opportunity to open the scoring against the run of play in the 19th minute and the Belgian duly obliged, rolling it the opposite way to Simon Mignolet, but Raheem Sterling's sensational solo run and finish deservedly evened things up just before the hour mark.
Rodgers said after the final whistle: "I felt the performance here was a good benchmark of how we are working right now. This has reinforced my feeling that we can go to Stamford Bridge to give the performance to get the result we need."
The result means Liverpool are unbeaten in nine games in all competitions since losing 3-0 at Manchester United a month ago, and their performances have drastically improved in the time frame.
Having noted that his side have "regained their identity" recently, Rodgers told reports that he expects a different game next week: "You'd expect Chelsea to open up a little more in the second leg," he said. "That will help us because of the pace and invention we have in the team.
"They have got a good record at home but we haven't conceded in our last three games away from home."
The Northern Irishman was impressed with his side's goalscorer Raheem Sterling, who put in a terrific performance in a lone striking role. Having just returned from a planned mid-season break in Jamaica, the extra energy obviously benefitted the 20-year-old and his teammates.
"The rest has done him the world of good," stated Rodgers, who had come under fire from pundits for letting him go abroad. "I thought he was outstanding in his movement. He's got a great ability to run in behind defenders but also to run at them into the box.
"His speed was frightening to get in and finish off his goal and he certainly deserved that for his performance."
The two sides will battle it out for a place at Wembley next Tuesday at Stamford Bridge, whilst Sheffield United and Tottenham Hotspur will contest for a trip to the final in the other Semi Final.