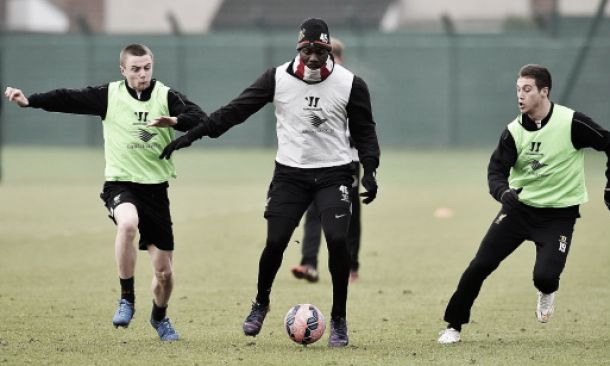 Brendan Rodgers' squad will be boosted by the returns of Joe Allen, Mario Balotelli and Glen Johnson ahead of this Saturday's FA Cup Fourth Round game against Bolton Wanderers.
The Northern Irishman, speaking on Thursday afternoon in his pre-match press conference, told reporters that Balotelli has recovered from a chest infection, Welsh midfielder Allen has finally recovered from a month-long knee injury and Johnson comes into the squad for the first time since suffering a groin strain in mid-December against Manchester United.
Rodgers said: "Joe Allen is back and has trained this week which has been great. Glen has had a good week's training and will be available. Mario has trained as well.
"We will make some changes for the game but not too many. It's a game we want to win and we want to progress into the next round."
The Liverpool boss will still be without Brad Jones, with a thigh injury, so Danny Ward will fill his place on the bench. Daniel Sturridge isn't fit enough to make the matchday squad, nor is Jon Flanagan and Jordon Ibe also misses out after featuring in the competition whilst on loan at Derby County, meaning he is cuptied, Rodgers confirmed.
"We're still waiting [on Sturridge]. He's still working, but he won't be available for the weekend.
"Brad [Jones] is still out and won't be available and Jon [Flanagan] is not part of the squad as of yet."
The Reds' manager added that he will make some changes to the starting line-up after the busy fixture schedule his side have had to contend with over the past month.
"We'll make some changes, but it's a game we want to win and we want to progress into the next round," said Rodgers.
"I'll do what I've done right the way through the season and look at our squad. We've got some very good players and we'll look to make changes, but not too many. We'll make changes this weekend, but it shouldn't disrupt the flow of our play."
On specific players who will feature, the Northern Irishman ensured reporters that Jordan Rossiter would play a part. The 17-year-old made his first-team debut in a Capital One Cup meeting with Middlesbrough last September, featuring for 79 minutes at Anfield and scoring the game's opening goal in the 10th minute, and looks set to start.
"He will be involved," Rodgers explained. "We've got some very good young players that, over the next couple of years, you'll get to see more of.
"They really fit in with the work. Alex Inglethorpe does a wonderful job at the Academy in terms of aligning the players to the philosophy and how we want to work here.
"They train and work a lot with the first team. There's a great relationship there between both. In the next few years we'll see the fruits of that."