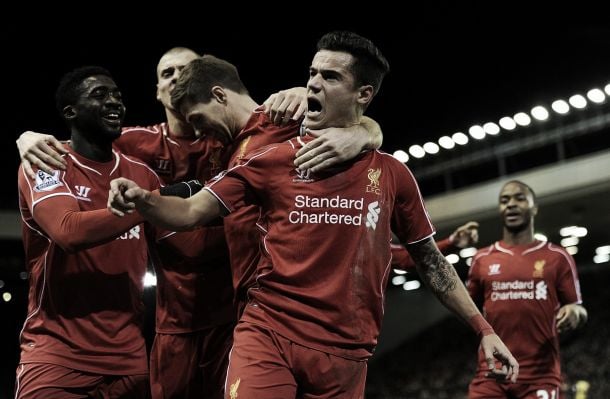 Liverpool playmaker Philippe Coutinho is understood to be close to agreeing a new four-and-a-half year contract extension.
Coutinho has been one of the club's best players in the past few months despite an inconsistent start, winning Player of the Month in both November and December, whilst his strong form has continued into the new year.
The 22-year-old's current deal doesn't run out for three years, but talks have been ongoing recently and a conclusion is set to be reached soon, with increased wages in reward for the Brazilian's recent performances
Coutinho originally signed from Inter Milan for £8.5 million in 2013 and has since gone down to become one of Brendan Rodgers' best signings, and at just 22, the Northern Irishman is keen to build his side's attacking impetus around Coutinho for the coming years.
The news comes after Rodgers recently heaped praise on the playmaker, nicknamed 'the Little Magician' by his manager and his teammates. He told Liverpoolfc.com: "He was outstanding the other night," talking of Coutinho's performance in the first-leg of the Capital One Cup semi-final versus Chelsea.
"It was a difficult start to the season for him because if you think of Phil Coutinho, he has that bit of magic to make the key pass in the final third and combines with people ahead of him so well.
"Last year he had a [Luis] Suarez and a [Daniel] Sturridge to make those passes to and he could work well with their style.
"At the beginning of this season, he didn't have that. Probably until six or seven weeks ago, his ability to make that threaded pass through wasn't on because he didn't have that [energy and movement up front]."
Though Liverpool's change in system this season, reverting to a 3-4-2-1 in which Coutinho can thread eye-of-the-needle passes from behind the striker has seen him put in a string of terrific displays.
"We had to look at how to bring out the best in all our players, and once he's had mobility, energy and speed around him, it's lifted his game," he added.
"He's a class act, and he's still got so much growth and development to undertake here."