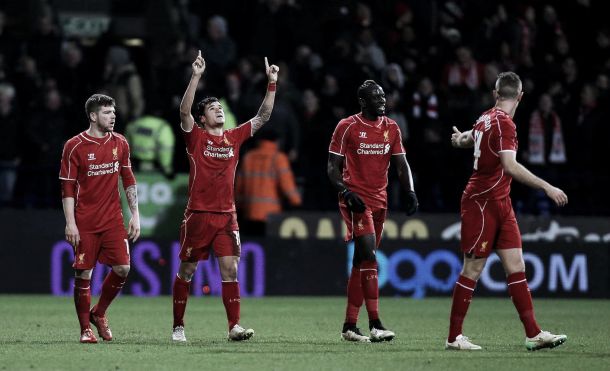 Brendan Rodgers was quick to heap praise on his team for their "winning habit" after a 2-1 win over Bolton Wanderers in the FA Cup on Wednesday night.
Late strikes from Raheem Sterling and Philippe Coutinho gave the Reds passage into the Fifth Round to face Crystal Palace, despite Eidur Gudjohnsen handing the Championship side the lead from the spot just before the hour mark.
Rodgers' side have now lost just two of their last 17 games in all competitions as they look to put their dismal start to the campaign behind them. He told reporters after the game: "Over the last eight weeks the character, quality and intensity of the team has gone up another level.
"We scored two but could have had many more. But give credit to Bolton as well over the two games. Neil [Lennon] has done a brilliant job with his squad - they are very resilient and very hard to beat. They took us right to the very end, but it was a great win for us.
"We hit the bar five or six times and created other chances. We had a lot of attackers on the pitch at the end and their quality came through. You have to keep your patience, especially against 10 men. We needed to keep the width in the game. We've got great technical players. It was a hard fought game but we deserved to go through on chances we created."
Rodgers' side battled hard against Neil Lennon's side, who were reduced to 10 men after Neil Danns was sent off for a second yellow card shortly after they given the lead.
Despite criticism of referee Roger East's performance, Rodgers added that he thought the end result was the right one, and he always expected his side to come from behind: "I think it was justice, in all fairness. Even at 1-0, I expected us to win. The confidence of the team at the moment is very high.
"We had some chances in the first half and didn't quite take them. Then we went a goal down to what was never a penalty. But our composure and quality after that moment was very good.
"We have a great habit at the minute, which is winning games. You can't question their character; they have shown in my time here that they have a really strong mentality.
"They might not have been playing or performing well, but certainly we needed to arrest the momentum that was going the other way after the Crystal Palace game.
"After that, we did that with seven points out of nine. But it was then putting something in place that was going to get us back operating how we have done. That momentum has now come the other way over the last seven to eight weeks.
"The team is back at the level technically and in the intensity of the game. It's pleasing because you can see the confidence and even at 1-0 down, we still looked like we were going to create and score goals.
"The players were magnificent tonight and you've got to give them a huge amount of credit. In a tough game away from home, 1-0 down, to come back and show that character and the quality of the goals was outstanding."
Daniel Sturridge made a 20-minute cameo away at Bolton as he slowly edges towards full fitness after marking his return with a goal at the weekend.
Asked about the English striker's fitness in his post-match press conference, Rodgers responded: "It's just managing that game time. He's a top talent. Obviously when he's fully fit, he plays - it's as simple as that.
"He's not at that stage yet, but he's a great player for us at the moment to come off the bench, and he is getting there every day.
He also added that Serbian Lazar Markovic, who was replaced by Fabio Borini after the hour with an injury, was only carrying a strong knock, whilst goalscorer Sterling will recover from the numerous heavy challenges he came up against: "Lazar [Markovic] was just his back - it was a bit sore, but we'll assess that in the morning. Raheem is fine. I think he got a couple of heavy tackles against him tonight but he is very robust and strong. He'll be fine."
After tough fixtures away at Everton in the Merseyside Derby and then a home game against Tottenham Hotspur the following Tuesday, Liverpool will face Crystal Palace at Selhurst Park on February 14 and Rodgers added: "This is a competition we want to do well in."
Speaking of the disappointment of the 3-1 loss that Liverpool suffered at Palace on their last visit, Rodgers reflected:
"It's a great thing (to be able to go back). We didn't play anywhere near the level, but that was the lowest moment of the season in terms of the performance level," said the Northern Irishman.
"We'll go back there very soon in a totally different frame of mind and at a different level of performance. Alan [Pardew] has lifted the club and the team since he's gone in there, but we'll go there with big confidence and look to keep performing at the level we're at."