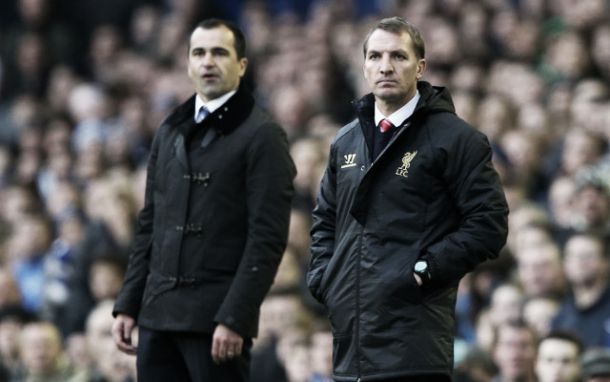 Liverpool manager Brendan Rodgers suggested arch-rivals Everton will be glad to see club captain Steven Gerrard leave in the summer, ahead of their clash this weekend.
The two Merseyside clubs come head-to-head for the 224th time at Goodison Park on Saturday evening, in what will be Gerrard's final derby occasion. The 34-year-old has spent 17 years at Anfield, but will leave for LA Galaxy in the summer, something Rodgers expects will please Blues' supporters.
"I'm sure they'll be glad to see the back of Steven," said the Liverpool boss. "He's been an incredible player for this club. He has played in so many derbies and been outstanding in them.
"He always wants to win for his club and it will be no different this weekend. He possesses remarkable quality and a focus to get the team a result."
Gerrard has often been the scourge of the Toffees, given how well he seems to play against their Stanley Park neighbours, even now. Having played against Everton 32 times, the Huyt0n-born midfielder has scored 10 goals against them.
Be it his Anfield hat-trick in 2012, or his screamer at Goodison back in 2001, or even his header in last year's 4-0 rout on L4 - Gerrard has always come up top against the Blues. Even earlier this season, it was he with a magnificent curling free-kick over the wall and into the back of the net for Liverpool's goal in a 1-1 draw.
Should he play again, it will be his 33rd and final appearance against Everton since he first featured against them in April 1999.
Gerrard will no doubt be excited for hi final turn-out against Roberto Martinez' side, but his Northern Irish boss Rodgers is anticipating the clash as eagerly as the captain - admitting: "It is very exciting. Normally there is a build-up right the way through the week but we had our focus on the FA Cup tie but as soon as the whistle went at that game our focus was on preparation for Everton," said Rodgers.
"I've been involved in a few of the games over the last two and a half years and they are wonderful games to be involved in.
"They are so fast and full of emotion and the quality of the football is outstanding under real intense pressure. We prepare really well for every game and this is no different.
"We focus on the details on the game; whether it is at Anfield or Goodison, they are tough games but we are playing well, arrive into it creating opportunities that we weren't at the start of the season and we are really excited."
Having won their last three straight Premier League games, keeping three clean sheets in the process, the Reds will be looking to give Rodgers his first taste of victory at Goodison.
"We're playing well and we're excited about going there," said the 42-year-old. "The Bolton game epitomised the spirit and togetherness in our squad. That allows you to go on and win games.
"Like ourselves, it was a difficult first part of the season for Everton. But Roberto is an excellent manager who has done really well there," said Rodgers of the Everton boss, who has overseen just six league wins in 23 games all season.
"I think they had their first win in nine games at Palace last week. He will be working hard to find the solutions to get them back winning consistently. They are a good side and we will expect a tough game.
"But the balance in our team is very good. At this moment in time we're operating at a really high level, whether home or away, and there's real confidence we can win the game.
"It will be a new experience for some of our young players but they've been involved in derbies elsewhere.
"This is the type of game you always look for in the fixture list. We should have the game at Anfield earlier this season and we hope to go to Goodison and put in a performance that enables us to win."
Rodgers will be hoping to call on Daniel Sturridge again, with the English forward having played 30 minutes and 20 minutes off of the bench in his last two appearances - but he also insists it is a big game that everyone wants to play in.
"I think every player wants to play, not just Daniel," he said. "He is coming along very well. It is not that he won't start, we just need to analyse that over the next couple of days."
The upcoming games, following their triumph in the FA Cup on Wednesday, could see the Reds begin to climb up the league table and reach the Round of 16 in the Europa League, certainly according to Rodgers - who is optimistic they can win some trophies and finish in the top four this year.
"We just want to win the next game. That is it. If we just continue that momentum I'll be happy," he added. "Of course the bigger objective is to win a trophy and finish in the top four.
"We have the European competition as well, the FA Cup that we can get to the final of, and we can challenge the top four – and not just fourth, beyond that.
"It is important we retain our focus and concentration and continue to work as hard as we are."