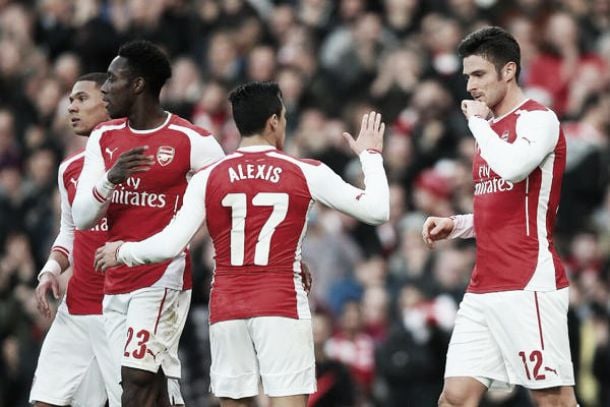 Arsenal manager Arsene Wenger has praised French striker Olivier Giroud for his clinical display during the side's 2-0 win over giantkillers Middlesbrough on Sunday afternoon, where his brace ensured the FA Cup holders progress to the quarter-finals.
Giroud missed three months of the season after fracturing his foot in August, but has already reached double figures in terms of his goal-scoring tally; scoring two goals in quick succession in the first-half to ensure Arsenal progressed to the last eight of the tournament with relative ease. He was unhappy at being substituted late on, as he was eager to get his hat-trick, but it wasn't to be in the end for the 28-year-old, who stated before kick-off that he almost signed for the Championship outfit back in 2012.
He started in a front three with Welbeck and Alexis either side of him, and despite his injury concerns towards the start of the season, has proved time and time again how he pops up with essential goals for The Gunners.
Wenger meanwhile, said this: "We controlled the game from the first to the last minute. They had one chance at the end from a header, but overaell I'm pleased with the way we attacked. I believe that he (Giroud) is a different player today than the guy who arrived here. He understands what top-level football demands, works with a great concentration in training and he has improved tremendously on his mobility."