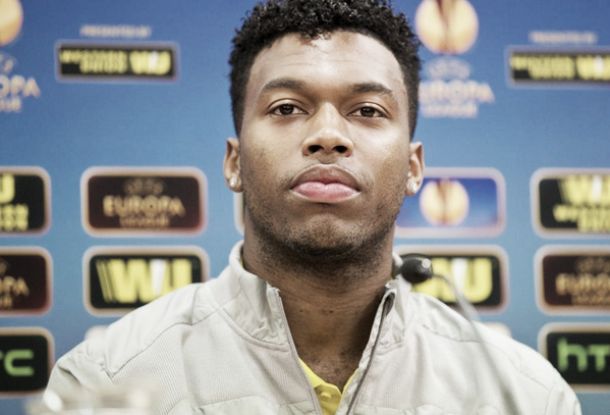 Daniel Sturridge admitted that he's looking forward to the test of facing Turkish giants Besiktas in the Europa League tomorrow.
The 25-year-old, talking to reporters at the club's Melwood training ground on Wednesday, explained how he is enjoying playing again after recently returning to the side following a five-month spell on the sidelines before talking of his desire to help Liverpool to more European glory.
Sturridge, who missed the Reds' entire Champions League campaign this season, marked his return from injury within just 13 minutes on January 31, coming off the bench to net the second goal in a 2-0 win over West Ham United. He further demonstrated his goalscoring prowess to net a sensational equalising volley against Crystal Palace on Saturday, as he looks to get back to 100% fitness.
The English international, speaking ahead of their clash with Super Lig leaders Besiktas, said: "I think every competition is important for us. Every game is important also. We take each game at a time, we play our football and look to get good results.
"I've got no worries. No stresses at all. I'm enjoying my football, I'm enjoying playing and I can't wait to continue playing in each game and, if selected, I'll do my best for the team.
"I know Besiktas are a good side from what I have watched in videos. They're not a team that I see every week. So I'd be lying if I said I knew everything about them.
"But I know it's going to be a good game for us. It won't be easy and I'll look forward to this game as I'm sure my teammates will. Everybody in the stadium knows it will be a great game to watch."
Sturridge was asked about whether he could be paired with fellow striker Mario Balotelli, who has come off the bench to make a big impact in their last two successive games, with the 25-year-old replying: "It's important to get a relationship with every player.
"I've been out for a while and I've come back into the set-up. I'm just doing my best to help the team. It's a team game, so every relationship is important.
"From my relationship with Simon Mignolet to the strikers. It's important with everybody. I look forward to continuing to play between now and the end of the season and helping the team to get positive results and have a successful season.
"For me it's easy to play with, not just Mario, but with any of my teammates. I enjoy playing with Mario. I think he's a great guy. I get along with him. I feel we can have a successful partnership. It's down to the manager to choose which team he feels [is best].
"But I think I can play with Mario or any of the players in the team. I get along with everybody and you have to adapt your game to each individual. Whether it's Mario or another one of my teammates, I'll do my best to help and make sure it works for the better of the team."
In the opposing strike force, ex-Chelsea striker Demba Ba - who scored one of the goals in the Blues' infamous 2-0 win in the 2013-14 season, will line up against the Reds.
The 29-year-old has had a huge say in Besiktas' success this season, netting 22 goals in 28 games in all competitions, but Sturridge insisted he and his teammates will be watching out for the Turkish side as a collective, rather than one player.
"He's got a good goalscoring record in England from his history here," said Sturridge. "He's obviously a player who can score goals.
"But we're not trying to pay too much attention to individuals. We're going out there to do our jobs, play the Liverpool way, enjoy the game and that's the most important thing to us."