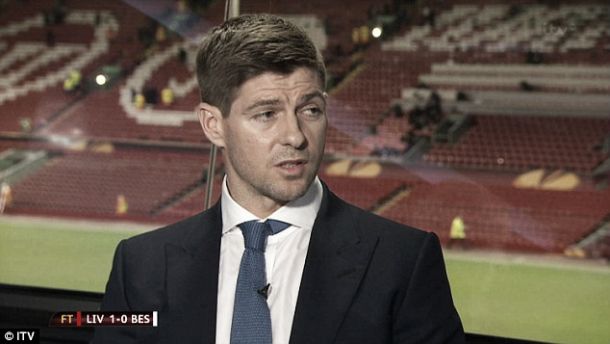 'Disrespectful' was the word that Steven Gerrard used to describe the actions of Mario Balotelli following the Italian's match-winning penalty against Besiktas, as the 24-year-old striker took the ball from Jordan Henderson to take the penalty.
When prompted by the other pundits to discuss the matter, Gerrard's exact words were: "Henderson is the captain and Balotelli showed Jordan a bit of disrespect there. Balo's been a bit mischievous. Rules are rules, credit to Mario for scoring but it's not nice to see when footballers are arguing. I think Jordan has handled the situation very well."
The question is though, was Gerrard right to make those comments in that situation? There isn't much to be said about him being a pundit whilst injured in the first place. He has done it before, for Sky Sports in the 5-0 victory against Tottenham last season, and will most likely do it again before his retirement and possibly after. He speaks fairly well and is obviously a high profile name for the television companies to attract.
People who agree that Balotelli shouldn't have taken the penalty are likely to not take issue with Gerrard's comments. Some people are of the opinion that because Henderson was the designated penalty-taker out of the starting line-up, he should have stepped up. I am not of this opinion, however fully understand those who are.
My opinion is that Mario Balotelli is one of the best penalty takers in world football, and when Gerrard isn't on the pitch he should be our second penalty taker. This was the opinion of manager Brendan Rodgers in September, as he confirmed Balotelli was the second-choice taker when asked. Due to this, Balotelli was completely right to step up and take the crucial penalty. He did, and of course he scored. It was a penalty. He's Mario Balotelli. In stark contrast, Jordan Henderson has taken one penalty in his professional career, which he missed. The vice-captain's set pieces had been off form all night, and it is unlikely that there would have been much confidence in him scoring the penalty.
Despite all of this, the article is about Steven Gerrard and that is of whom my final point will be about. Steven Gerrard is the captain of Liverpool Football Club, until June at least, and until then he remains in a huge position of responsibility. Gerrard knows the standards the club expects him to maintain, and criticising fellow players on national television with millions watching. He praised the way Henderson handled the situation in his post match interview, so why couldn't Gerrard do the same? Many in recent weeks have said that Henderson is trying too hard to be the new Gerrard, however maybe it is Gerrard that can learn from Henderson in this fiasco.