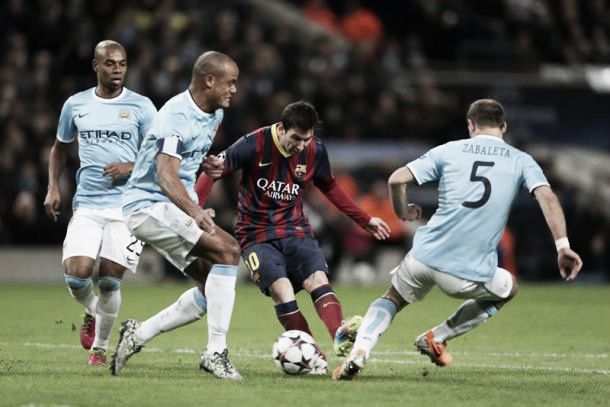 With Yaya Touré out suspended, Manchester City have something of a selection headache come their UEFA Champions League last 16 first leg against Barcelona on Tuesday night. Touré's ability to press the ball at the head of a five-man midfield allows City to set up with a 4-5-1 tactic in big games and be solid defensively. His suspension means that City have to look at bringing Samir Nasri or David Silva into an attacking midfield role, where defensive specialist Sergio Busquets could mark them out of play, or playing another striker alongside Sergio Aguero.
City must first however, sort the defence out. Joe Hart will start in goal just days after claiming his first Premier League clean sheet since December in the 5-0 triumph over Newcastle. In front of him will be skipper Vincent Kompany, the captain has not had one of his finest seasons however remains one of Europe's best centre-backs when on form and a geniune goalscoring threat from set pieces with his tall physique. To Kompany's right will be Pablo Zabaleta. The Argentine is one of the best, if not the best, right-backs in the world and will have the job of containing Brazilian wonderkid Neymar on that side.
The choice of Kompany's partner is a more difficult one and will go to either Eliaquim Mangala or Martin Demichelis. Mangala has had a shaky start to his City career after a record breaking move from Porto in the summer and is the younger of the two, with Demichelis offering more experience. Demichelis himself shared similar fortunes to Mangala when he joined City, but has fully adhered himself to the fans with some consistently excellent performances since. One thing against Demichelis is that he recieved a red card at the same stage against Barcelona last season, meaning the Catalan side may look to exploit him. Personally, I would give the nod to Mangala purely for his pace. All defenders are bound to make mistakes against the wonderful attacking trio of Lionel Messi, Luis Suárez and Neymar however, Mangala does possess the speed to potentially recover from any mistakes and save City. However don't be surprised if Manuel Pellegrini selects Demichelis, as it is a close race between the pair.
At left-back I would go for Gael Clichy instead of Aleksandar Kolarov, with Clichy's pace being a factor in helping City break on the counter attack which I feel will be their main goal-scoring threat.
Moving on to the more advanced positions now, it seems obvious to me that City must play with a defensive midfielder. Barcelona have widespread talent in their midfield, with the likes of Andres Iniesta and Ivan Rakitic. To stop these players from getting a stranglehold on the game, and to prevent Messi coming deep to pick up the ball, a holding midfielder is vital. I would choose Fernando to fufill this role. The Brazilian hasn't had the best debut season, however has looked good in stages and is the most accomplished player in that position for the Citizens.
Ahead of him, there are a wealth of attacking options. With Touré out, Pellegrini could pick a two-striker system possibly involving new signing Wilfried Bony. I personally wouldn't go for a two striker line-up, however if I was pressed to it I would select Bony over Edin Dzeko. Despite Dzeko's excellent performance on Saturday, he has never really made a major impact in Europe for City and is inconsistent. Bony, on the other hand, impressed when playing in the Europa League for Swansea and is somebody who Barcelona won't know as much about.
The reason I would not go for two strikers, is for two reasons. Reason one: Aguero is one of the best strikers on the planet, and doesn't need a partner to terrorise the Barcelona defence. He can do it in Europe, as demonstrated by his hat-trick against Bayern Munich in the group stages. Reason two: The main reason, is due to the context of the tie - City host Barca in the first leg, and don't want to concede any away goals. A 0-0 result wouldn't be too bad for the hosts, as then they could go and be more expansive in Spain where they don't have the away goals rule shackling them.
In my five man midfield, I have already said I would play Fernando. My second pick would be Fernandinho, despite having a poor record when the pair play together, Fernando and Fernandinho would give City a better chance of holding off Barcelona's attack, with the latter's box-to-box nature also offering the chance of a goal.
On the right I would play Nasri ahead of Jesus Navas, purely for the Frenchman's end product. Navas is unreliable, to say the least, and lacks the tactical brain for a big European night. Nasri could gain space due to Jordi Alba's overlapping runs from left-back, meaning the playmaker could be an effective influence.
In the middle, the 'CAM' role is where I would start David Silva. When on-form the Spaniard is one of the most creative players you can find in that position, and can win games on his own. I have already mentioned Busquets and his ability to protect his defence from Silva's passes, but on the chance the anchor man has an off night, Silva is the perfect person to capitalise.
To the left side I would play one of the world's most under-rated players in James Milner. The versatile midfielder's ability to perform defensive and attacking abilities superbly, whilst keeping high stamina for the full 90 minutes are qualities that many others lack. Despite only just being back available from a knee injury, Milner would go straight into my team, with the idea that he can help track maurauding full-back Daniel Alves. And who can forget the moment of quality last season, that saw him score a late winner in Germany to help City defeat Bayern, not entirely coincidentally that it was from the same side I am utilising him.
As I have already mentioned, Aguero starts upfront unless he picks up an injury, but you knew that.
My Manchester City line up: Hart; Zabaleta, Kompany, Mangala, Clichy; Fernando, Fernandinho, Nasri, Milner, Silva and Aguero.
My predicted Manchester City line up: Hart; Zabaleta, Kompany, Demichelis, Kolarov; Fernando, Milner, Navas, Silva, Nasri and Aguero.