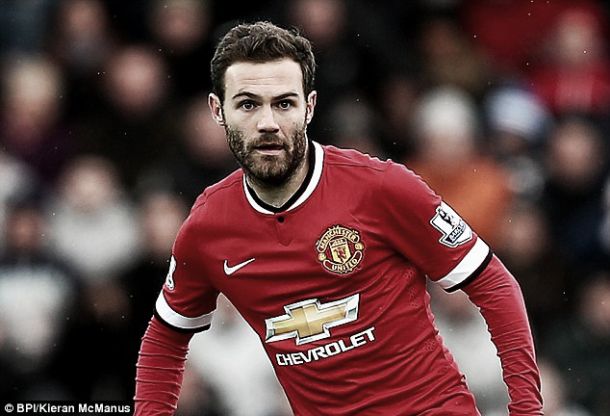 Manchester United's creative midfielder Juan Mata has publicly stated that it is important the club bring back UEFA Champions League football to Old Trafford next season, following a dismal season in the 2013-14 campaign under now Real Sociedad manager David Moyes saw The Red Devils finish in 7th place.
They lost ground in the race for a top four place with a 2-1 defeat away against Swansea on Saturday afternoon; the first time in their history that they'd lost to the Welsh side in back-to-back meetings in one season. However, Mata has maintained his confidence that him and his team-mates can end the season on a high.
United are up against Sunderland and Newcastle in the Premier League next, before they host FA Cup holders Arsenal in their quarter-final as well as two more crucial fixtures against Tottenham and Liverpool - whom of which all in good form respectively.
Speaking to Sky Sports News HQ at aa Manchester United Foundation initiative event at Swinton High School, Mata had this to say: "There are still a lot of games to go - we are in a race to win the FA Cup so we will try to win it because it's been a long time since the club won it and it's something very important for us.
Obviously it's crucial for us to get into the top four at the end of the Premier League season - right now, we are facing a crucial moment in the Premier League. Obviously the last ten games are very important and we also have the FA Cup tie against Arsenal. It will be difficult but I think we have to do it because it is an important moment and we have to perform.
Talking about their away defeat at Swansea: "It's true that it wasn't a good game for us, although I think we played in their half and in the second period we were close to scoring the second goal. But we didn't and when you play for Manchester United, everyone is expecting the best from you, to play well and to win - but obviously this is not very easy to do. We are trying to do it because the fans deserve something good."
United's loss against Swansea was only their second loss in 20 matches, and although they have not played particularly well for the majority of games this campaign, they've shown fighting spirit and the desire to win, scoring late goals when it counts and beating opposition they were playing badly against. Prime examples of this, were the likes of Southampton (away), Arsenal (away) and drawing against Chelsea (home).