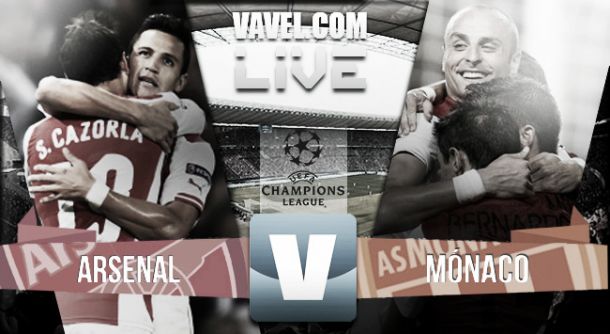 21:42: That's the difference between good sides and great sides, great sides and great players show up on the big occasion and unfortunately for Arsenal, their side didn't show up tonight. With a slightly easier draw for the first time in many years, Arsenal fans had high expectations of their side, but were once again let down. It'll take a magnificent performance to save their Champions League hopes now, can they do so? Only time will tell. Thanks for following VAVEL UK's live coverage of tonight's entertaining game, goodbye and goodnight!
21:39: The Monaco squad and staff go over to their magnificent fans who have made noise all night to thank them for their support, and rightly so. A superb performance from the French side setting themselves up comfortably for the second leg on home turf in Monaco. For Monaco, this is an exceptional win for them, but for Arsenal it's a nightmare. Arsene Wenger's side now have to travel to Monaco and win by a huge margain to progress into the quarter-finals. They've really made it difficult for themselves and the players can only have themselves to blame for such a poor performance in such a big game.
21:38: Full-time - Arsenal 1-3 AS Monaco
21:37: Monaco break on the counter and the substitute finishes across Ospina into the bottom corner sending the Monaco fans into huge celebrations.
21:36: GOAL ARSENAL 1-3 AS MONACO - Yannick Ferreira-Carrasco
21:33: A failed cross is headed out to Chamberlain on the edge of the area, who sells Kondogbia with a good piece of skill and bends it into the top corner superbly.
21:33: GOAL ARSENAL 1-2 AS MONACO - Alex Oxlade-Chamberlain
21:31: Ozil is booked for descent, after showing his frustration after conceding a throw-in.
21:28: Anthony Martial, who has been exceptional tonight, is replaced by Bernando Silva as Monaco let the clock tick ever closer to the 90th minute.
21:27: With only five minutes plus additional time remaining, Arsenal have little hope of salvaging anyting for the second leg.
21:24: More substitutions as Tomas Rosicky comes on for Santi Cazorla, and Nabil Dirar is replaced by Layvin Kurzawa.
21:23: Arsenal almost find Walcott through on goal with incisive passing, but the final pass is deflected out for a corner.
21:18: First substitution for Monaco, goalscorer Berbatov is replaced by winger Yannick Ferreira-Carrasco.
21:17: Arsenal fail to break through the Monaco defence yet again, and the ball is cleared to Martial who is fouled by Bellerin and the Spaniard is booked for the foul.
21:15: Substitution Chamberlain makes a nervy start, giving the ball away to Moutinho who breaks into the Arsenal penalty area but is tackled by the recovering Chamberlain.
21:13: First sustitution of the night made by Arsene Wenger - Francis Coquelin is replaced by Alex Oxlade-Chamberlain.
21:06: This really is unbelievable. Cazorla finds Theo Walcott with a defense-splitting through ball but his effort is saved and Welbeck follows up with the goal gapping, only to hit it against Walcott to go over the bar. It'll take a miracle for Arsenal to find the back of the net tonight.
21:04: Moutinho fantastically controls a long ball down with his chest and hits a dipping shot on the half-volley which goes just inches over the bar. Monaco have been exemplary defensively and offensively, it could get worse for Arsenal if they're not careful.
20:59: He really is having a night to forget. Sanchez's shot from just outside the area is saved and the rebound falls to Giroud just yards from the goal and the keeper on the floor, but he smashes it into row Z. Woeful night for the Frenchman.
20:56: Well, well, well. The ex-Spurs striker is found with a brilliant pass to go one-on-one with Ospina and finishes cooly into the bottom corner. 2-0 AS Monaco.
20:55: GOAL ARSENAL 0-2 AS MONACO - Dimitar Berbatov
20:54: Giroud misses another chance! The Frenchman heads over a free header from a Cazorla free-kick and hits the ground with frustration.
20:52: Arsenal dominating much of the play so far here in the second half
20:48: Sanchez breaks past Aymen Abdennour with a great piece of skill and cuts it back to Giroud - who is six yards out from goal - but he misses the target again.
20:46: Monaco restart the game kicking us off here at the Emirates Stadium for the second half.
20:40: We're five minutes away from from the second half, are Arsenal on their way to more European disappointment in the knockout stages of the Champions League yet again? Stay with us here at VAVEL UK to find out!
20:36: This is far from the Arsenal that we saw away against Manchester City all those weeks ago. They've been poor going forward, showing little intensity going forward, and any chances that they have had they've wasted. Monaco meanwhile have been impressive, attacking with real intent and took the lead with a thunderous strike which had a little bit of luck on its way, but it's exactly what they've deserved.
20:31: HALF-TIME - ARSENAL 0-1 AS MONACO
20:30: Elderson quickly earns the second booking of the night, after bringing down Welbeck who proves to be too fast for him. The following free-kick taken by Cazorla is straight at the Monaco keeper, summing up a wasteful half for Arsenal.
20:30: Coquelin earns the first booking of the night after a heavy challenge on the goalscorer Kondogbia.
20:28: Monaco's offensive display has definitely caught Arsenal off-guard despite Arsene Wenger stating that he is aware of Monaco's quality in his pre-match press conference.
20:25: This certainly does not look like a side lacking in goals, the suprising attacking intent shown from Monaco has been of fantastic quality against a strong Arsenal side and with it they've earned a bit of luck. Kondogbia's 25-yard piledriver deflects off of Per Mertesacker wrong-footing keeper David Ospina and hitting the back of the net. Crucial goal in this tie.
20:24: GOAL ARSENAL 0-1 AS MONACO - Geoffrey Kondogbia
20:22: Giroud misses another golden opportunity as he fires over from a low cross which was just deflected one second prior to him striking it.
20:20: Martial uses his quick feet brilliantly to get past Bellerin and drills a cross in which is acrobatically blasted miles over the crossbar by Moutinho.
20:18: Just as I say that, great build-up play leads to Alexis Sanchez firing just over the bar from 18 yards out.
20:17: Despite both sides sharing possession, neither side has had a shot on target which can be put down to the poor attacking play or the superb defensive display from both sides so far. If one team breaks through on goal, it'll have to be due to some real sensational play.
20:15: An away goal is looking more and more likely as the game progresses. Monaco are having much of the possession and are clearly aiming to take something away from the Emirates to the second leg in Monaco.
20:10: Monaco fans still singing their hearts out and they'll be pleased with the attacking intent their side has shown so far.
20:08: Welbeck is limping slightly after receiving a tough tackle, but the referee awards a corner instead of a free-kick. However, Giroud wins the header from the corner but can only head it wide of the goal.
20:07: Monaco having plenty of the ball but they are unable to create any clear-cut chances.
20:03: Hector Bellerin wins the ball well from Anthony Martial, who is having trouble getting down Arsenal's right-hand side as he is being given little time on the ball due to being closed down quickly.
20:00: Dimitar Berbatov is already looking to break in behind the Arsenal defence, the ball is played into Berbatov who finds a gap between the centre-backs but is flagged for offside.
19:59: Joao Moutinho bends in a free-kick which is headed away by Olivier Giroud, despite the linesman flagging for offisde. Arsenal free-kick to follow.
19:55: A long ball from Alexis Sanchez is plaeyed into Mesut Ozil who is met by Wallace to hit it out of play for an Arsenal corner. Ozil protests for a penalty, but the ball unintentionally hit the arm of the Monaco defender.
The Monaco fans are in fine voice tonight and are also representing Monaco by dressing in white and red to represent the Monaco flag.
19:50: The Gunners break in behind Monaco's defence but Welbeck can't get on the end of the dangerous Santi Cazorla cross. An Arsenal corner follows but nothing comes of it.
19:49: Arsenal fans are pleased with Arsenal's early dominance encouraging any sign of positivity from their side.
19:47: Arsenal have the first dangerous chance early on - Danny Welbeck turning a Monaco defender from a long Francis Coquelin - but he smashes the ball over the bar.
19:45: And we're underway! Arsenal kicking-off.
19:41: Both sides are walking out of the tunnel to an anticipated crowd, kick-off only minutes away!
19:35: Just ten minutes to go till kick-off! The ground is really starting to fill up now as Arsenal look to progress further than the knockout stage for the first time since 2010. They'll definitely want to take a healthy lead into the second leg to give them the best chance possible of progressing.
19:10: Both sides are out now warming up in preparation for the game.
19:00: Only 45 minutes till kick-off now!
18:53: With the lineups announced, we only have to wait for the players to warm-up and then we'll be ready for kick-off!
Monaco subs: Stekelenburg, Kurzawa, Diallo, Matheus, Silva, Traoré, Ferreira Carrasco.
Monaco XI: Subasic; Elderson, Wallace, Abdennour, Touré; Fabinho, Moutinho, Kondogbia; Dirar, Martial, Berbatov.
Arsenal subs: Szczesny, Gabriel, Monreal, Chambers, Rosicky, Oxlade-Chamberlain, Walcott.
Arsenal XI: Ospina; Bellerin, Mertesacker, Koscielny, Gibbs; Coquelin, Cazorla; Sánchez, Özil, Welbeck; Giroud.
18:43: Photos of the Emirates Stadium taken tonight before the fans start flooding into the stadium in anticipation of the Champions League returning to North London tonight.
18:40: Aaron Ramsey has been wishing his teammates good luck via twitter tonight.
18:35: Only ten minutes till the all important team news! Stay tuned!
18:28: The Arsenal and AS Monaco twitter account have exchanged some 'fighting talk' ahead of what is a big game for both sides.
18:25: For a detailed preview of tonight's game between Arsenal and AS Monaco written by Patrick Raccani click the folllowing link - https://www.vavel.com/en/football/premier-league/arsenal/455035-arsenal-vs-monaco-wenger-welcomes-his-old-club.html.
18:21: Monaco have injuries themselves which will hinder the strength of their squad. Layvin Kurzawa and Yannick Ferreira-Carrasco are both doubtful ahead of tonight's game. Whereas Jeremy Toulalan, Tiemou Bakayoko, Ricardo Carvalho and Andrea Raggi are all out of contention with injuries.
18:17: In terms of team news, we won't receive the official lineups until 18:45PM GMT, but Arsenal will definitely Aaron Ramsey, Abou Diaby, Mathieu Debuchy and Mikel Arteta as they're all suffering from injuries. Jack Wilishere is also unlikely to feature as he recently had ankle surgery to help him return from a long-term injury.
18:11: The French manager is clearly wary of Monaco's strengths and will set his side up accordingly to deal exactly with those strengths, in a game which the Gunners will most likely dominate from start to finish with Monaco aiming to catch them on the counter.
18:08: Wenger commented on his side's opposition tonight claiming ""Easy is a word that you have to ban in the Champions League." He went on to add, "They are efficient and physically powerful. That helps them to stay in matches when they are under pressure. Monaco are like a reptile. They will wait for us and absorb the game ready to kill us."
Arsenal AS Monaco Live
18:06: Ahead of the clash, Monaco coach Leonardo Jardim commented about Bulgarian striker Berbatov, "He is used to playing at a high level, although he is not at his best at the moment. But if he is in good condition, he can put on a real show for the fans.I prefer to see him play less matches, but with more intensity. He is a high-quality player and remains the number one striker." With only 26 goals in 25 games they'll certainly be looking for their man main to show up tonight at a ground he's played at often in the past.
18:01: The two sides have met previously in pre-season last year at the Emirates in the Emirates Cup. Monaco ran away 1-0 winners, however the goalscorer that day was Falcao who obviously won't be in tonight's squad despite being in England as he's with another club as previously mentioned. Other than that and the Arsene Wenger, they is very little history between the two sides.
17:56: Though Arsenal have not struggled for goals whatsoever throughout the team, with their multi-million man Alexis Sanchez scoring 18 goals so far this season, followed by Olivier Giroud on 11 and Santi Cazorla on eight. With the goals coming throughout the side, they'll certainly be looking to gain a strong advantage having to head into the second leg in Monaco in a couple of weeks time.
17:52: Veteran striker Dimitar Berbatov is their top scorer with only six goals, proving that they are lacking goals in the side without their star striker Falcao, who is struggling in the Premier League with Manchester United and is yet to compete in the Champions League in his career.
UCL Live Updates
17:46: AS Monaco on the other hand, have had a poor start to 2015 winning two of their five games, although their last two games were the only victories they have achieved. Whereas, they struggled slightly in their group, only coming first by one point ahead of Bayer Leverkusen. With Falcao out on loan at Manchester United, they've seemed to struggle in the league also, currently sitting in 4th place 11 points behind first-placed Olympique Lyonnais.
17:43: The new year has brought plenty to celebrate for Arsenal fans across the globe as the Gunners have only lost twice since the turn of 2015. Both loses have come against two reputable sides in Southampton and Tottenham, however their eight victories have included five clean sheets and a terrific performance against Premier League champions Manchester City in a 2-0 away win. Wenger's side did have some trouble in the early stages of the Champions League losing to Borussia Dortmund, but they came strong as the games progressed finishing with 13 points out of a possible 18 in second place, only to Dortmund who also had 13 points.
Arsenal - AS Monaco live
17:40: Hello and welcome to VAVEL UK's minute-by-minute live coverage of the Champions League knockout stage first leg between Arsenal and Monaco. Arsenal manager Arsene Wenger's old side are the visitors today, which could make for an intriguing tie. Stay tuned with us here on VAVEL UK!