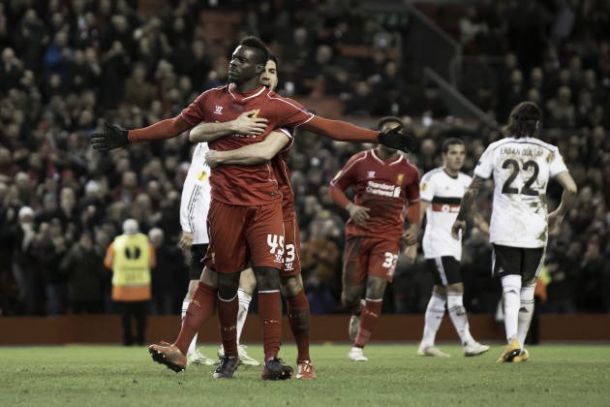 20:50. Unfortunately, that's all we've got time for tonight. I've been Oliver Emmerson and taken you through Liverpool's Europa League exit to Besiktas. I hope to see you soon for my next commentary on VAVEL UK!
20:47. Elsewhere in Europe, Tottenham and Celtic have been knocked out by Fiorentina and Inter Milan respectively. Everton look on course to beat Young Boys, leading 7-2 on aggregate.
20:44. In all honesty, Besiktas probably deserved to go through. It was a close game at Anfield but the Turks were streaks ahead here. Liverpool will have to hold their hands up, they didn't deserve to progress.
20:41. Besiktas progress to the Europa League last 16 ahead of Liverpool, who are knocked out of the competition.
LOVREN MISSES! BESIKTAS WIN 5-4 ON PENALTIES!
Dejan Lovren has to score.
Tolgay Arslan scores. 5-4.
At 4-4, we're basically into sudden death.
Joe Allen scores. 4-4.
Atiba Hutchinson scores. 4-3.
Emre Can scores. 3-3.
Veli Kavlak scores. 3-2.
Adam Lallana scores. 2-2.
Gokhan Tore scores. 2-1.
Rickie Lambert scores. 1-1.
Demba Ba scores. 1-0.
20:32. The shootout is ready to begin, here we go!
20:29. If I had to predict Liverpool's penalty takers, I would go for Lambert, Toure, Can, Lallana and Allen.
20:28. Well, that's that. After 120 minutes of football Tolgay Arslan's curling finish means that Liverpool face another penalty shootout in the Ataturk Stadium, they won the Champions League in their last one there.
Full time in extra time! Besiktas 1-0 Liverpool but it's 1-1 on aggregate, penalty kicks to decide who progresses to the next round!
120: With no options for the counter, Sterling winds down the clock by holding it in the corner.
118: Can's delivery is weak, and the ball gets thumped back towards Mignolet.
117: Liverpool's legs have gone, and it seems like they are looking for penalties. Raheem Sterling draws a foul from Arslan midway into the Besiktas half.
115: Besiktas have another attack, sending Demba Ba away with a chance, he can only hammer over and could possibly regret hitting the bar with a great chance in the dying moments of normal time.
110: Ten minutes left! It really is tense now as we enter the final minutes!
109: Lallana's looping delivery is headed away by Demba Ba, Dejan Lovren gets the chance to cross from the wing but it is a trademark centre back pass, out for a goal kick.
108: Against the run of play, Liverpool have a free kick in a good position out wide. A rare chance to get it onto the heads of Martin Skrtel or Rickie Lambert. Lallana to take.
105: Here we go! The next goal will surely send either side through. Penalties seem a dauting prospect infront of this crowd.
Kick off for the second half of extra time!
Liverpool substitution- Sturridge off, Lambert on.
Besiktas substitution- Sahan off, Koyunlu on.
20:11. Just 15 minutes to go here and a Liverpool goal would surely see the Reds through. It is Besiktas however that look the more likely scorers, with Liverpool legs looking gone. If they do get to penalties, Liverpool be without Steven Gerrard and Mario Balotelli.
Half time in extra time, quick switcharound here!
One minute of added time announced.
103: Can booked for simulation now after going down easily under a challenge, looks like a correct decision.
101: Fears about Can seem to have been calmed as it seems that he went down with cramp. The German is back to his feet.
100: Demba Ba forces the save! Mignolet is called into action once again as he has to beat away a strong Demba Ba shot before Skrtel clears. More bad news for Liverpool as Emre Can is down in the centre circle.
95: Opare with the first effort of extra time, a long ranger that trails wide of Mignolet's goal.
91: No changes ahead of extra time for either side. The next goal will be huge, and if there isn't one then we will be heading to penalties.
Kick off for the first half of extra time.
19:55. Liverpool will be wondering how they have hung on to take the game to extra time after being completely outplayed by Besiktas and their substitute Tolgay Arslan in that second half. Brendan Rodgers has one more substitute left to turn this tie around.
End of normal time. Besiktas 1-0 Liverpool (1-1). Extra time it is!
90+1: Demba Ba strikes the bar! Besiktas get a corner and it's flicked on to Demba Ba who has an excellent chance to break Liverpool hearts once again. Ba however, smashes it against the ba.
Three minutes of added time announced.
88: Liverpool have looked better since the goal and substitutions, they've certainly seen much more of the ball. The problem is doing something with it.
85: Not long left now and it looks likely that we'll be heading to extra time unless somebody can force the issue here.
82: Liverpool substitution- Mario Balotelli off, Adam Lallana on.
80: Ten minutes left, and it's up to either side to stick or twist. Liverpool will ideally want this done and dusted in the full 90, with a key Premier Leaugue game coming up against Manchester City on Sunday. However, if they do go for it, they risk another Besiktas goal.
77: Liverpool substitution- Jordon Ibe off, Javier Manquillo on.
75: You can't say it wasn't coming. After an even first half Besiktas have been much the better side in this second half. Can Liverpool hang on now for the remaining 15 minutes to take the tie into extra time? If they can score a goal themselves, Besiktas would need two more.
72: He was close minutes ago, and he has scored now! Arslan collects an excellent flick from Demba Ba and smashes it into the top left hand corner with his first touch to level the tie at 1-1!
GOAL! ARSLAN PUTS BESIKTAS ONE NIL AHEAD!
70: Arslan is so close!!! Tolgay Arslan almost stuns the Ataturk with a drive from all of 30 yards out, if not more. It briefly silences the ground, before flashing inches wide of Simon Mignolet's post. Liverpool really needed to up their game here if they want to avoid going behind.
68: Besiktas want a penalty following an alleged handball from Raheem Sterling, replays showing it would have been extremely harsh. Didn't stop the whistling, mind.
64: One of the great mysteries of football may well be how Kavlak has gone this for without being booked tonight, having conceded foul after foul.
61: Besiktas substitute- Sosa off, Tolgay Arslan on.
60: Jordan Ibe and Alberto Moreno have both been quiet tonight, Besiktas clearly looking to nulify the wing backs that caused them so many issues last week.
55: Lovren meets a Joe Allen corner with a looping header, Liverpool's first shot on target this half. It lacks enough power to trouble the keeper though, and Besiktas move forward with the ball.
53: Another Besiktas shot from range, this time Sosa forces Mignolet into a save. The home side are offering their fans encouragment here.
50: Besiktas apparently keen to attack more early on, with full back Kurtulus testing Mignolet with a long range shot. Kurtulus is the only remaining member of the Besiktas squad that was defeated 8-0 by Liverpool in 2008.
KICK OFF FOR THE SECOND HALF.
18:57. Not long until the second half starts here. Remember folks, as it stands Liverpool are going through 1-0 on aggregate.
18:51. Just a thought of mine based on that half, crowd wise. Based on tonight's events I'm sure that there's some kind of market for whistling competitions over in Turkey. One for the entrepreneurs out there.
18:47. So there's no additional time at the end of the half as we go into the break, which is hardly a surprise considering the nature of the half. Few chances for either side, with Besiktas playing it safe as they know that if Liverpool get ahead they have a major task on their hands.
Half time.
41: Olcay Sahan goes near! The winger produces the hosts' best effort of the night so far, cutting inside past Kolo Toure. Simon Mignolet does well to parry away his powerful effort.
39: Great ball from Balotelli into the six yard box, full of pace. However the Liverpool men struggle attack the ball and are penalised for a foul.
38: Balotelli has been all action this half and has drawn plently of fouls. He isn't making huge friends with his opponents but you have to credit im for a good performance so far. Anyway, Sturridge has won a free kick in a good position for Liverpool on the right hand side...
35: Liverpool continue to look the more likely scorers here, Moreno playing a one two with Sturridge before having his low shot held by Gonen.
32: Balotelli does well to put Sturridge in, but the frontman takes too much time on the ball and finds his feeble right footed attempt saved.
30: Dejan Lovren makes a good interception for Liverpool as Alberto Moreno pings a lovely forward pass to Daniel Sturridge as a result. Sturridge once again tees up Sterling, who wins a corner which sees Skrtel head over. 0-0 here on the half hour mark.
24: Sturridge puts Sterling on goal in the area, but he is quickly surrounded by Besiktas defenders and can't find the correct pass.
22: I personally expected Sturridge and Balotelli to be working as a front two when the team was announced, however it appears that Balotelli is playing in a slightly deeper role than usual alongside Sterling.
20: Sterling comes close! The best chance of the night so far as Moreno's deflected cross falls to the feet of Raheem Sterling on the edge. The young Englishman's shot is well saved by Cenk Gonen in the Besiktas goal.
17: Besiktas create the best chance so far, working the ball down the left hand side before delivering a low cross for Ba. Skrtel does well to intercept, poking the ball out for a corner.
11: Early yellow card for Balotelli, a late tackle on Kavlak seeing the Italian pick up a card.
10: Besiktas finally surge into Liverpool's half, but Kolo Toure sweeps up an attempted pass to Demba Ba with ease.
6: Joking aside, the Reds have started well here and are happily keeping possession without having too much pressure placed upon them.
5: The crowd are quite noisy here, in all fairness. With Liverpool's squad being so young, Brendan Rodgers will be hoping he doesn't have angry mothers on the phone.
2: Mario Balotelli is down here after being caught on the ankle by a late tackle, it seems as if he'll be able to carry on though.
KICK OFF.
17:58. The players are out and shaking hands with a traditionally hostile Turkish crowd watching, we're ready to go!
17:52. Not long at all now until kick off, the players have finished warming up and will be recieving their final instructions.
17:45. Predictions? I can see Liverpool progressing in a fairly high scoring game tonight, I'm going for a 2-2 draw. What do you think? Tweet me with your predictions- @OlliGing
17:40. Key man- Gokhan Tore. The tricky winger is sure to be a handful for Liverpool tonight after being passed fit. He looked good in stages at Anfield and will surely only be better in front of his home fans.
17:35. We can go into extra time tonight, however that can only happen if Besiktas win by a 1-0 scoreline. Any other one goal winning margain for the hosts would, as already mentioned, see Liverpool progress on away goals.
17:33. Liverpool won the first leg 1-0 at home, meaning that Besiktas have no away goals. If Liverpool were to score tonight, it would mean that Besiktas would have to score three as only scoring two would level the tie at 2-2 and make them match winners at 2-1, but see Liverpool go through on away goals.
17:30. Just half an hour till kick off! I better run you through the rules of tonight's affair.
17:27. Key man- Jordon Ibe. Ibe is sure to play a key part for Liverpool tonight since bursting onto the scene following his recall from a loan at Derby last month. He has won multiple man of the match awards since returning and completed a whopping 11 take ons in the first leg.
17:25. The referee for the game is Damir Skomina, a Slovenian referee who is vastly experienced. He has refereed a number of high profile games throughout his 10 year career, most notably Bayern Munich's semi final win over Barcelona in the UEFA Champions League in 2013. He has taken charge of one Liverpool match before, a defeat to Fiorentina in the 2009 Champions League group stage.
17:15. In the absence of Steven Gerrard and Jordan Henderson, Martin Skrtel will captain Liverpool tonight.
17:10. Besiktas fans will be relieved to see Demba Ba in the team after he missed their weekend game, whilst Gokhan Tore has got over his knee troubles to start.
17:07. For Liverpool, the headline team news is surely that Mario Balotelli and Daniel Sturridge start together for the first time since August 31st. Emre Can moves into midfeld, whilst there are places on the bench for youngsters Cameron Brannagan and Jordan Williams.
17:04. Besiktas subs- Fidayeo, Pektemek, Ozyakup, Arslan, Koyunlu, Boral, Nukan.
17:03. Liverpool subs- Ward, Manquillo, Williams, Brannagan, Lallana, Lambert, Borini.
17:01. Besiktas- Gonen, Kurtulus, Uysal, Franco, Opare, Kavlak, Hutchinson, Tore, Sosa, Sahan, Ba.
17:00. Liverpool- Mignolet; Toure, Skrtel, Lovren; Ibe, Can, Allen, Moreno; Sterling, Balotelli, Sturridge.
16:59. CONFIRMED TEAM NEWS!
16:55. The teams are expected to be announced imminently, stay with us!
16:50. For more on Henderson's injury and who we can expect to replace him, read this from Charlie Malam.
16:45. Some history here. Everybody remembers Liverpool's 8-0 win against Besiktas at Anfield in the 2007/08 Champions League group stage, however it was Besiktas that triumped in Turkey. They defeated Liverpool 2-1 earlier on in the group.
16:40. Slaven Bilic, coach of Besiktas, has said this ahead of the game. "We want to make our fans proud of us and we're taking this game seriously despite our tiredness and injuries. We're not at our best but, although the advantage lies with Liverpool, we still have a chance.
16:30. Liverpool manager Brendan Rodgers has spoken about his sides injuries and excitment ahead of the game, saying "We have some injuries but we will still have a side strong enough to get the job done, It's a really iconic stadium for the club. We'll look forward to it. The big pitch will suit our style with our pace and movement."
16:25. STAT: Liverpool have lost just one of their last 18 games.
16:20. If you've a couple of minutes spare, take a look at tonight's preview, written by our own Danial Kennedy.
16:15. STAT: The first leg was the first Europa League game that Besiktas have failed to score in this season.
16:10. Besiktas have injury concerns of their own with Gokhan Tore a doubt due to an ankle injury picked up in the first leg. Demba Ba is expected to be fit despite missing the weekend's game with a calf problem, however won't be 100%.
16:05. We already know that Liverpool are without Steven Gerrard, Jordan Henderson, Mamadou Sakho and Glen Johnson who all haven't travelled due to injury. Nor has Philippe Coutinho, the Brazilian seemingly rested ahead of Sunday's game with Manchester City. This means we could see places in the squad for youngsters such as Jordan Williams, Jerome Sinclair and Cameron Brannagan. Lazar Markovic will serve the second game of his four match suspension.
16:00. Just around an hour until we expect tonight's team news to be announced.
15:55. More on tonights ground, the Besiktas fans aren't actually huge fans of it. The Ataturk Stadium isn't their normal home, as their proper stadium is having renovations. The ground is quite out of the way, with Steven Gerrard once describing it as 'in the middle of nowhere', meaning that the passionate home fans find it hard to get to the arena.
15:50. This will be a nostalgic trip for Liverpool, coming back to the ground where they won the UEFA Champions League in 2005, on that famous night where they came back from three goals down to defeat AC Milan on penalties in 'The miracle of Istanbul',
15:45. Liverpool followed up Thursday's win with a big triumph, defeating high flyers Southampton 2-0 away from home. Goals from Philippe Coutinho and Raheem Sterling secured the win, allowing the Reds' good form to continue.
15:40. Besiktas followed up last week's defeat with a disappointing 1-0 away loss to (pauses for breath) Eskisehirspor, who are 10 places below them in the league. Despite having 69% possession, Besiktas couldn't pick up any points and saw Galatasaray climb above them to the top of the league table.
15:35. Liverpool go into this second leg with a 1-0 advantage following their win at Anfield, where Mario Balotelli scored a late penalty to secure a win for the Reds and put them in a strong position to go through ahead of tonights game.
15:30. Good afternoon everybody, I'm Oliver Emmerson and I'll be taking you through tonight's UEFA Europa League round of 32 game between Besiktas and Liverpool, live here on VAVEL UK.