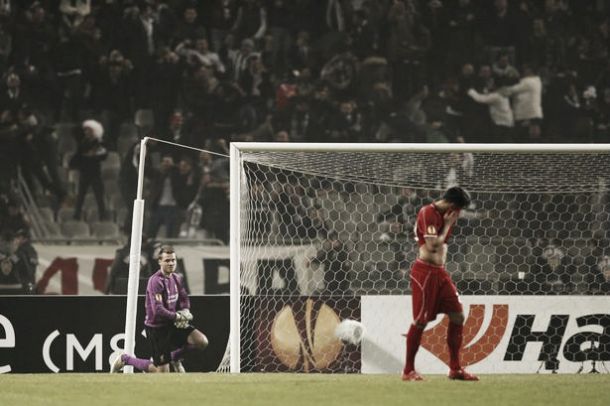 Simon Mignolet believes Liverpool need to quickly brush off the disappointment of their Europa League exit with a huge clash against Manchester City next up on the agenda.
The Reds were stretched to the full 120 minutes after Besiktas equalised on aggregatie in normal time, but penalties were needed to decide the winner.
Dejan Lovren's decisive spot-kick miss meant the Reds crashed out 5-4 after drawing 1-1 on aggregate, but Liverpool have little time before to dwell on the loss as they host City at Anfield this weekend.
Mignolet told the Liverpool ECHO: "Everyone is devastated to go out, especially like that at the end of 120 minutes.
"Having put so much effort into the game, it's a real disappointment to go out.
"We defended well for 120 minutes. We practice penalties every week in training but a shootout is always a lottery and it's so disappointing to go out.
"We have to look forward and prepare ourselves as best we can. We need to recover and then go again on Sunday.
"It's another big game and we need to try to get back to winning ways. We have to focus on the job in hand."
Despite Lovren's penalty deciding their fate, Mignolet insists it would be wrong to point the finger at the centre-back.
"I don't want to single anyone out," the Belgian goalkeeper said.
"I've always said when you win, when you lose, when you go through, when you go out, it's always as a squad.
"You are always together in good moments and bad moments.
"I think 1-0 at home was a good result for us. Then you hope to score an away goal but it didn't happen. Besiktas played well."
Their European exit means that the Reds can now only secure Champions League qualification for next season via finishing in the top-four of the Premier League, something Mignolet is confident he and his teammates can achieve.
"Of course we can do it," he said, when questioned whether the Reds could qualify for Europe again next year.
"We always said we want to get in the Champions League for next season.
"We're still in the FA Cup and we're close to the top four in the Premier League so there is still a lot to play for this season.
"It's not easy at this moment when you've just come out of the dressing room and we've gone out of Europa League but we have to put it behind us.
"On Friday morning our preparations start for the Manchester City game."