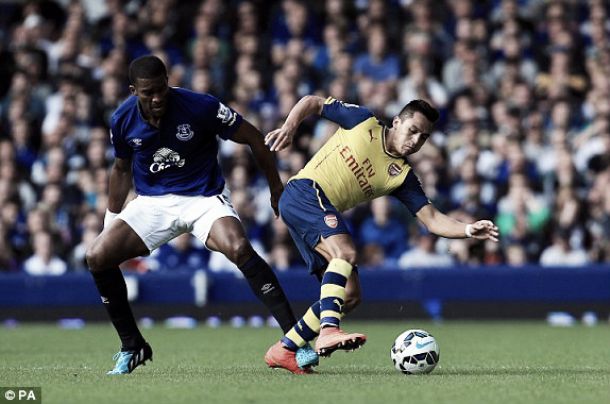 This Sunday Arsenal take on struggling Everton at the Emirates for their second match in the Premier League this season. Everton in the past have pulled off satisfying victories against Arsenal in the past, since 2012 Everton have managed 1 win against the Gunners with 4 draws in 7 games.
Everton have proven to Wenger's men that they are a tough cookie and recent performances don't lie, their form has started to take an up as of late in the Europa League but still edgy in the BPL. Last season in the 1-1 at home, Arsenal thought that they had taken the win with a late goal by Ozil. Hearts were broken when Deulofeu struck 4 minutes after Ozil's goal. Later on the season when the Gunners went to Goodison Park, they suffered another devestating away loss to a top side, losing 3-0. Earlier on the season Arsenal went 2-0 down in the first half but then pulled off a late fight back with Ramsey and Giroud late goals.
This Everton side has dropped off a lot since 2013/2014 with performances lacking in the Premiership but looked good value in the Europa. The Toffees have done as of late in conceding less goals than they did in the season since Stones has been equipped again and Distin being dropped.
The Blues have had decent performances against the top teams away from home, their worst performance being a loss to Southampton by 3 goals. Their strongest performance being a loss to Chelsea 1-0, but taking a late deflected goal to undo them. Everton have only coughed up 1 point away from home against the top 7, that being the late Jaqielka goal at Anfield. Performances have been decent but not points worthy. Their performances against Young Boys will give them hope with Lukaku starting to get with the goals again, but the draw with Leicester being a set back.
One problem Everton may suffer is Gareth Barry being excluded from this game due to a match ban. Barry hasn't exactly done well since his full signing from Man City but that's not what I am on about. Besic has performed best when along side the Englishman, while the Besic & McCarthy partnership hasn't gelled yet. They will most likely miss Barry's experience in midfield against Arsenal.
Arsenal have recently come off of a devestating result against Monaco so we may just be looked at as an easier target, being weaker. They will most likely not be afraid to come at us after watching the game on Wednesday and how unorganised we were, this will defeinately give the toffees hope.
Roberto Martinez has taken his struggling Wigan side to the Emirates before and has pulled out a result, so there's no reason why he can't this time around. Everton have a stronger squad overall then the former team in every position. Martinez knows Wenger fairly well over his 6 year span and knows what it takes to undo his side form than ever. This contest may just turn out to be harder than last season's games.