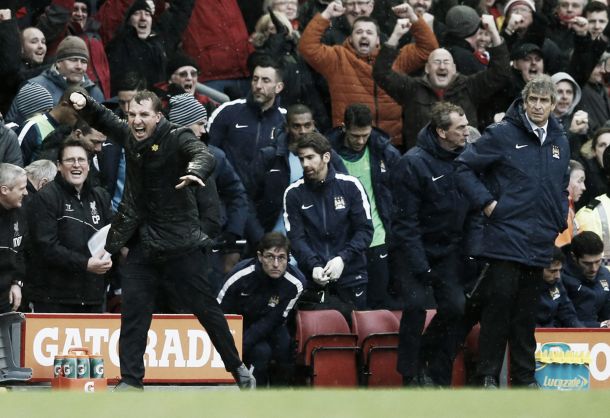 Brendan Rodgers believes his "relentless" side were thoroughly deserving of the win they took against Manchester City on Sunday.
The Northern Irishman's side closed in on the UEFA Champions League places as they downed the reigning Premier League champions to move within three points off 3rd at Anfield.
Superb strikes from Jordan Henderson and Philippe Coutinho were enough to lift the Reds to a 2-1 victory, despite Edin Dzeko's first-half equaliser as Liverpool responded to their mid-week Europa League exit in superb style.
"It was a brilliant result and an equally brilliant performance," Rodgers reviewed. "I thought we thoroughly deserved the victory.

"I thought the players were relentless today in their work and their intensity and we had some great quality in our football. It was very, very pleasing."
Rodgers' side had only one day to train after returning from their trip to Turkey to take on Besiktas on Thursday night in the early hours of Friday morning.
Liverpool were taken the full way in Istanbul's Ataturk Stadium, before agonisingly losing 5-4 in a penalty shoot-out as Dejan Lovren blazed his spot-kick over the crossbar.
But despite the limited preparation time, the Reds put in a terrific team performance to clinch victory over Manuel Pelligrini's title-chasers.
"Some of you guys will have come to our game, travelling with the press on the journey with us," said the Liverpool manager, addressing reporters in his post-match press conference. "And I'm sure you felt first-hand what it was like, getting back at half past four in the morning and probably not getting home until about six o'clock.

"To then have to prepare yourself for a game against the champions is no mean feat. To play and perform like we did today, with that intensity and work and quality, you've got to take your hat off to [the players].:

"How they performed was at a real top level. I've got nothing but admiration for them because their focus was good in the game," Rodgers added. "They worked the system very well. And as the game wore on, we created more chances. We restricted Manchester City to one shot on target.

"The momentum and the flow and rhythm were with us in the game. I felt in particular in the second half, we started brightly and played through the system well. The players are really making the system work for us with their quality and intelligence.

"When you add the intensity of our pressure, we didn't really give them a moment to settle. You have to applaud my players for that because they were relentless in how they pressed the ball.

"To keep a team of that quality to one shot on target, in a game that they would really want to win as much as us, says everything about the spirit, character and quality of my team."
The victory took Liverpool further up the Premier League table, after Southampton fell down a place following a 1-0 defeat away at West Bromwich Albion the day prior.
Sat two points behind arch-rivals fourth-placed Manchester United, and only three off of Arsenal in third place, but Rodgers insisted that the Reds cannot afford to get carried away with their current form.

"The focus is only on Burnley now," Rodgers said. "I've sat here for most of the first part of the season and it was a difficult time for the team.

"We never get too carried away, we just have to concentrate on the next game and focus on our performance level - and, like last season, we'll see if we can finish as high as we possibly can.

"I've said it leading into this game and I'll repeat it again, if we can get into the top four this season, it'll be a better achievement than what we did last season because of our starting position at the beginning of this year, and the new players and the adaptation they needed to have.

"We've just got to keep collating the points, keep the performance level but there are still a lot of games to go."