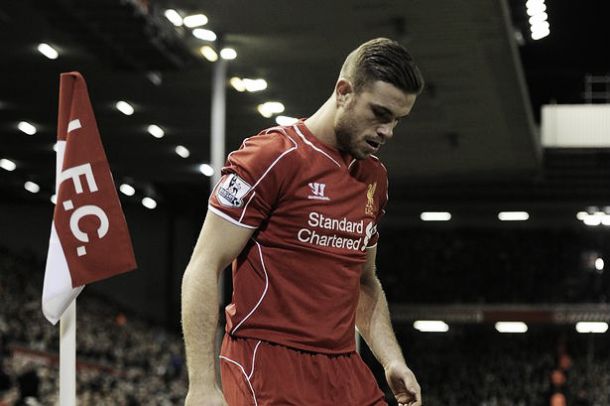 First and foremost, no-one will ever outrightly replace Steven Gerrard for Liverpool Football Club. Ever. Let's just get that straight.
There's no point even suggesting there could be, because Gerrard has done things for the club that no-one will repeat, and is rightly considered at least as good as club legend Kenny Dalglish, if not even better.
But even with that in mind, there's a feeling that Reds midfielder Jordan Henderson is slowly beginning to morph into a similar man that his 34-year-old teammate once was.
With such commanding central midfield performances, Henderson's reputation has grown almost as much as his ability to sweep a long ball into the feet of a teammate 50 yards away, or his ability to impact a game in the form of goals and assists, and he's slowly but surely becoming the beating heart of the Liverpool side, just like Gerrard used to be.
It now seems that Henderson, who was the favourite candidate for the armband after Gerrard announced his departure back in January, is all but set to receive the captain's armband from the scouser when he leaves for the sunnier shores of Los Angeles in July.
Yet it was only a couple of weeks ago that the Sunderland-born midfielder was coming under flak for trying too hard to essentially impersonate a youthful Steven Gerrard, at least in the mind of Joey Barton, who insisted people are doing Henderson no favours by encouraging him to become a clone of Liverpool's no.8.
But with the 24-year-old starting to produce when it matters, just like the LA Galaxy-bound Gerrard used to in years gone by, Henderson's critics seem to have retreated into the shadows. After all, he's certainly stated a compelling case for the Reds to allow him the opportunity to lead the club's post-Gerrard generation.
Despite having to deal with questions over whether he could handle the pressure of being captain, Henderson has provided the answer confidently so far in 2015 - yes, he can.
With Gerrard increasingly needing rest and recuperation, in addition to suffering from niggling injuries, Henderson has now donned the armband from the get-go on 12 occasions this season, and with each passing game, looks more and more comfortable as club captain.
Not that the captaincy ever phased him initially. Henderson has never looked particularly worried, nor troubled, by the weight of being captain at the club the size of Liverpool - instead, it actually looks to have driven him on.
Henderson is making the captaincy his own, and the team around him are all the better for it. The Reds look a more cognitive, smooth-running side with Henderson in charge - and they've never been beaten in the 12 games he has captained the side, winning 10. Producing superb performances as an individual and as a whole, Henderson's Liverpool have climbed up towards the UEFA Champions League spots in emphatic style.
But the truth is that Henderson has been a leader some time, even before he was awarded with the vice-captaincy back in September. With huge, long-term dressing room figures having left under Brendan Rodgers, such as Pepe Reina and Daniel Agger, the still-young Mackem has grown in presence, both on and off the field, over the years and the team have reaped the rewards.
But outstanding leadership is not the only factor that makes him a good candidate to succeed Gerrard, nor is his sublime range of passing, or his Duracell bunny-like engine, or his all-round qualities in the centre of the park for that matter - but he's finally justifying performances with the most eye-catching statistics. With five goals and 11 assists in all competitions so far this season, the 24-year-old is playing a key role in obtaining the points that have seen Liverpool charge up the table. The quality of both the goals and the assists, as shown against Manchester City and Burnley in the month of March alone, have been equally as notable - hammering both Goal of the Month contenders home with beautiful execution.
Of course, it was not always this way. Henderson's path to prominence was not exactly easy. With a big price tag on his shoulders and huge expectations consequently placed upon him, he looked to have buckled under the pressure inside the first 18 months. Yet he proved everyone wrong when he emerged a stronger, more complete player, as he matured from the young hopeful into the powerful energetic box-to-box midfielder he is today.
Henderson's reputation has grown rapidly amongst the Liverpool supporters, who have honoured his progress with a chant. "Brendan loves you more than you will know, woah oh oh" goes the second line, to the tune of Mrs Robinson, but that too - wasn't always strictly true.
It could all be so different, had Henderson said yes to Rodgers, when asked whether he would be keen on being included in a swap deal for Fulham's Clint Dempsey. But he didn't. Instead, Henderson stayed and battled it out, to become one of Liverpool's most important players today - whilst Dempsey struggled at Spurs before jetting off to America to join Seattle Sounders. Oh how different things could have been.
Rodgers recognises the progress Henderson has made too, stating after after a controlled performance against Burnley on Wednesday night: "Jordan is improving all the time and as he matures even more tactically he will become even better. He has always had athleticism, he is born with a natural gift to run, and tactically he is improving all the time and his passing is improving and he is becoming one of the real leaders of this team."
But whilst the beating heart of Liverpool, Steven Gerrard, prepares for an emotional farewell - that should not force others into placing unrealistic expectations on to Henderson, as Rodgers added.
"The two are totally different," said Rodgers. "There's no comparison. Jordan is a young guy and wonderful talent but a different type of player. He's Jordan Henderson, he's creating his own headlines."
The Northern Irishman is right. Henderson will likely never become the player that won games single-handedly, so consistently, on the biggest of stages for Liverpool - but given time, Henderson will become an equally as influential captain in his own right.
Recently - the penalty debacle with Mario Balotelli, despite being blown well out of proportion, skewed the opinions of some of those in favour of a full-time promotion for Henderson. Having allowed the Italian to step up and take the spot-kick out of his hands, Henderson was seen as weak, even though he remains arguably the only man to have intimidated Diego Costa with merely a stare.
Bizarrely, allowing Balotelli - renowned as one of Europe's most efficent penalty-takers - was seen as not leading from the fore. Rather, it should have been seen as a well-calculated decision. Henderson has never been a first-choice penalty-taker, particularly when the stakes are so high, but Balotelli has - hence why he tucked away the resulting spot-kick, and the midfielder was right to step down and allow his teammate to take it.
In fact, ever since the situation, Henderson's form has been on another level. Suddenly, the pain of Gerrard's departure isn't as raw. Why? Because Liverpool are no longer reliant on Steven Gerrard. Sure, the boots left to fill never will be filled - but if Henderson is given the opportunity to flourish as his own captain, Liverpool supporters have good reason to feel excited.
Recent performances without Gerrard have proved that the post-no.8 era is brighter than many first anticipated, and with a certain 24-year-old who has only just started writing the second chapter of his Liverpool story, at the helm - Brendan Rodgers and co. have plenty to look forward to. So, here's to you, Jordan Henderson.