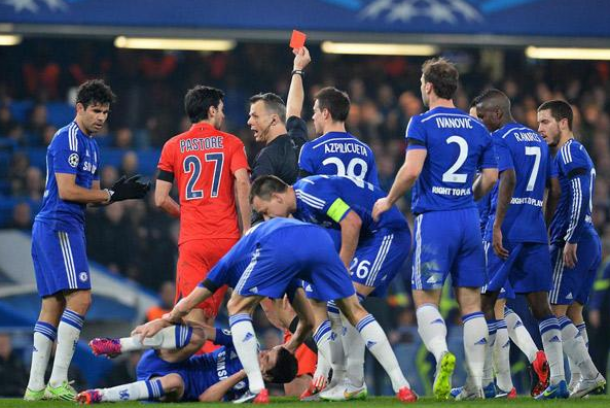 Following Chelsea's Champions League exit to French Club Paris Saint-Germain, striker Zlatan Ibrahimovic - who was sent off in the game after 30 minutes for a challenge on Oscar - has claimed that the Chelsea players who surrounded the referees were acting like 'babies'.
Despite the red card, PSG still went on to win and progress through to the quarter-finals of the Champions League due to the away goals rule. Two late headed equalisers, the first from David Luiz making it 1-1 sent the game to extra-time and the second from Thiago Silva to make it 2-2 with six minutes remaining, gained PSG the win having scored more away goals than Chelsea, even though the score was a draw (3-3) on aggregate.
"When I got the red card all the Chelsea players come around. It felt like I had a lot of babies around me." stated the PSG striker.
He continued, "I don't know if I have to get angry or start to laugh. For me when I saw the red card I was like 'the guy doesn't know what he's doing'."
UEFA have confirmed that they won't be altering the decision to ban him following the red card. Their disciplinary body are set to meet next Thursday to decide whether the ban shall remain as a one-game ban or for it to be extended. Replays did suggest that both players went into the 50/50 with similarly, however Oscar's studs were showing whilst Ibrahimovic kept his feet planted to the floor. Nevertheless, the Swedish striker did not react to the contact he received from Oscar, but the Brazilian playmaker certainly made it look worse than it actually was.
Ibrahimovic has even gone on to suggest that Oscar simulated injury, "I pulled out, because I saw him come in the tackle. I don't know if he was acting afterwards. Doesn't matter. We won the game, we went through and let's see what happens." he said.
Not only did Oscar's reaction seem to effect referee Bjorn Kuipers' decision. All the Chelsea players who surrounded the referee almost instantly after the tackle may have had a part to play in his decision, even though the Kuipers showed Ibrahimovic the red card within five seconds of the challenge. Some may argue that they were just trying to defend their teammate, as Nemanja Matic almost had a career-ending injuring from a dangerous tackle by Ashley Barnes a couple of weeks ago.
Club captain John Terry has publicly defended the way his teammates reacted to the tackle last night, "You have to stick up for your team-mates. Every side is as bad as each other. It's part of the game," he said.
"Once they're charging the ref, the only thing we can do is respond. You can't as a group of players let them surround the ref, trying to get our players booked.
"For me if I have to run 20, 30 yards, it doesn't look great but when you're standing back and seeing five or six of their players surrounding the ref, I think I support my team-mates.
"And once I go, four or five go with me, it doesn't look good at all but that's part of the game. We'll match it if people want to mix it, that's part of our game as well."
On the other hand, the incident is over and now Chelsea have to pick themselves up and get ready for a tough game on Sunday against Southampton at Stamford Bridge.
"We have to pick ourselves up and go again at the weekend now. There's enough experience in the squad to rally round and get everyone going again." he acknowledged.
"Southampton will come here playing on the front foot and, if we're not at it, we'll drop points and slip away in the Premier League."
Chelsea currently sit at the top of the Barclays Premier League table with a game in hand and five points ahead of second-placed Manchester City, who travel to Barcelona next week for the 2nd leg of their Champions League tie with the Catalan giants.