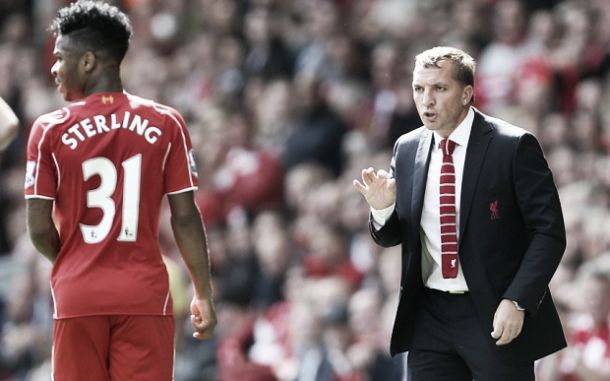 Liverpool FC manager Brendan Rodgers has insisted that he is "relaxed" over Raheem Sterling's ongoing contract situation.
The 20-year-old has two years left on his current deal, which was signed back in December 2012, but has rejected a number of proposals from the Reds for a new and improved deal.
The stumbling talks have led to rumours that Sterling could be seeing greener pastures elsewhere, after Liverpool's Champions League campaign fell flat earlier this season.
The highly-rated English international's future is in doubt, but Rodgers fully believes that Anfield is the place in which Sterling will remain, insisting the club and the player's representatives will look to agree on terms in the summer.
"I'm quite relaxed about Raheem's situation. He's not going anywhere in a hurry. He's got another couple of years to go on his contract.
"I think anyone who has Raheem's best interests at heart will see that Liverpool Football Club at this stage is the best option for him in his career.
"He's just turned 20 in December. He's made more than 100 appearances, which is a remarkable amount at a club this size, for a young player. And he's made it clear himself that this is the best place for a young player to develop.
"That's what makes me quite relaxed. And I'm sure the club and his representatives will find the solution."
Sterling has 10 goals and eight assists in all competitions for Liverpool this season, leading many to believe that his decision not to extend his current contract could be swayed by the fact he may be offered more money elsewhere.
Despite the club clearly showing their desire to wrap the contract up, Rodgers admitted he has no explanation for why the talks have been stalled on Sterling's part.
"I'm not sure. That is not in my area really," said Rodgers.
"I just speak to Raheem about his football and concentrate on his football and see where it goes from there."
Sterling is not the only player whom the Reds are eager to tie down to a contract, with vice-captain Jordan Henderson's deal having just 12 months left on his current deal.
"Like I said, I'm quite relaxed on it," he insisted. "The players are working well and are concentrated which is the most important.
"That side of it they have to leave to their representatives and the club. We'll just focus on the football.
"The two players mentioned can separate the football from the business side. It's never easy but listen, there are players in League One and League Two working on six-month contracts and one-year contracts and it is a lot more insecure at that level than it is at this level.
"So I'm sure they will cope fine. These are two players that the club want to ensure are here for the future and if the model of this football club is to develop the talent and create world-class players, then it is important that we keep those when they are here already. That is something the club are working hard to do."