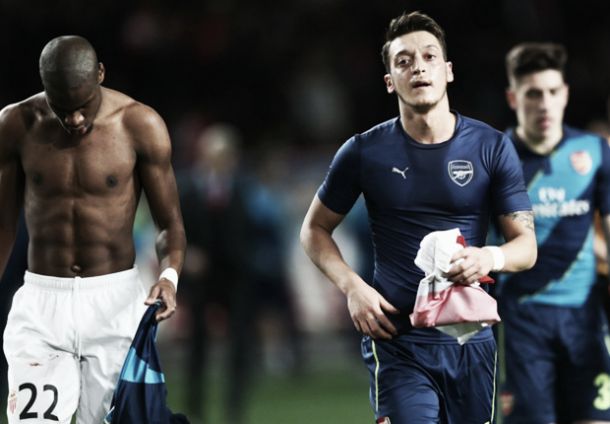 Arsenal midfielder Mesut Ozil has talked down criticism aimed towards him after exchanging shirts with a Monaco player at half-time of Tuesday's Champions League round of 16 clash between the two sides.
"Aren't there more important things to talk about?" asked Ozil.
After Arsenal took a 0-1 lead into halftime, still down 3-2 on aggregate, cameras caught Ozil and Monaco midfielder Geoffrey Kondogbia swapping shirts as they walked towards the tunnels of the Stade Louis II.
Shirt swapping at the end of a match has become a tradition over the years, but the actions of Ozil provoked heavy criticism.
Former Manchester United midfielder Paul Scholes' thoughts drew the most attention. Scholes, a pundit on ITV at the time of the match, questioned Ozil's actions, saying: "I don't like it - at the end of the game, maybe," he explained. "But I'm not a big fan even then. You do it once you're in the tunnel or once you're in the dressing room, out of the way of everyone. At half-time, it's not for me."
The German international shrugged off the criticism and responded to the controversy after his side bowed out of the Champions League on away goals.
"Perhaps I should have given him the shirt in the tunnel, yes," Ozil explained to German media SID. "But seriously people, aren't there more important things to talk about in a knockout game than swapping shirts?"
Ozil added that it was Kondogbia who asked for his shirt and started the exchange. "I simply wanted to do him a favour," Ozil then stated.