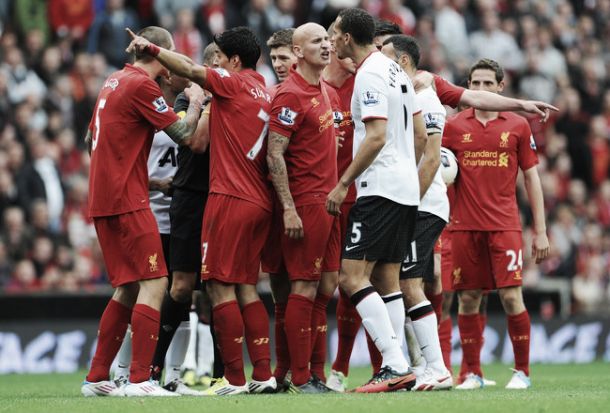 Last time Liverpool played Manchester United it was a wash out, the Reds losing 3-0 at Old Trafford.
December was a time when Liverpool were going through a rough patch, to say the least. Simon Mignolet would be second option to Australian goalkeeper Brad Jones, first-choice forward Daniel Sturridge was injured, and as a result they could never finish off chances, and they were shaky at the back. The Merseysiders had 13 shots on target compared to United's six, yet failed to score a single goal.
Fortunately Liverpool's season turned around with the beginning of the New Year. The Reds have not lost a single game since that day at Old Trafford, and have remained undefeated in the Premier League in 2015. A win at Anfield on Sunday would mean Liverpool would equal Chelsea's record of 14 unbeaten games this season, something which seemed unthinkable three months ago.
Both Liverpool and Manchester United have a lot on the line this Sunday - their second league meeting of the season, in arguably the biggest rivalry in English Football. This is the fixture that Liverpool and Manchester United fans scroll through to find when the fixture list is announced. It stands out. Even if it doesn't have a global attraction so much anymore, it is a huge enoounter for the two sets of supporters, and Sunday is the most heavily anticipated clash in years because so much is on the line.
The last time United were at Anfield, Brendan Rodgers' won 1-0 but whilst a similar win wouldn't secure the fate of either team for a top four finish, it would certainly give enough momentum for the remaining eight matches. It would also mean Liverpool could leapfrog United to take 4th place in the table. But with Southampton and Tottenham joining in the race, it's impossible to predict who will finish in the Champions League positions.
It's safe to say that Sunday's game will produce a victor. In the last six meetings between the two sides there has always been a winner, so a draw is very unlikely - but whoever emerges the winner, doesn't have that fourth-spot sealed just yet.