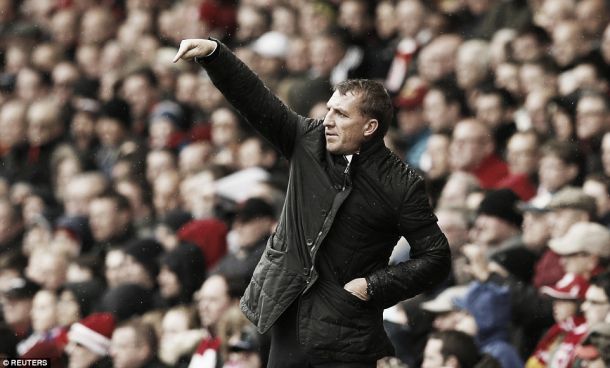 Liverpool manager Brendan Rodgers has laughed off claims that his job is under threat, insisting that football only has a short memory after a banner questioning his position was flown over Anfield before today's 2-1 win over Queens Park Rangers.
A plane passed over Anfield just minutes before kick off, with a banner reading 'Rodgers out, Rafa in' across it, referencing to a certain section of Liverpool fans campaiging for the re-instatement of ex manager Rafael Benitez. It came after a series of disappointing results for the Reds, who have dropped out of the FA Cup and race for fourth place over the last month.
It is unknown whether it was Liverpool fans themselves or rival fans who organised the stunt, however Rodgers jokingly suggested another theory.
"I thought it was Rafa's agent in it," he laughed.
"Football has a short memory, we sat here last year having nearly won the league and now we have planes flying over so you can do nothing about it.
"I'm very fortunate and privileged to work here at Liverpool and as I said before there will be many names linked with the job because of the size and scale of the job to be undertaken here.
"I'm hugely honoured every single day of my life, and I will continue to be, however long it lasts."
Despite his light-hearted reaction to the banner, the afternoon at Anfield took a serious note just hours before kick-off when it was revealed that Rebecca Ferdinand, wife of QPR player Rio, had lost her long term battle with cancer. Liverpool and QPR players each had black armbands across their shirts as a sign of respect for her, whilst Steven Gerrard exchanged flowers with Rangers' captain Joey Barton before kick off.
Speaking about the loss, Rodgers said, "Football is secondary today, with all due respect.
"This is a guy who has been an incredible player and when I was coming to the ground I had heard the news about his wife and everything is insignificant to what Rio and his family are going through today.
"On behalf of us at Liverpool Football Club, the players, fans and people of the city, we pass on our condolences and respect to him and his family."