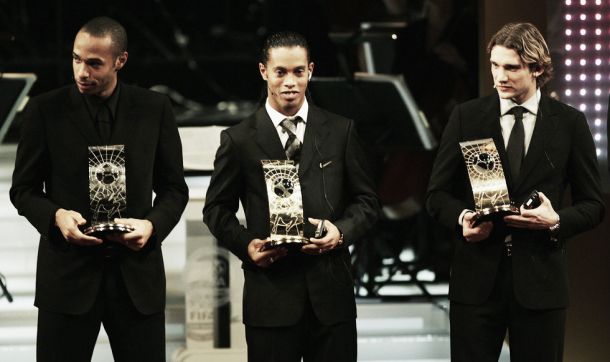 The 2004 FIFA World Player of the Year award was won by Brazilian Ronaldinho for the first time, Thierry Henry finished second for the second year in succession. The 2004 Ballon d'Or, given to the best football player in Europe as judged by a panel of sports journalists from UEFA member countries, was delivered to the Ukrainian striker Andriy Shevchenko on 13 December 2004.
The Frenchman was rivaled by the Brazilian and the Ukrainian as Henry finished second for the second year running between compatriot and Real Madrid player Zinedine Zidane in the FIFA award, while Henry finished fourth in the Ballon d'Or behind Shevchenko of Milan, Deco of Porto and Ronaldinho, but ahead of Theodoros Zagorakis of Greece, who won the European Championships with his nation that summer.
In 2004, Porto won the Champions League, but more importantly, Henry was apart of an Arsenal squad that were labeled ''The Invincibles'' because of the fact that they went the entire 2003-04 season without losing a single match in the Premier League, which clearly helped influenced himself a great player, scoring 30 goals in that season.
Andriy Shevchenko of Milan was the top scorer with 24 goals as AC Milan won their 17th scudetto in Serie A. In Ronaldinho's first season at the Blaugrana, he scored 22 goals in competitions as Barcelona went only second in the league.
While Shevchenko was clearly the best player of the year with his performances in Serie A, it was quite of shock to not see Henry even go top three for the Ballon D'Or results, especially after an-unlikely-to-ever-happen-again season to go outbeaten throughout 38 matches in England. Deco's second place finish surely is influenced with his Champions League victory, which plays a key role.
The FIFA World Player of the Year award was much more likely as Henry finished over the Ballon D'Or winner Shevchenko in second, only to lose it to Ronaldinho despite not winning any silverware, but that didn't mean much to those at Zurich. Many believe Henry deserved it because of his performances in the league and achieving something that those other three did not achieve ever in their career, to go unbeaten for the entire season.