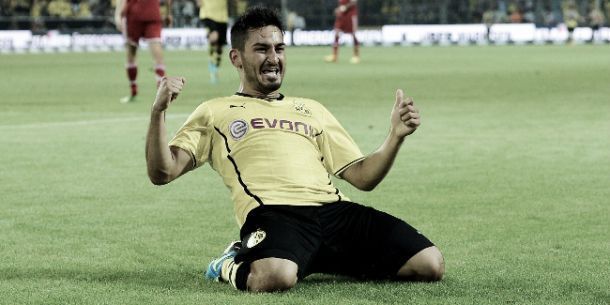 Louis van Gaal has confirmed that he is looking to sign a midfielder this summer and has made it a priority signing.
He is looking for balance in the team as he attempts to lead Manchester United to the Premier League title next season.

Let's look at five midfielders that United could potentially buy who have already been linked with the Reds so far this summer.

Ilkay Gundogan

Gundogan is one that has been heavily linked from the German press saying that he is close to joining and with the Borussia Dortmund Sporting Director Michael Zorc saying Gundogan has asked to leave. A few weeks ago from Sky Germany said that he was due to sign for Manchester United but that was rubbished as they were getting ahead of theirselves.

Gundogan would be a perfect addition tp United and would fit the system well. Many people will say has he really recovered from his back injury that he suffered? Talking to Dortmund supporters suggests he has. Gundogan has real quality on the ball as you could see for yourselves in the Champions League final versus Bayern Munich a few years ago. He has completed the third most minutes for Borussia Dortmund this season.

His potential cost is supposed to be €30million. That price for a player in his golden years is very little for money-rich Manchester United, but he has only one year left on his contract. He has been linked to Barcelona and Bayern Munich as well.

Bastian Schweinsteiger

Schweinsteiger is someone United fans have wanted at for years and would be a great buy if they could get him this summer. There have been reports saying van Gaal and the German World Cup Champion have been in talks but it would be difficult to pull it off.
Schweinsteiger is very experienced and that is what United need in the team going forward. The problem is will he ever leave Germany to move away.

United need someone who can play in the Michael Carrick position and Schweinsteiger can play there and would bring a huge amount to van Gaal's ever revolutionising side. He scores a few goals from midfield too and is just an all round great player. He played a vital role in Germany winning the World Cup last summer.

Schweinsteiger is 31 years of age but still has at least 3 or 4 more years left in him at the top level and he is a world class player. Pep Guardiola said he doesn't want to lose him but has said it's up to him to make up his mind for what he wants to do.

Morgan Schneiderlin

Schneiderlin would be the most sensible signing United could make for the defensive midfielder role this summer. He's perfect for the Carrick role and at 25 has many years in him to play there. Southampton will not sell though for anything less than £25million but it would be a very good investment if Louis van Gaal is to make it.

Schneiderlin's main strengths are his passing and his ability to get a tackle in. He has been a consistent performer for Southampton and has the ability to make the jump up into United. The only thing yet though that is being reported is interest but no bid.

Schneiderlin in United's developing system is perfect as he would allow Herrera to go forward and feel safe knowing that he is there. This transfer is very likely if United are serious enough about trying to sign him.

Arturo Vidal

Arturo Vidal is an amazing midfielder who was heavily linked to Manchester United last summer but the transfer never happened. He again this summer is now starting to be linked again but many United fans will not believe it like last summer. He would cost van Gaal upwards of £30million but he is worth it if it did materialise.

He would drive United forward in midfield, doesn't pull out of challenges and is a real workhorse. He would improve the twenty time English champions immensely but it is difficult to see him leaving Juventus as he is a key component to their midfield. Vidal is the classic midfielder that United would need and is close to the best that there is out there currently.

Vidal would fit into van Gaal's system really well. There has been a lot of worry about Vidal's knee problems that he has had but this season he doesn't look like he's struggling and seems the perfect player for anyone.

Radja Nainggolan

Nainggolan is another midfielder linked with United but is probably less likely to happen than others. Roma want to buy him fully from Caligari this summer and also Juventus want to sign and reports from Belgium say Louis van Gaal is not interested. This doesn't stop reports in Italy saying the opposite though.
He has impressed many Serie A watchers this season and Roma fans are desperately calling to purchase him fully. He also is another that gets stuck in and also scores goals from midfield. His price would be around £20million but he is worth that and would be a steal for any club.

Nainggolan would fit into the system very well again as he would do all of the dirty work that goes on during the game and would fit into Louis Van Gaal's philosophy.

Overall any of these players would improve United this summer but not all of them are likely. Schneiderlin or Gundogan appear to be the most realistic of these five players and both of these players would be perfect.