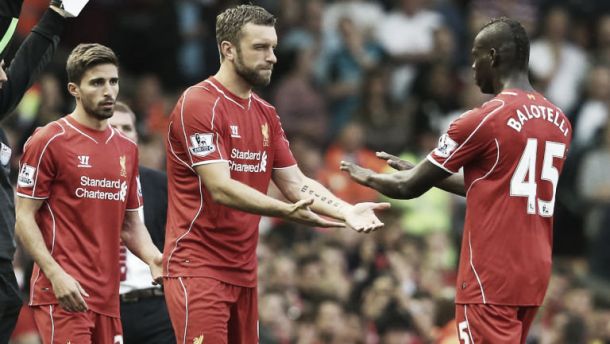 This summer is an important one for Liverpool.
Brendan Rodgers is on his last warning at the club and is in desperate need of a solid transfer window to ensure a future at Anfield, by signing players who can get Liverpool into the top four.
The arrivals of James Milner, Danny Ings and Adam Bogdan, all for free, having attracted criticisms for the manager's lack of optimism and low standards. However, these are transfers that have cost nothing, especially with the wage bill being cleared of a few names this summer, and they do improve several areas of the team, as well as providing depth at the same time.
Still, the fact remains that Rodgers needs to draw some big names to Anfield in order to have a chance of clinching Champions League football next year.
Liverpool have had an absolute nightmare with their striking options this season.
The loss of Luis Suarez to Barcelona and Daniel Sturridge to fitness mean the team lost 52 goals in the season gone, and the measly combined total of four added in the league by Fabio Borini, Rickie Lambert and Mario Balotelli have hardly filled this void.
The latter two represent failings in last year's transfer window, failings that have plagued the season gone, and failings that cannot be made again this summer.
With Carlos Tevez having already reportedly snubbed the Merseysiders, somewhat unsurprisingly, and Radamel Falcao, who had a disappointing year with Manchester United this season, linked with the club, here are five other strikers who Liverpool could realistically sign, who could propel them into the top four.
Pierre-Emerick Aubameyang
Borussia Dortmund had a horrible season this year. A run to the DFB Pokal final and a return to form towards the end of the year helped them clinch seventh, and qualification for the Europa League, at the last minute, but we can still expect a lot of players to leave the club this summer, especially with Jurgen Klopp departing.
The big clubs have all got their eyes on the likes of Mats Hummels, Ilkay Gundogan and Marco Reus, but one player who has yet to be linked elsewhere is Pierre-Emerick Aubameyang.
Aubameyang has been Dortmund's best player in a dismal season in Germany, scoring 16 goals in 33 appearances and taking centre stage as Reus struggled with injuries throughout the campaign. Add to this six goals in five DFB Pokal games and three in the Champions League, and Aubameyang's grand total for the season stands at 25 goals in 46 games - which again makes one wonder why no one else is chasing the striker.
With pace in abundance and the ability to create as well as score, the Gabonese international is exactly what Liverpool need to help them become that counter-attacking threat they were back in the 2013-14 season. He would not be too difficult to persuade either, with Dortmund having only secured Europa League football this year, and is certainly a realistic option that Liverpool should pursue.
The striker is believed to cost around £30 million due to the three years remaining on his contract, but would be worth the money, especially considering that he is still only 25-years-old.
Fernando Llorente
Perhaps he does not have the same longevity as 25-year-old Aubameyang, but Juventus' 30-year-old Fernando Llorente is a proven goal-scorer who takes his chances. He has fallen out of favour in Italy this season, despite being the second highest top scorer in Serie A last year, only behind Tevez, and is sure to be looking for a change of surroundings to change his fortunes.
Despite limited opportunities and a drop in confidence, Llorente still managed seven goals this term and would provide the clinical finishing Liverpool currently lack. With an added aerial threat and plenty of experience at the highest level, the only potential problem with Llorente could be his inability to play as a lone striker.
Whilst Sturridge provides energy, pace and a will to press high even when on his own, Llorente is like Balotelli in the sense that he would need a strike partner to work off him as he is not the fastest or the hardest worker. Rodgers, with his great man management skills, could probably get him to add more energy, but he is unlikely to be as effective as Sturridge in a pressing game.
Still, his proven quality and the likelihood of a low transfer fee, with Juventus seemingly viewing him as surplus to requirements at times, would certainly be worth pursuing and his signature would send a signal of intent to the rest of the Premier League.
Stevan Jovetic
The Raheem Sterling saga may be proving to be a headache for Liverpool fans, but the potential of a deal with Manchester City is good news, somewhat, as it could result in Liverpool not only getting a large sum of money for their young attacker, but a desperately needed striker as well, with one of Edin Dzeko or Stevan Jovetic rumoured to be offered to the Reds in exchange for Sterling's services.
Of the two, Jovetic suits Liverpool's energetic playing style much better. He has a huge point to prove in England having been given few opportunities with City, and because, even when he has taken his chances under Manuel Pellegrini, he has rarely been rewarded. Still, five goals and three assists in nine starts and eight substitute appearances in the league is hardly a tally to be ashamed of.
Jovetic is versatile, able to play as a striker, either in a duo or alone, out wide or in an advanced midfield position. His pace and trickery allows him to beat players superbly, seeing him complete 64% of his attempted dribbles in the season gone, and would really help Liverpool restore excitement in their front line. He works hard, is a real team player and scores a variety of goals, whether they be works of art, solo efforts, simple tap-ins or long distance strikes.
The Montenegro international is both a creator as well as a scorer and he would be a fantastic addition to Liverpool's squad.
Luiz Adriano
Despite being a well-known name to fans of European football for some time now, Luiz Adriano really made the world stop and watch this season as he scored a ridiculous five goals in one Champions League game, as Shaktar Donetsk beat BATE Borisov 7-0.
The Brazilian went on to finish second in the competition's goal-scoring chart, with Neymar, Cristiano Ronaldo and Lionel Messi all just bettering him with 10 goals each, one more than his nine, though they all played at least 400 more minutes of football than him.
With an average 71 per cent shot accuracy in Europe this year, it is evident that Adriano is the clinical striker Liverpool would love to boast, and he can do it on the big stage too. As for his season back in Ukraine, Adriano managed nine goals in 21 games, as well as two in three cup matches, finishing the season with 18 goals in all competitions.
The only thing that could possibly deter the Brazilian from a switch to Anfield is the lack of Champions League football. However, at the age of 28, Adriano has yet to test himself in one of Europe's top leagues, having been at Shaktar since a move away from Brazil in 2007. He is running out of time to secure a big move too at his age, and now would be a perfect time to complete one given his red hot season.
An adventure in England could certainly persuade the Brazilian to sacrifice Champions League football for the Europa League, especially with one of Europe's most famous clubs. Adriano's ability to knock the ball around is something Rodgers would have to address first and foremost, but with his confidence, speed, marvelous finishing and aerial power, that brings another dimension to the team, he would be a wonderful signing to help Liverpool clinch a spot in the top four.
He is available on a free this summer too, and so the Reds need to get in there early before other clubs catch on and begin to offer Adriano things that they cannot.
Andre-Pierre Gignac
Whilst there are debates as to whether Marseille will let Andre-Pierre Gignac leave the club this summer after his 21 goals in 38 appearances propelled the club to fourth place this year, it is a feasible departure. This is because, just last year, Marseille snapped up hot Belgian prospect Michy Batshuayi from Standard Liege, and following an impressive season that saw him score nine goals in just 900 minutes of league football (six starts, 20 sub appearances), it is clear that they have a more than competent replacement for Gignac.
The 29-year-old Frenchman's contract expires this summer, so he is another that Liverpool could sign on a free, allowing a larger to budget for other areas in the squad. Marseille only managed to clinch Europa League football this year too, meaning the Reds could certainly lure him to Anfield by offering him an opportunity outside of France, which he is yet to experience in his career.
The majority of Europe's big clubs are in the hunt for Ligue 1's top scorer this season, Alexandre Lacazette of Lyon, meaning Gignac has been somewhat overlooked in the rumour mill thus far. However, with his devastating finishing, creativity and power, he certainly shouldn't be. The French international is a strong player, able to hold the ball up well, and he is good off the ball too, with movement that gets him into the positions that allow him to see so many chances.
On top of this, he is another who can score a range of goals, with long range efforts and thumping headers not out of his power, and he contributes at the back, using his ability in the air to help defend set pieces - something Liverpool are quite simply dreadful at.
Gignac is the out and out striker Liverpool have lacked this season, often having to play an attack-minded midfielder as a false nine to compensate for their lack of options up front. His intelligence will see him link up well with the inventive likes of Philippe Coutinho and Adam Lallana, and there are few better centre-forwards out there at the moment, never mind on a free transfer.