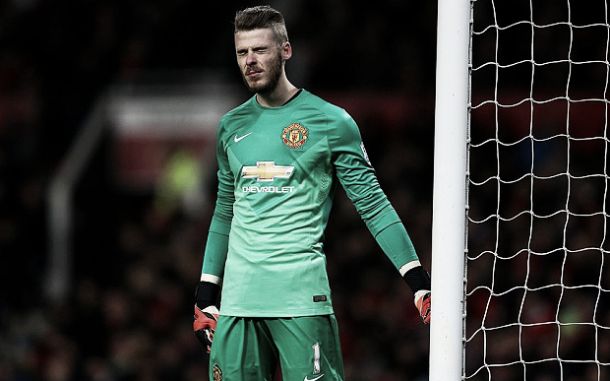 It does seem that one of the biggest transfer saga's of the summer is about to come to an end as many reports are suggesting that the deal to take Manchester United goalkeeper David De Gea from Old Trafford to Real Madrid is all but completed.
Although nothing is yet confirmed, these reports from strong, reliable sources seem to strong too ignore. If the deal does happen, De Gea wouldn't be the first United player to make the switch to the Bernabeu. In light of that here are all the players that have all made the switch.
David Beckham - £33 million
David Beckham is one of the most well-known footballers on the planet but he had humble beginnings before he became a global powerhouse.
Beckham was a pivotal part of the infamous class of 92' playing alongside the likes of; Ryan Giggs, Nicky Butt and Neville brothers and announced himself on the world stage with his excellent halfway-line effort against Wimbledon back in 1996.
He had an excellent career at United which included; six Premier League titles, two FA Cups and one Champions League trophy. The 2002/03 season proved to be his final one in a United shirt which looked to be enticed by the incident between him and Sir Alex Ferguson when the manager launched a boot at his player causing an injury to his eye.
After 394 appearances and 85 goals, Beckham moved on to Real Madrid in the summer of 2003 for around £33million which seemed to be the perfect fit for Beckham as such a globally known player playing for one of the biggest clubs on the planet.
He was a great success during his four seasons winning one La Liga title and scoring 20 goals in his 155 appearances. During his final season in the Bernabeu he announced that he would going stateside to join LA Galaxy.
Many would say that it was Beckham who brought out around the revolution of the MLS and gave it the exposure that it needed due to his star power. He was a great success in America winning two MLS Cup's during his 118 appearances with two AC Milan loans in between.
Beckham ended his career in 2013 with PSG with a final trophy in the Ligue 1 title, Beckham had a long and illustrious but many will remember his time at Old Trafford where he made his name.
Rudd Van Nistelrooy - £10.2 million
The second transfer between the two clubs was the legendary striker Ruud van Nistelrooy.
He moved to Old Trafford from PSV Eindhoven back in 2001 for what was at the time the most expensive transfer in British history for a total of £19million. It proved a very small price to pay as the Dutchman rewarded Ferguson with an astonishing 110 goals in his first three seasons which was rewarded with one league title and a FA Cup.
His final two seasons were not as rewarding with his 04-05 season which was plagued which only saw him make him 27 appearances but he still managed to score a reasonable 16 goals. He made his return in 05-06 but a lack of appearances towards the end of the season angered the striker.
It was the final straw for the 38-year-old and he moved onto the Galacticos in the summer of 2006. He had an excellent first two seasons with Madrid with the first including a La Liga title and 25 goals. He did however miss the majority of the 08-09 season through a serious knee injury which required surgery.
He would go on to play another two seasons in Spain before moving to Hamburg in the January of 2010, his time in Germany didn't prove fruitful with seven goals in 25 appearances in his only full season at the club. He finished his career back in Spain this time Malaga and retired at the age of 35 with 32 appearances and five goals.
There is no doubt that Van Nistelrooy was one of the most prolific strikers throughout the 2000's and many will say that it was United when the Dutchman was at the height of his powers.
Gabriel Heinze - £10.56 million
The third signing, considered by many United fans as a hate figure, is Argentina's Gabriel Heinze.
Many were excited by his arrival way back in 2004 when he moved to Manchester from PSG for a reasonable fee of £6.9million and repaid the faith in him establishing himself a the first choice left-back and was named player of the year.
However a injury in a Champions League match with Villarreal back in early 2005 ruled him out for the rest of the season with new signing Patrice Evra taking his place in the side. He established back in the squad the next season but the lack of first-team action angered Heinze.
This lead him to make the demand for a transfer to Liverpool, with the transfer rejected and the majority of the United fans turned against him the defender decided to move onto the Bernabeu instead.
He was just in Madrid for two season for just two season but managed to make an impact making 55 appearances and winning a La Liga title along the way. He moved onto Marseille from there winning one title before been released in 2011.
From there he moved onto Italy with Roma where he spent one season before been released once again before making final move back to his old club Newell's Old Boys. Many fans will still dislike the fact that he was intent on the move to Liverpool but his effort during his three years can't be denied
Cristiano Ronaldo £82.72 million
The last permanent move came back in 2009 with United's star player Cristiano Ronaldo moving onto the Bernabeu.
It had taken Cristiano a few seasons to settle into the style of English football after his £12.24million switch from Sporting Lisbon back in 2003, however his true potential began to emerge in the 06/07 season.
He sky rocketed in the 07-08 season to astronomical heights winning the League and Champions League double scoring an astounding 42 goals in 49 appearances. That season earned him the world player of year award in his final season at Old Trafford.
That summer he became the world's most expensive player with his switch to Madrid and his star power has only grown brighter since becoming one of if not the best player on the planet scoring an unbelievable 313 goals in 300 games for Madrid as well as two more Ballon D'or's.
Rumours come around every once in a while of the 30-year-old making a return to Old Trafford and I can't think of one United fan that wouldn't relish that opportunity.