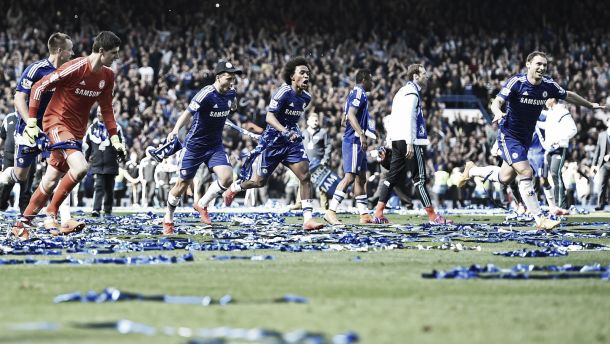 Premier League champions Chelsea are considering a temporary move from Stamford Bridge, to add 20,000 seats to their already 40,000 seater stadium.
The Telegraph are stating a three-year absence from the Bridge and the Guardian are going with two years, a temporarily relocation currently seems on the cards for the Blues.
Apparently, the cost of a stadium expansion, possibly to include digging below street level to expand the ground, is estimated at about £500M, which is slightly more than fellow Londoners Arsenal paid for their brand new Emirates Stadium, which was finished nine years ago. Chelsea might, in the wake of this, eventually have to reduce their spendings in the transfer market, in the aftermaths of an eventual expansion, although transfer numbers in this context are nothing more than speculation.
Twickenham, Wembley or even Craven Cottage
Fellow West London neighbours Fulham faced some of the same challenges when they refurbished Craven Cottage prior to the 2004/05 campaign, and spent two years at Queens Park Rangers' Loftus Road when they spent £8m to shine up their traditional ground on the shores of River Thames. Chelsea, however, have not yet decided where they will play their home games in the relevant period but venues like Wembley, Twickenham and the Olympic Stadium are mentioned. Travelling to Wembley or Twickenham means Chelsea will jump above both Manchester United and Arsenal in terms of home ground capacity, as they are the biggest English stadiums in football and rugby with 90,000 and 60,000 seats respectively.
In an highly unofficial Telegraph poll, Twickenham is currently the most popular choice among Chelsea fans, with 36% of the votes, with Wembley as runner-up on 28% as things stand. Maybe a bit surprisingly, Craven Cottage (14%) is voted above both the Olympic Stadium (9%), the Emirates (8%) and White Hart Lane (5%), which were listed as the other options.