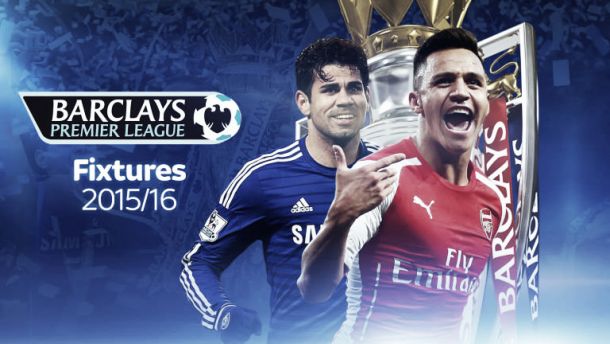 Fans and players of the Premier League are heavily anticipating the official fixture list of the upcoming 2015-16 campaign.
With the season coming to an end only weeks ago, the dawn of the new season is not far away. West Ham will be the first club in action as their battle for the UEFA Europa League will start through the qualifiers in the start of July, which means about five weeks from the first game of the season until the first league game of the season, a quite rare feat.
The fixtures of the upcoming season will be released at 9am on Wednesday, although all weekend games will be scheduled at 3pm on Saturday, subject to change for TV broadcasting purposes.
Last year, the most noteworthy result on the opening weekend certainly was Swansea's 2-1 win at Old Trafford, the first part of the Swans' double triumph against Manchester United. Other top guns like Chelsea (3-1 away at Burnley), Arsenal (2-1 at home against Crystal Palace), Manchester City (2-0 away at Newcastle) and Liverpool (2-1 at home against Southampton) more or less cruised to the first three points of the season.
Chelsea the ones to evade
Historically speaking, reigning champions Chelsea have been the hardest side to face on the opening day, with a comprehensive record of 15 wins from 23 attempts. This is closely linked to the fact that their former hero and star man Frank Lampard has scored eight times on the opening weekend, more than any other player except Newcastle legendary forward Alan Shearer, who's level. Additionally, Petr Cech has kept seven clean sheets on such occasions, more than any other shotstopper.
On the other hand, Premier League newcomers AFC Bournemouth, Norwich City and Watford are statistically going to face a struggle on the weekend commencing the 8th of August. Promoted sides have only won a rather underwhelming 13 of the 68 opening day fixtures in the Premier League era to date.