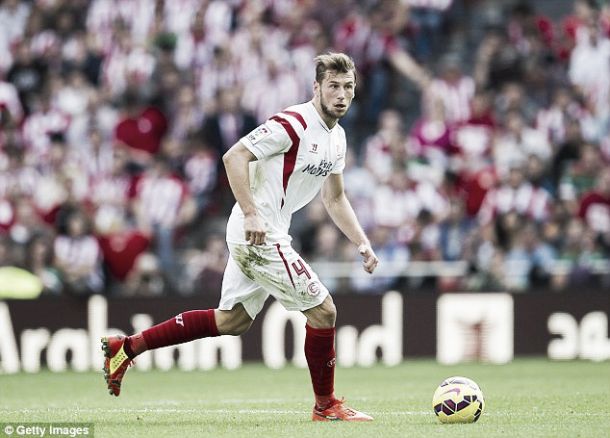 The Polish international plays for Spanish side, Sevilla in La Liga. He was signed from French club, Reims, in the 2014 summer transfer window and was a key component in a Sevilla side that won the Europa League for the second time in a row and that finished 5th in Spain's top flight. The Europa League victory secured UEFA Champions League football for the football club from Andalusia.
What position does he play?
Krychowiak is primarily a central defensive midfielder, although he can also fill in at centre-back, as he had previously done when at loan at Reims from then-parent club, Bordeaux. The system Sevilla employ is a 4-2-3-1 and Krychowiak plays as one of the two men in midfield. He is normally paired with ex-QPR man, Stephane M'bia and the two form a formidable defensive shield in front of Sevilla's back four.
How does he compare to what Arsenal already have?
The 25-year-old Pole is considered to be one of La Liga's best defensive midfielders and was voted into the La Liga Team of the Season for the 2014-2015 campaign. He would be in direct competition with French duo Francis Coquelin and Mathieu Flamini for the central defensive midfield position, in either the 4-1-4-1 or the 4-2-3-1 next to a more creative player, such as Santi Cazorla or Jack Wilshere. The main difference between Krychowiak and what Arsenal have for players already in his position is that Krychowiak is more of a physical presence in midfield. The Polish international is 186 cm tall and well-built, whereas Coquelin and Flamini are both smaller and do not possess as much aerial dominance as Gzegorz.
What is he good at?
Krychowiak is good at everything a true central defensive midfielder should be; strong in the air, good at breaking up play, good at reading the game and picking up opportunities to win the ball back for his team and good enough with the ball in possession so that he is not a passenger. In truth, Coquelin and Krychowiak are very similar in what they are good at; it is just that Krychowiak is marginally better with the ball and substantially better in the air.
In the 2014-2015, Krychowiak played a total of 48 times for Sevilla in four different competitions. In 32 games in La Liga, the Polish central defensive midfielder scored two goals, recorded one assist, was booked 13 times and directly sent off once. In the 13 games Krychowiak played with Sevilla in their successful Europa League winning campaign, he scored twice, including a goal in the final and was booked five times.
Over the 2014-2015 season, in all competitions, Krychowiak recorded a pass success percentage of 81.3 and won an average of 3.5 aerial duels per game. He also averaged over three tackles per game and over three interceptions too.
Who is similar to him in the Premier League?
In terms of who is Krychowiak most similar to in the Premier League, players like Nemanja Matic of Chelsea and Victor Wanyama of Southampton spring to mind. Matic is a level above Krychowiak but the difference is not huge; Matic is better with the ball and commands slightly more of a presence in the middle of the pitch.
Does he have international experience?
Krychowiak has represented Poland since U-20 level, winning two caps at the aforementioned age group, nine with the U-21 squad, with three goals, and 24 caps with the Polish national team, with his only goal so far coming against Georgia in November 2014 in a 4-0 victory for Euro 2016 qualification.
How much would he cost?
It's rumoured that Krychowiak has a buy-out clause of £21 million, which is not too far away from what he is worth. Sevilla would stand to make a substantial profit if they sell, having bought Krychowiak for around £4 million and Arsenal could tempt them with an offer of around £15 million, just a bit above what his market value is. That isn't to say that his buy-out clause doesn't represent good value for what Arsenal would get; Krychowiak would provide that physical presence in midfield that Arsenal have arguably missed since the days of Brazilian international Gilberto Silva.