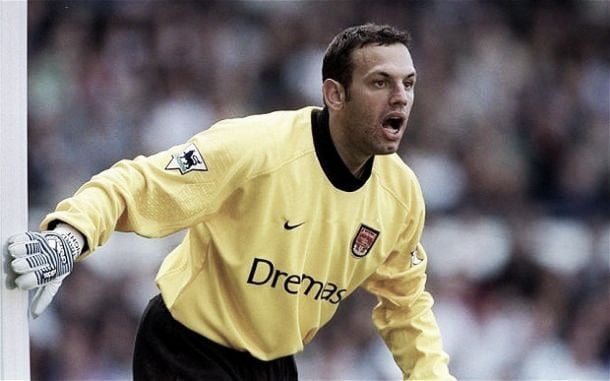 14 years to the week that Richard Wright joined Arsenal from Ipswich his position as most expensive Arsenal goalkeeper was lost, to new £11million pound signing Petr Cech. Over a decade after leaving the Gunners, Richard Wright is still playing. So, what happened to the once England prospect after leaving Highbury?
Richard Wright moved to Arsenal for £6 million in July 2001, after making over 300 appearances for Ipswich. The 23-year-old was seen as cover for David Seaman, and when the veteran goalkeeper got injured Wright was given an extended run in the first-team. It was fair to say he didn't perform, he punched the ball into his own net in a 4-2 defeat to Charlton and then was injured himself in a UEFA Champions League match. Poor form relegated Wright to third choice and he only played FA Cup matches after that point. He was dropped for the final, which Arsenal won.
Wright became a bit of a journeyman after leaving Arsenal
After only a year, he left Arsenal to Everton. He started off as a first team player but a series of injuries, including one he sustained after falling out of his loft, hampered these ambitions. Three years after joining Everton, injuries made it look like Wright was going to get a big first team chance, but he fell on a sign during a warm-up and injured himself again.
He was released by Everton in 2007 and he joined West Ham, where again he struggled to perform. He made no League appearances, and was sent out on an emergency loan to Southampton where he made nine league appearances.
A return to Ipswich was the closest thing Wright had to rejuvenation
Wright returned to hometown club Ipswich in July 2008, where he rediscovered his early career form. During his second spell at Ipswich he broke the 300 appearances mark for the club, with the East Anglia club remaining the only one in his career where he made over 100 appearances. He was voted both Players' Player of the Season and Supporters' Player of the Season for the 2008-09 season. He struggled with injuries again, and was released by Ipswich in 2010.
Wright then joined Sheffield United after a successful trial in September 2010. Again injuries were an issue for the twice England capped goalkeeper, he made just two appearances for the Bramell Lane club and he was substituted due to injury in both matches. He left the Blades in April 2011, and signed for Ipswich Town for the third time in his career seven months later. He made just one appearance before being released.
After a week at Preston, a move to Manchester City shocked everyone
In July 2012 he joined Preston North End, but left the club after a week due to homesickness. He felt the distance between his new club and his family in East Anglia was too big. After this he had trials at many clubs, one being Colchester United where it looked like he would move too.
As the 2012 Summer transfer window drew to a close, Wright stunned English football and agreed a deal with then-Premier League champions Manchester City. In three full seasons at the club he is yet to make an appearance, but was rewarded with a new contract in June, which will take his spell in Manchester to four years. Why Manchester City moved for the goalkeeper is unknown, but he qualifies as a homegrown player so that may be the reasoning behind it.
It's fair to say that injuries have heavily hampered the career of a goalkeeper who once had huge potential. He struggled to perform away from his hometown of Ipswich, and perhaps his move to Arsenal came too early for him.
City was the last place that anyone thought he would turn up, but he did, and this is where he'll most probably end his career as a professional footballer.