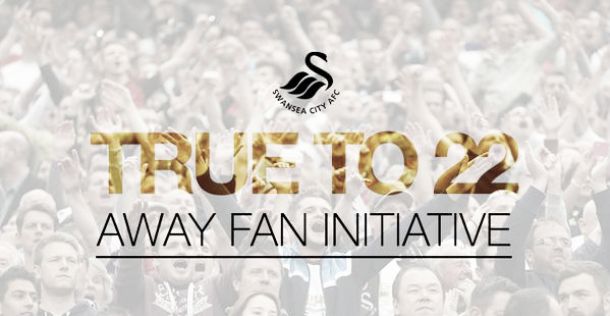 Barclays Premier League side Swansea City AFC have today announced that they will be capping ALL ticket prices for Away games for the upcoming 2015/16 season. The announcement comes as part of the Welsh club's pledge to stick to their 'True to 22' initiative.
Swans revolutionise ticket prices
The Premier League saw the arrival of the ASI (Away Supporter's Initiative) which was initially around £12million set aside by each club for a three-year period. The money would come from the club's own purse, and they would use this set-aside money in whichever way they saw fit to subsidise their fans in the ever-increasingly expensive 'away days' in the Premier League. No club has come close to introducing such a scheme as Swansea have today.
Whilst all clubs have gone some way into subsidising fans travelling to Away games, most of them include very limited help in that respect. Whether it be a limited amount of coach subsidising costs, free official programmes or free meals. Nothing, comes close to this and with it likely to cost somewhere in the region of at least £300,000 to £500,000 for the season, it begs the question of where are clubs really putting this money?
Positive statement of intent
It is perhaps strange then, that a club such as Swansea City, are the first to make such a bold statement of intent in this regard. That is by no means meant as disrespecting the club, but, surely one of the more affluent clubs in the Premier League should be the ones introducing this sort of scheme, no? The closest thing Premier League fans have had to this is, earlier this year, when West Ham United announced they were severly cutting their season ticket prices to the cheapest in the League to coincide with their move into the Olympic Stadium. But, in truth, that pales in comparison as that's a future venture, the Swans have acted in the here and now.
It is a club from Wales with huge fan-involvement who have dipped their toes into the proverbial pond first here. The news also follows on from the Swans having given free replica shirts to EVERY of the 2,900 travelling fans who went to their final Away game of last season at Crystal Palace. It is these sort of actions alone via the ASI which had other club's fans pondering where this sort of subsidising was from their own club, whilst applauding the work of the Swansea owners.
This new initiative could be gigantic for fans of clubs across the Premier League if over clubs take note. The club only asks that you be a member of the Jack Army Membership; for season ticket holders it will only cost £7.50 and for non-season ticket holders £22.50 - which their official site is quick to point out, is cheaper than the saving you'll make if you join up and travel to the Swans first Away game at Chelsea.
With many only offering limited subsidising and fans across the League calling for more to be done, how much longer can clubs genuinely withhold money set aside to subsidise large travelling fans?