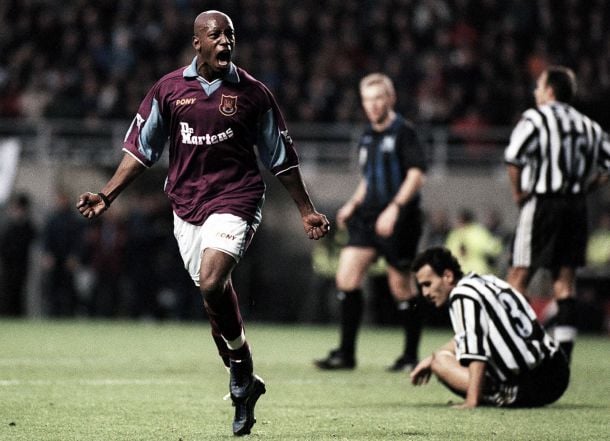 Ian Wright spent seven years with Arsenal following a £2.5 million move from Crystal Palace, in which he scored 185 goals in 288 appearances and surpassing Cliff Bastin's longstanding record of 178. Wright's record stood till October 2005, until a certain Thierry Henry overtook it and then eventually left the number to beat at 225.
As well as becoming Arsenal's top goal scorer, Wright picked up five winners medals – one Premier League, two FA Cups, one League Cup and one Cup Winners' Cup. Additionally, Wright finished as Arsenal's top seasonal scorer for six successive seasons. The Arsenal faithful commemorated Wright's accomplishments with the club by voting him fourth in a list of the top 50 players to wear the team's shirt.
Wright's footballing twilight
A 35-year-old Wright left the Gunners for West Ham in July 1998 for £500,000. The striker's time with the Hammers was eventful but Wright never reached the same level of performance as his Arsenal and Crystal Palace days, although 23 appearances in all competitions brought a respectful return of nine goals.
In the 1999-2000 season, Wright played for three different clubs. The striker joined Nottingham Forest playing in the second highest division in English football on loan from West Ham before signing for Celtic and then Burnley, who were in the third division in the English football pyramid.
In 10 games for Nottingham Forest, Wright scored five times whilst scoring three times in nine appearances for Celtic. Whilst with Burnley, Wright played 15 times, scoring four goals and helping Burnley gain promotion.
Burnley would prove to be Wright's last football team and the Englishman retired at the end of the 1999-2000 season, having scored 305 goals in total during his club career as well as nine times for England, giving Wright 314 goals overall.
Further football involvement
Although Wright has never tried his hand in football management following his retirement in his playing career, the forward has been involved with two clubs in the background.
In March 2007, Isthmian League team, Ashford United, appointed Wright as their director of football. Furthermore, following his purchase of a stake in the club, Wright was given a place on the board of directors.
Wright did commit to a coaching role, joining MK Dons as a part-time first-team coach on the 18th of May 2012. It was a position he held for a year as Wright left the role in the summer of 2013, due to other commitments.
Broadcasting calls
Wright is additionally famous now for his career in the media, either as a television presenter, football pundit or on the radio.
He began his TV presenting career as a guest host on Top of the Pops, before being given his own chat show called Friday Night's All Wright on ITV, which lasted for two seasons.
Wright took over from fellow former Arsenal player David Seaman as a captain on the BBC game show They Think It's All Over in the autumn of 2004, staying on till 2006.
In addition, the former striker was announced as one of the presenters for the highly popular game show Gladiators, remaining as head presenter for the two seasons the revival of the show lasted before it was axed.
Following Gladiators, Wright was a presenter on Live from Studio Five, an early evening magazine programme on Channel 5, from when the show launched in September 2009 to August 2010.
Wright presented Football Behind Bars, a reality TV show on Sky 1 which aimed to socialise young offenders by organising them into a football academy. Wright had formerly been in prison himself, for two weeks, for failing to pay fines for driving without tax or insurance before his football career took off.
As well as other television appearances on shows like Top Gear and Big Brother: Celebrity Hijack, Wright has appeared as a pundit on BBC Sport's International Match of the Day. Wright was also a pundit for the 2002 & 2006 World Cups and the 2004 Euros in Portugal.
After quitting his job on Match of the Day, Wright joined ITV, working as a pundit most recently for the 2014 World Cup in Brazil and as one of the three pundits, normally next to Lee Dixon and Glenn Hoddle for the England matches ITV televise.
Wright is currently the co-presenter on BBC Radio 5's 6-0-6 football phone-in programme, opposite Kelly Cates. Regarding past radio work, Wright worked at Absolute Radio from 2010 to 2013, hosting their Rock 'n' Roll Football, partaking in post-match analysis and chat on Saturdays from 5pm to 7pm as well as co-hosting the drive time slot Monday to Thursday with Adrian Durham on Talksport.
The ex-Arsenal and West Ham forward is also a columnist for The Sun, a popular tabloid newspaper.
Keeping busy
It is clear to see that Wright has remained busy in his retirement, following an end to his 15-year playing career. Almost immediately after retiring, Wright was awarded an MBE for his services to football in 2000, a sign of just how legendary Wright was regarded.
The former England striker's footballing legacy continues in the two boys he raised who went on to become professional football players, with adopted son Shaun Wright-Phillips also becoming an England international in a playing career that continues with the New York Red Bulls in the MLS, having previously played for Manchester City and Chelsea.
Wright's other son, Bradley Wright-Phillips, also plays for the New York Red Bulls, as well as also playing for Manchester City like his brother Shaun and, unlike Shaun, Southampton and Charlton.