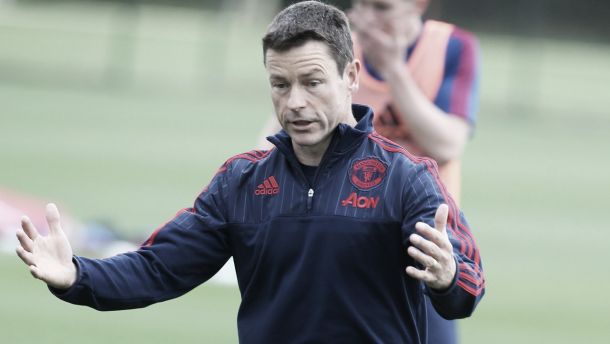 Manchester United U18 got their first win of the season at home to Derby County with Callum Gribbin grabbing a late winner for the Reds.
Hamilton gives United lead
Paul McGuinness' side got a solid first half lead as Ethan Hamilton pounced on a loose ball, knocked out from a Derby defence after Callum Gribbin's corner. The Englishman finished well before United's lead was doubled.
Top Scorer Dearnley doubles lead
Zak Dearnley became the early leader, alongside Gribbin, in the topscorer charts at United as he got his second goal of the season, in three games. Darren Buffonge delivered the corner as United succeeded from a set piece again, Dearnley latching on to it and slotting home.
Babos gets one back for Derby
Yet after an impressive first half from United, the second half, the mid-stages of it, weren't so impressive. Alex Babos got one back for Derby, Dearnley at fault for the goal with a poor clearance to Babos.
As United tried to regain their two goal, safe, lead, Gribbin dived in the penalty area and picked up a booking; a disappointment that was soon overshadowed by greatness.
Cover equalises for Derby
Yet first came Alex Cover of Derby to level things up with just minutes to go. The traditional 'never say die' attitude at United has always flowed down to the youth system with ease. Gribbin showed that after Oliver Bryne's decision to run out of his goal allowed Derby to equalise.
Gribbin scores great late free-kick to get United win
Cameron Cresswell missed the chance to get Derby an unlikely late win before Gribbin, who trained with the United first team before the pre-season tour before signing a new contract, produced a moment of magic. Having already had a beautifully curling shot almost duck under the crossbar, Gribbin earned a free kick in the 87th minute before finishing it brilliantly, with Hamilton ducking it to allow it go past Matthew Yates.
---
Manchester United Starting XI - Byrne; Reid, Warren, Williams, Hamilton; Dearnley, Scott, Tehinde, Buffonge; Gribbin, Rashford.
Manchester United Subs - Dorrington, Dunne, Wheln, Diedrick-Roberts, Kenyon
Derby County Starting XI - Yates; Stabana, Bateman, Cober, MacDonald;Carvell, Edwards, Holmes, Cresswell; Babos, Mellors.
---
Manchester United are now ninth in the U18 Premier League, with just one point from two games.